Within a month, city leaders hope the new East Riverwalk extension between Franklin Avenue and McLane Stadium will open to pedestrians and cyclists.
The $5.7 million project is more than 200 days ahead of schedule and could open before November, Senior park planner Tom Balk said as he drove a golf cart along a stretch elevated over the Brazos River.
If the project continues to go smoothly, Baylor University football fans will have a chance to use the path to get to the Bears' last home game of the season Nov. 18.
The city's Parks & Recreation Advisory Commission took their regularly scheduled meeting outdoors Thursday, to a pavilion at Bledsoe-Miller Park. After discussing upcoming events and hearing project updates, the committee piled into four golf carts and took a tour along the riverwalk, passing Buzzard Billy's and a turtle cove, then getting a view of two railroad bridges over the Brazos from angles newly accessible thanks to the riverwalk.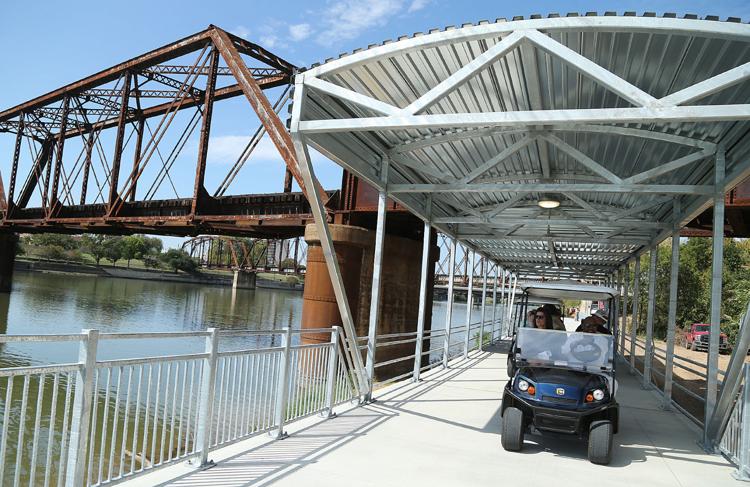 Lighting, railing and signage are going up on the riverwalk, and a shade structure provides a gathering place at the midpoint of the extension. The extension completes a riverwalk connection between Brazos Park East and McLane Stadium.
"This really has been the missing link," Balk said.
An 80-foot canopy covers the riverwalk as it crosses under an active railroad bridge to prevent trains from pushing rocks or debris onto pedestrians or cyclists below, Balk said.
The path also crosses under the disused Cotton Belt railroad bridge that developer Rick Sheldon bought in 2016 and donated to City Center Waco. The nonprofit is considering refurbishing the bridge as a pedestrian connection between downtown and East Waco, Balk said.
The new 0.6-mile portion completes a 5.5 mile loop of riverwalk, Waco parks and recreation director John Williams said. The path is 14 feet wide. City leaders will meet with the Texas Department of Transportation next week to finalize details and get the go-ahead for the opening.
The riverwalk extension was funded by the city and a $2.7 million Texas Department of Transportation grant, Williams said.
Jay-Reese Contractors has worked on the riverwalk extension. The company also renovated the Washington Avenue bridge.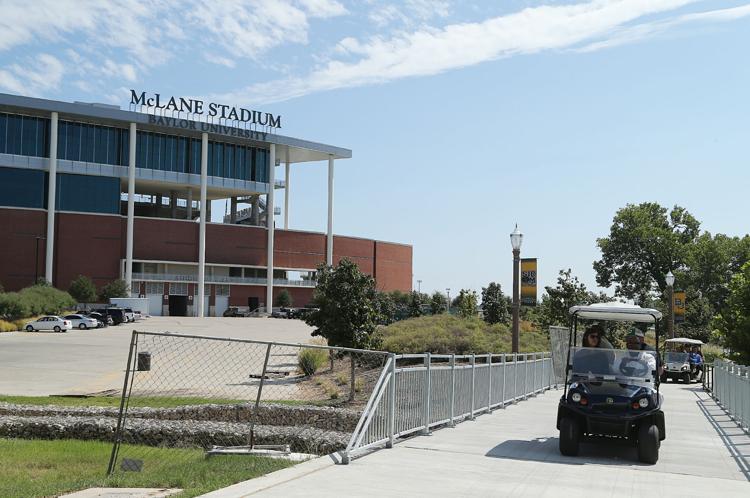 Strong progress on the East Riverwalk between Franklin Avenue and McLane Stadium has city of…