As a Dec. 7 deadline nears for the $2.5 million Doris Miller Memorial under construction on the east bank of the Brazos River, organizers are preparing for a final fundraising push.
They got a bump Monday afternoon, when Bank of America and Merrill Lynch representatives marched onto the site bearing a gift: the replica of a $11,500 check made out to Cultural Arts of Waco.
That brings the total amount raised to $1.58 million, which will finish the first phase of the work, but another $920,000 is needed to finish the job by mid-March.
The arts group is raising funds and supervising efforts to honor Miller, a mess attendant whose courage under fire during the Japanese attack on Pearl Harbor made him a hometown hero. Efforts to secure for Miller a posthumous Medal of Honor continue, but his hometown has focused its efforts on a riverfront statue and memorial plaza near the Washington Avenue bridge and historic Elm Avenue.
The worksite Monday was abuzz with activity, and workers cautioned visitors to watch their step as freshly crafted masonry dried in the sun.
The memorial's main organizer, Doreen Ravenscroft, met Monday with Loren Schwartz and Jim Holley, both financial advisers with the local office of Merrill Lynch, which is affiliated with Bank of America.
Schwartz said the Bank of America Foundation agreed to grant the local office's request to assist the Doris Miller Memorial.
"We thought it was necessary, considering the project's importance to the community and news that it was coming in over budget," Schwartz said.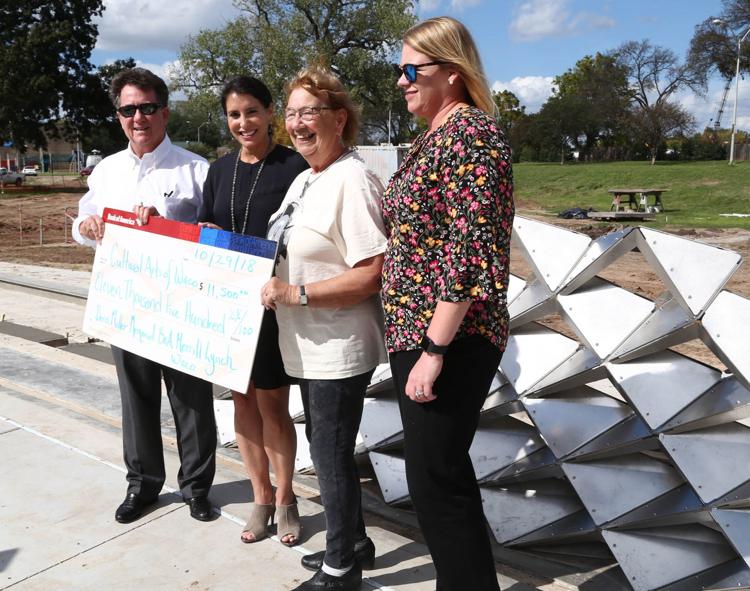 As construction continues in Bledsoe-Miller Park, project officials have seen the price tag rise. They secured an additional $236,106 this summer from the downtown Tax Increment Financing Zone, in addition to an earlier TIF grant of $180,132, allowing them to finish the first $1.2 million phase of work.
Dec. 7 is the projected completion date of that first phase.
Ravenscroft on Monday thanked Schwartz and Holley for their contribution to the cause, adding that the effort has attracted more than 700 donors nationwide.
"It's all pretty amazing," Ravenscroft, watching the vision take shape Monday. She noted rainwater that had collected in a pooling area, creating beautiful reflections but forcing workers to bail before proceeding. A grid of stainless steel rested nearby, providing a backdrop for the check presentation. It is a fraction of the towering ship hull that will dominate the memorial.
Ravenscroft said floodplain map changes have increased the project's cost.
Miller, who served when African-Americans were limited to menial work in the Navy, reacted to the Pearl Harbor attack by pulling two shipmates to safety and manning a machine gun to shoot at Japanese planes.
He became the first African-American to win the Navy Cross. A statue of Miller was unveiled at the site in December of last year.
Ravenscroft said Monday that barring setbacks, crews should meet the Dec. 7 timetable, though plaques honoring donors will arrive thereafter. She said features will include reliefs showing Miller from a boy until his stint in the Navy. He lost his life in fall 1943, when a Japanese torpedo rocked the escort carrier USS Liscome Bay. Explosions caused the craft to sink rapidly.
Miller's body was never found, and he was listed as "presumed dead."
A supervisor with John Erwin Construction, general contractor for the project, said he and the company are glad to be involved in honoring Miller.
"The biggest challenge? That wall," said the supervisor, who asked not to be quoted by name, referring to an elaborate assembly of stainless steel parts designed to resemble the side view of a Navy ship. "It will require more math than everything else put together. It will become 17 feet high, and lights will be dropped in holes around it. It will be pretty impressive looking, I can tell you. Just short of 1,500 separate pieces, and a lot of bolts."
River City Industries in San Antonio is crafting the parts.
Meanwhile, the supervisor said the site already is attracting attention.
"Several old-timers are out here nearly every day picking up pecans," he said. "They tell me they used to play baseball on this site."