The two groups vying to develop the city-owned property next to Heritage Square downtown have assembled "dream teams" of architects, engineers, "green" builders and even marketing experts to spread the word about ventures that will change the face of Waco's inner city near City Hall.
Houston-based Linbeck Construction, for example, is lending its expertise to The Civic Center project that includes 550,000 square feet of Class A office space, 100,000 square feet of retail and restaurant space, an urban park and a 1,200-space underground parking garage.
"They are one of the largest and most successful commercial construction companies in Texas," said Chris McGowan, a Waco-based development consultant who has joined Dallas-based Philip Williams in pushing for a land-use contract with the city of Waco to proceed.
"The impressive things they have built include Sundance Square and Bass Performance Hall in Fort Worth and the Crystal Bridges Museum in Bentonville, Arkansas," McGowan said, adding Linbeck also was involved in remodeling the Cashion Academic Center at Baylor University.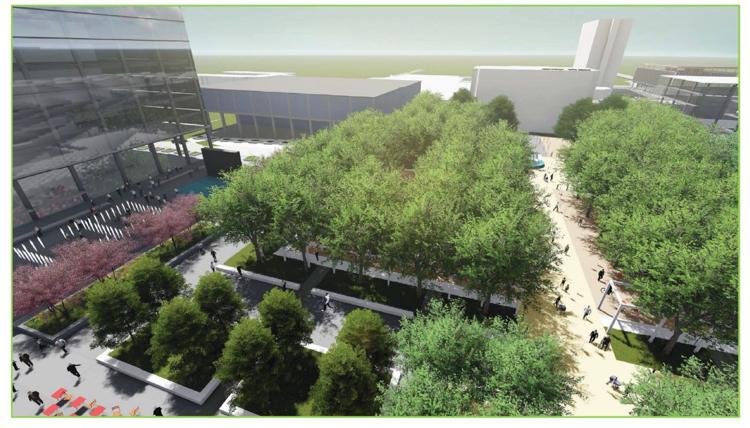 Meanwhile, the Kinkeade Development Group, which does business as 300 Clay Avenue LLC, is proposing a multi-use complex that features a specialty grocery store, 33,000 square feet of office space, chef-operated restaurants, a shaded community gathering site and rooftop dining.
Ed Kinkeade, U.S. District Judge for the Northern District of Texas, and his son, Dallas atorney Brad Kinkeade, both have ties to Baylor University. In recent years, Kinkeade Development has placed apartments at 300 and at 222 Clay Avenue, the latter given the name 222 Clay Court.
"My dad was on a panel appointed to help design and maintain federal courthouses," said Brad Kinkeade. "He is not an architect, but he is knowledgeable enough about design that they valued his opinion."
Kinkeade said the group hopes to enter into a contract with Texas-based Austin Commercial, whose construction resume includes Baylor's McLane Stadium, the Dallas Arts District Museum, the new Parkland Hospital in Dallas, Toyota's North American headquarters in Plano and the LAX Tom Bradley International Terminal expansion in Los Angeles.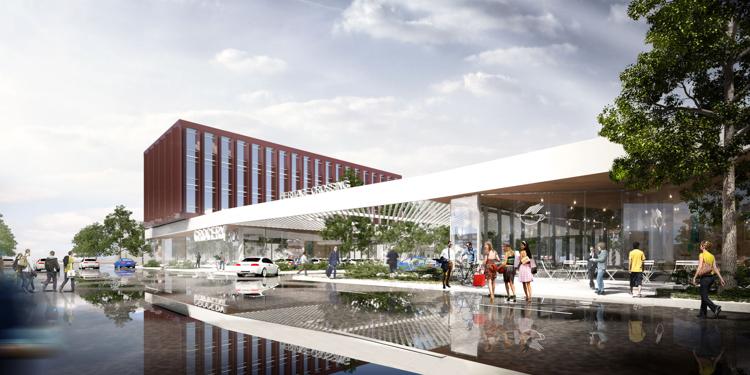 Serving as architect is Perkins and Will, a global company whose projects include the Bay Area Metro Center in San Francisco, Emancipation Park in Houston and the Greater Lucile Packard Children's Hospital in Palo Alto, California, according to Brad Kinkeade and the company website.
Philip Williams, who is affiliated with Emerson Partners, "has been in the real estate investment business for 30 years, and that includes office, industrial and mixed-use developments around Texas, including the Dallas-Fort Worth and Austin areas," said McGowan. "He has a lot of experience putting together real estate deals, better than a lot of people I've come across, and he surrounds himself with intelligent, competent people."
Williams, reached by phone, said he became intrigued by the Waco market listening to a report called "Texas Standard" on National Public Radio.
"The story, which was about 14 minutes long, had all the usual stuff. But they said a few things that really caught my ear," Williams said. "First, they mentioned Waco is the fourth-most-often mentioned city in state news, which is ... unusual for a city its size. Then they mentioned brain drain, kids graduating from college and leaving Waco for Austin or Dallas. Then they mentioned walkability, and I kicked myself for not being involved in more development around major universities in the state."
Williams visited Waco on a couple of occasions, monitored traffic patterns, followed delivery trucks and watched to see when restaurants and office buildings began to fill and empty. He also had an unexpected meeting with McGowan at Cafe Cappuccino downtown, where they planned strategy.
"I don't think I would be overstating the case to say this represents maybe the last and certainly the best opportunity to do an urban project adjacent to a first-class university near the highest-valued commercial corridor in the state, if not the United States, that being Interstate 35," he said. "I think this is something that fits into the historical significance Waco has in the state, while bringing in a population of very intelligent and culturally aware people. This will be a place for people of that caliber to work, and for the city to have even more first-class restaurants and retail."
The Waco City Council on Tuesday heard two proposals for developing city-owned land around H…
Williams said Montgomery Farm near the border of Plano and Allen in the Dallas-Fort Worth Metroplex ranks as his favorite development to bring home. It is a mixed-use community "and is a really excellent example of residential, office, retail and restaurants coming together."
McGowan listed other members of The Civic Center team as follows:
Sustainable Structures of Texas, owned by Lee Hall, which specializes in applying energy-efficient and "green" concepts to construction.
Walker Partners, civil engineers "who have been involved in a majority of things in downtown Waco. They know better than anybody what's underground, and are a huge asset," McGowan said.
RBDR, a Waco-based architectural firm whose design work includes the Greater Waco Chamber of Commerce, First United Methodist Church Woodway, Doris Miller Family YMCA, the Stacy Riddle Forum building at Baylor University and Cameron Heights residential subdivision.
Graham Greene, principal with award-winning Oglesby-Greene Architects in Dallas, whose projects have included Texas Discovery Gardens, Dallas Police Memorial and Montgomery Farm.
BizCom Associates, Plano-based marketing firm.
Team Better Block, a Dallas-based company whose motto is "How to Build a Better Block," and which assists communities in improving safety, access and amenities, and in creating locations with "staying power."
Artist, sculptor and landscape architect Brad Goldberg, who is based in Dallas and focuses on applying art and creativity to institutional spaces.
The public and the Waco City Council on Tuesday will get their first look at proposals for d…
Both groups presented their plans to the Waco City Council last week, with the city staff and City Manager Dale Fisseler making a recommendation that the council enter into a land-use deal with The Civic Center group.
Council members said they were impressed with both projects and would pursue public input before taking a vote. Fisseler said each proposal has merits, and he may suggest the city offer the runner-up access to another city-owned site near downtown.