A contractor started demolition earlier this week on parts of Waco Municipal Stadium, but work was halted Thursday when Waco Independent School District officials discovered their contractor did not have a necessary city permit, officials said.
Waco ISD decided to remove dilapidated bleachers and a press box because of safety concerns for Cesar Chavez Middle School gym classes that use the facility, which was built in 1936, said Israel Carrera, Waco ISD's assistant superintendent of operations.
The students primarily use the track at the facility at South 15th Street and Dutton Avenue, and that use will continue, Carrera said.
Baylor University's football team played at the stadium, which seated 20,000 at the time, before work started on Floyd Casey Stadium in 1949, according to information from The Texas Collection at the university. Since Baylor moved out, the stadium has seen various uses, and the original wooden seats were replaced in the late 1980s, Waco ISD spokesperson Kyle DeBeer said. The structures being demolished are not original to the facility, he said. Waco ISD bought the property in 2001.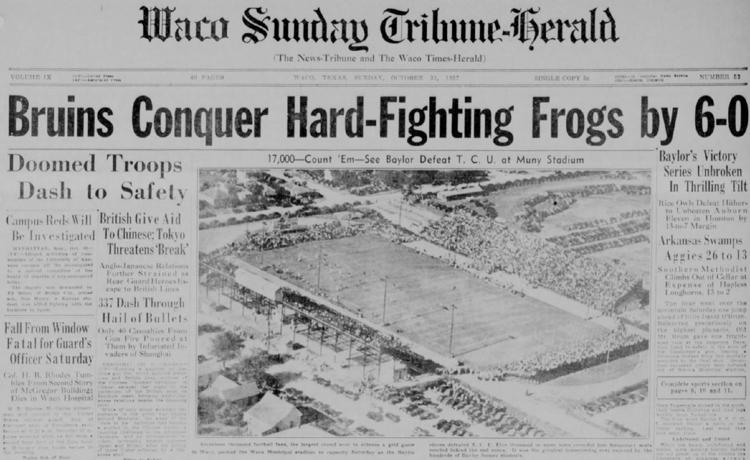 The district hired H.C.S. Inc. for $42,000 to tear down the bleachers and press box, but the contractor was told to stop work Thursday after officials realized the city had not issued a demolition permit for the property, DeBeer said. The district's contract requires the company to get the necessary permits, he said.
Work will resume once the permit is in place, he said.
The city can fine responsible parties if a structure is demolished without a permit, city of Waco spokesman Larry Holze said.
Holze said late Thursday that city officials were under the impression work had not started at the site.
The demolition permitting process includes a staff review of whether the structure is eligible for historic preservation protection.
"I played football in high school there," Holze said. "And I have a piece of wood from the Floyd Casey Stadium before they turned it into metal bleachers."
Though the tear-down has brought up memories of the stadium in use, the equipment is not original, DeBeer said.
"They are old but those are a more recent replacement for the original facilities," DeBeer said. "The decision to tear down the bleachers and press box was really driven by student safety."