The Waco City Council last week blasted the Texas Legislature's property tax plan, which would require local voters' approval for municipal governments to increase property tax revenue by 2.5 percent or more year-to-year, excluding newly taxed property.
Council members voiced opposition to the proposal when Republican leadership in Austin unveiled it in January. The council renewed its rebukes of the plan after the city budget office evaluated how the lowered cap would have affected revenue if it had been in place in recent years.
Since 2014, the cap would have put $11.9 million in city of Waco property tax revenue in jeopardy, according to the city.
State law adopted in 1981 gives voters the option to petition for an election if a local taxing entity, which includes cities, counties and school districts, wants to increase revenue by 8 percent or more. The state proposal would reduce the threshold, known as the rollback rate, to 2.5 percent and make the election automatic.
"This will be absolutely injurious to our ability to provide the vital and essential services: public safety, infrastructure, code enforcement, and the other parks and libraries and the other amenities that benefit our citizens and improve the quality of life in our community," said Councilman John Kinnaird, who requested city staffers conduct the study.
In 2018 alone, $5.2 million in city property tax revenue was beyond the 2.5 percent threshold, even though the tax rate remained flat. The year-over-year increase came solely through increases in property value. Revenue from newly taxed property does not count toward the proposed revenue cap.
"I would just suggest in the Legislature, if they are adamant about doing this, I would just hope that they might impose the same restrictions upon themselves and see how well they do their own job with the restrictions they would put on us," Kinnaird said.
With local property tax revenue boosted by higher property appraisals, the city has invested in infrastructure with a $17.2 million street improvement program budget this year, up $7 million from the previous fiscal year.
Council members listed the street program, upgrades to parks and libraries, and body-worn cameras and new vehicles for the Waco Police Department as essential services paid for with property taxes.
Each council member described his or her opposition to the plan. Councilwoman Alice Rodriguez even said council members should run for state office.
"As I talk to people in the community, I hear them say, 'Work on infrastructure. Try to get ahead so that as we grow, we're prepared for that growth,'" Mayor Kyle Deaver said. "And we're just trying to catch up right now. We're not getting ahead. So to put an arbitrary 2.5 percent cap that doesn't deal with inflation — as inflation goes up, we will be impacted severely by this — is just so irresponsible."
State Rep. Charles "Doc" Anderson, R-Waco, said the 2.5 percent rollback rate is a starting point that could change as the legislative process unfolds.
"I definitely endorse that we have to get control of our property taxes, because it really is burdensome to people," Anderson said. "In general, I support that. I can't say I support the bill as written here because it'll go through the legislative process. There will be amendments and what have you. So I don't know what the final outcome will be."
He said, in addition to the revenue cap reduction, the identical House and Senate bills protect taxpayers by making the appraisal protest process more transparent and requiring only a majority of appraisal board members to side with protesters instead of the whole board. He also said the Legislature must find a way to decrease property tax bills, not just slow growth.
In the bill's current form, the tax rate would be set to cap revenue growth at 2.5 percent if voters reject a proposal for a larger increase.
In cases where property values are on the rise, an election could be triggered when officials want to keep the tax rate the same, or even cut the rate. That would have been the case in Waco last year.
Attempts to reach state Rep. Kyle Kacal, a College Station Republican whose district includes parts of Waco, were unsuccessful.
Deaver said the Legislature has also covered a lower percentage of school finance each year, leaving more of the education tax burden on the local level.
"You've got to educate yourselves about what's going on here," Deaver said. "Because this is a shell game, and there's not any other way to put it. … Everybody needs to get engaged on this issue."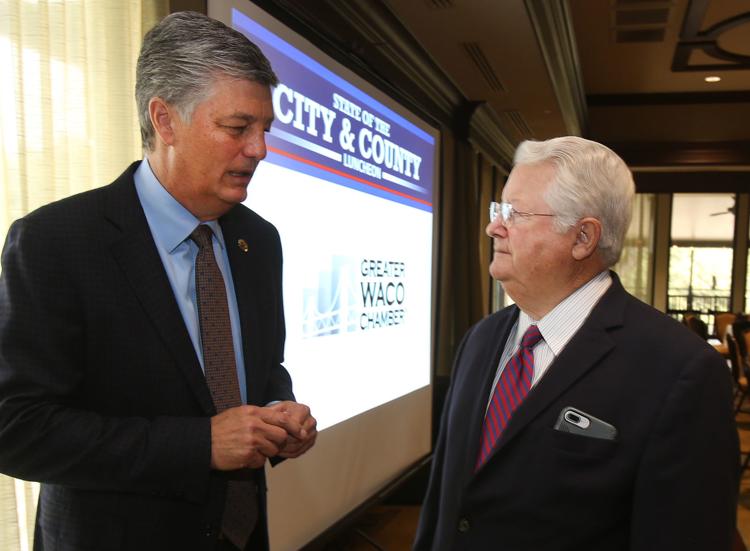 McLennan County Judge Scott Felton said the state's plan would limit services the county provides to taxpayers. Imposing revenue caps on local governments is unfair because the state Legislature is not adequately funding education, he said.
"This is a big political move by the very top of the state to show that they're the heroes by placing blame on the local elected officials," Felton said. "'A waste of money.' We don't waste money. We address the needs of the community."
The proposal runs counter to the Greater Waco Chamber of Commerce's position that local control should be protected, said Jessica Attas, the chamber's vice president for public policy. In an email, she said even a 5 percent cap indexed for inflation would be a fair compromise.
That route "could afford property tax relief to business owners while still allowing municipalities the room they need to plan for sustaining the economic growth and momentum we've been enjoying," she said.