Potential developers have until November to submit proposals for their vision of the former Floyd Casey Stadium site.
The city officially started accepting proposals after a meeting with potential developers Tuesday. City Economic Development Manager Kent George said the city is seeking a plan that includes residential development, with room for some commercial and office space, while prioritizing connections to neighboring trails and sidewalks.
"The big three obviously is residential, a bit of commercial and connectivity with respect to the park land that's already there," George said.
Developers will need to incorporate the South Waco Community Center and walking trails that are near the site. The site also includes a track facility formerly owned by Baylor, now managed by the city and used by various schools.
"We're open to ideas," Interim Parks and Recreation Director Jonathan Cook said. "We spent city funding looking into doing this, but we do not want that to squash creativity that we can generate from what your proposal may be."
The 105-acre site also includes a 4-acre slice in Beverly Hills city limits.
"In the future, we would like to be able to connect downtown to these neighborhoods to the west," George said. "We're still in the process of finalizing the vision of how they would be connected."
The idea of connecting Floyd Casey to downtown predates the Imagine Waco Downtown Development plan created in 2010. The city's master plan includes a connection from Mary Avenue to the stadium site and other neighborhoods created by converting former railroad tracks into a path for pedestrians and bicycle riders.
"It's been a long-term vision for a long time," said Melett Harrison, the city's executive director of economic development. "But having this redeveloped, I think, will spur that."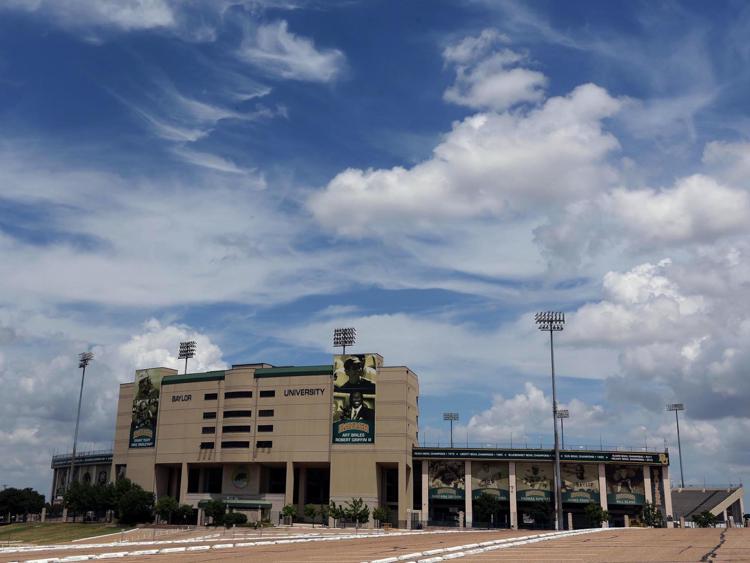 Senior parks planner Tom Balk said city staffers have been informally discussing connecting Mary Avenue, which is slated to become a pedestrian-focused "festival street," to the Floyd Casey site for years.
"Since that planning effort there's been a lot of ideas about how we stretch that corridor," Balk said. "When the Floyd Casey opportunity first came up five years ago, people started to think 'What if that festival street, that trail corridor, stretched all the way to Floyd Casey?' "
He said the city has not yet determined the best way to connect the two, and the final version will not necessarily follow Mary Avenue straight to Floyd Casey. He said the city would wait to see how the Floyd Casey site is going to be developed before making concrete plans for the corridor.
"Waco Creek is a great opportunity, but there are some challenges along Waco Creek," Balk said.
The route would connect Bell's Hill Park, Cotton Palace Park and other parks facilities.
The Floyd Casey site came under city control in 2016, when Baylor University traded it for a 5-acre tract near Interstate 35 and Martin Luther King Jr. Boulevard, in the shadow of McLane Stadium. Baylor moved its football home from Floyd Casey to the newly built McLane Stadium in 2014 and demolished Floyd Casey Stadium before the trade with Waco.