City Councilman Jim Holmes would do a lot to get Waco to recycle more, including his best impression of Christopher Lloyd.
The Waco City Cable Channel has produced public service announcements, many in the form of movie parodies, to raise awareness on issues including proper grilling safety, flood safety and how to dispose of household waste. From the moment Holmes joined city council three years ago, the city's TV crew had plans for Holmes' DMC DeLorean, City spokesman Larry Holze said.
"We knew at some point we would do something with 'Back to the Future,' " Holze said. "It's kind of been percolating for a couple of years."
The car and Holmes both feature in the city's most recent public service announcement about recycling, which parodies a scene from "Back to the Future." Holze said it is not often that city council members step in front of the camera in costume, but Holmes agreed to play Lloyd's character, Doc Brown, for the sketch.
"My son is a huge fan of the trilogy," Holmes said. "I think I've seen each of those movies about 20 times each. I've been exposed to Christopher Lloyd's acting techniques."
Holmes said he had his eye on DeLoreans since he was a law student in the early '80s and finally bought his about five years ago in Dallas. The cars were produced in model years 1981, 1982 and 1983.
"It was in good shape, the engine was still running," Holmes said. "But still, the 1981 technology, the suspension, the power steering, acceleration, air conditioning. … It's not up to current standards."
He said the car never fails to attract attention from passersby who want photos.
"It's fun to drive, and it gets a lot of attention," Holmes said. "It is kind of a weird, iconic looking car."
Holmes said when he was approached by the Waco City Cable Channel officials about shooting a parody of the closing scene of the first film, he agreed without hesitation.
"I said 'absolutely, I think it's a great idea,' but then the trick question was 'would you be Doc?,' " Holmes said. "If it helps the recycling cause, I'll help out in any way I can."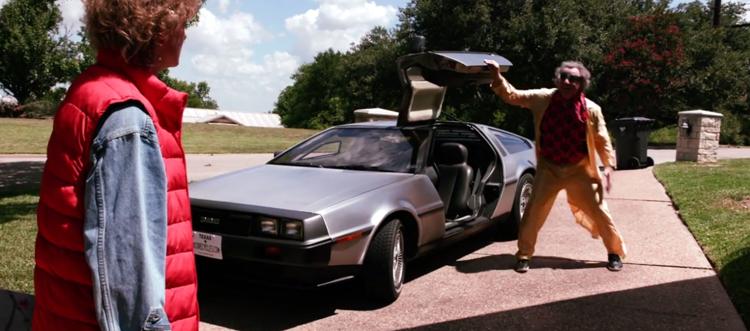 Recycling rate
Holmes said the public service announcement is timely. Waco recycles about 12% of its refuse, and he said he hopes to see that number increase to about 25% in the next few years as the city continues to grow. About half of the city's residents recycle.
"We're kind of in a spot where we've been a rural, smaller big town, but we're on the precipice of dealing with big-city issues," Holmes said. "To have a good recycling program, a good diversion program, is key to having a healthy overall trash management discussion."
Holmes also said he hopes multiple city recycling centers will open over the next five years.
Recycling services coordinator and fellow "Back to the Future" fan Anna Dunbar said she enjoyed the video, and she is encouraged because Waco's recycling participation rate has increased in the past decade.
"I think it's driven by the desires of our residents, and I think that's fantastic," Dunbar said.
She said the city's public service announcements have been fairly successful at drawing attention to city issues. A similar sketch parodying "The Matrix" features a Waco resident learning about different waste bins, and a parody of "It" encourages residents to not sweep leaves into storm drains.
"It's getting the word out in a way that hopefully attracts attention," Dunbar said.