The city council voted to approve up to $4.5 million in hotel occupancy tax rebates for the estimated $33 million hotel project, which would be in addition to a $7.4 million grant the council already approved from the downtown Tax Increment Financing Zone. Public subsidies would account for 36 percent of the project cost if the hotel gets the full $4.5 million refund, $7.4 million TIF grant, and the cost estimate holds.
Krishna Lone Star LLC, the company building the hotel at 301 S. Second St., will be expected to hold a job fair targeting city-center residents for employment, city Economic Development Executive Director Melett Harrison said.
"There are several parameters in there for them to get that hotel occupancy tax rebate, and that's one of them," Harrison said.
The downtown Tax Increment Financing Zone board approved almost $7.4 million in public incen…
She said the hotel will also hold a construction job fair to connect contractors on the project with local subcontractors, with a focus on minority- and women-owned businesses.
"They're not required to hire those folks, but we want them to give the best consideration they can to local contractors," Harrison said.
Construction is slated to start next year and take about two years, she said.
"They definitely have an 18- to 24-month construction timeline," Harrison said.
Assistant City Manager Bradley Ford said Embassy Suites will also work with the Waco Convention and Visitors Bureau to provide blocks of designated hotel rooms for events. The building's parking garage will include 141 public parking spaces paid for through the TIF grant.
Developers are seeking more than $4.9 million in downtown incentives to bring a full-service…
Bike, scooter rentals
The council turned its attention again to Gotcha Bikes LLC, the company that plans to bring a fleet of 50 electric bikes and 50 electric scooters to Waco in June for a one-year pilot program. Chelsea Phlegar, a senior planner with the Waco Metropolitan Planning Organization, gave the council an overview of the contract and scope of work with Gotcha Bikes during Tuesday's meeting.
"It's for one year with the option to extend for one additional year," Phlegar said. "That extension is automatic, but either party can give a notice of 60 days to stop the extension. Also, either party may terminate the agreement at any time with 60 days' notice."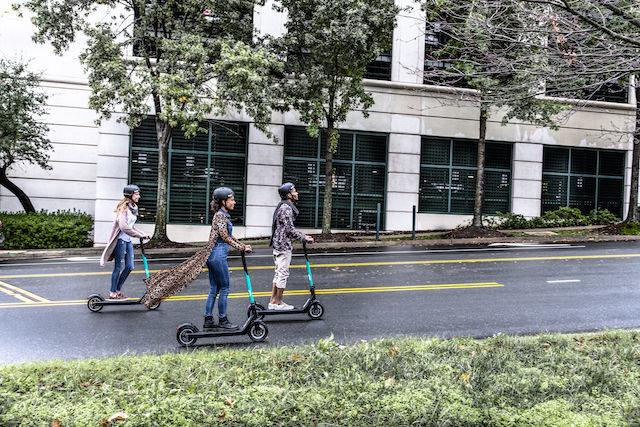 After months of deliberating the pros and cons of allowing rented electric scooters and bicy…
The type of electric scooters and bicycles already buzzing around the streets of downtown Da…
The contract specifies the city can allow or deny any Gotcha advertising in Waco. The council briefly discussed safety measures as well, considering the possibility of helmet laws and speed laws.
"Right now, the helmet requirement is not a city of Waco ordinance," Phlegar said. "It is part of Gotcha's overall policy."
The council also approved an ordinance amending multiple sections of city code to include considerations for "shared mobility device programs," like the pilot program Gotcha Bikes plans to implement in June. The ordinance amends restrictions to parking and riding on sidewalks and allows the devices on shared-use paths.
Other business
The city council approved an agreement with Baylor University to partially fund a Waco Employer Relations Specialist position
Approved a resolution to submit a letter requesting entry into project development for the Federal Transit Administration Capital Improvement Grant Program for the Waco Rapid Transit Corridor, beginning the grant process
Voted to approve an ordinance to create specific design standards for repurposed shipping containers used as residential structures.