The trail called Cool Runnings starts at a break in a rubble wall between two trees, then swerves down a rocky hill.
At the bottom of the curve is a wooden wall that goes almost vertical. Two guys on their mountain bikes hit it at 20 mph and go horizontal. They turn and thread their bikes between two cedar trees five feet apart.
Then, as quick as hawks with their prey, they swoop back up the hill.
The cyclists, Brett Swartz and Matt Monroy, know this little thrill ride well: They helped build it. Over the past couple of years, they and other Waco Bicycle Club members have been working at a rugged tract next to Cameron Park to create a course that has begun to draw mountain bikers from all over the state.
The 66-acre tract, called the Ranch at Cameron Park, is owned by Waco businessman Todd Behringer but connects to Cameron Park's formidable trail system and is open to the public. The facility begins at the end of Adeline Drive.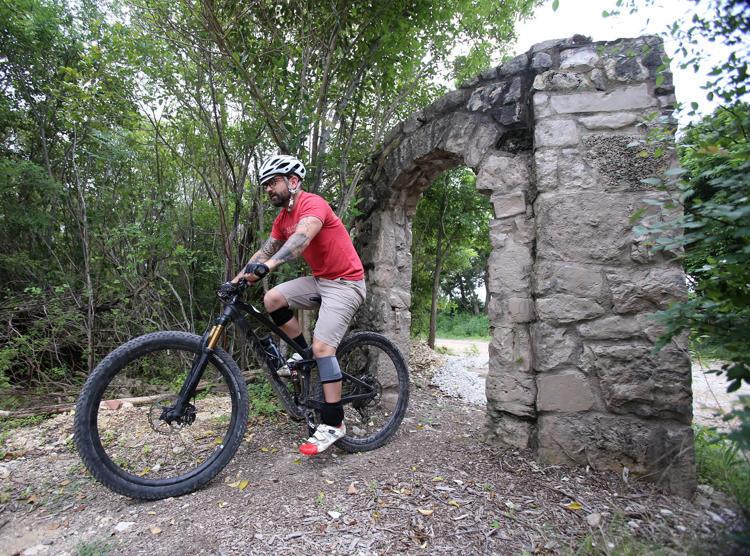 Since its soft opening in 2017, the bike course has grown progressively more elaborate, with several miles of trails, three wooden walls and a downhill course called Party Line, which features six ramps and a drop of about 80 feet.
In the same time, volunteers have cleared away invasive undergrowth, planted wildflowers and used stones, bricks and rubble to create benches and a patio, which also offers a bike-fixing workstation. Public art is also in the works, starting with a series of totem poles that will be installed this spring near the stone ruins locally known as the "Witch's Castle."
Trent Dougherty, who manages the Ranch at Cameron Park, said the course is drawing hundreds of visitors a month without any promotion, cyclists from big cities who want to try out something different.
Though not as large or as technical as some mountain bike courses, such as Spider Mountain in Burnet, it offers advantages: It's free, relatively uncrowded and adaptable to a wide range of skill levels, Dougherty said.
The ramps and other features were designed to be as easy or as hard as cyclists want them to be, depending on their speed. During design and construction, Dougherty kept in mind the broken collarbone his teenage daughter suffered on a private bike ranch.
"It started with me wanting to have a place for my kids to train," he said. "Anybody who can ride a bike can ride this. … It's equally amenable to beginners and experts. We're trying to expand the range of usership. Cameron Park is hard. There are no entry-level trails. We're expanding the user experience at both ends of the spectrum."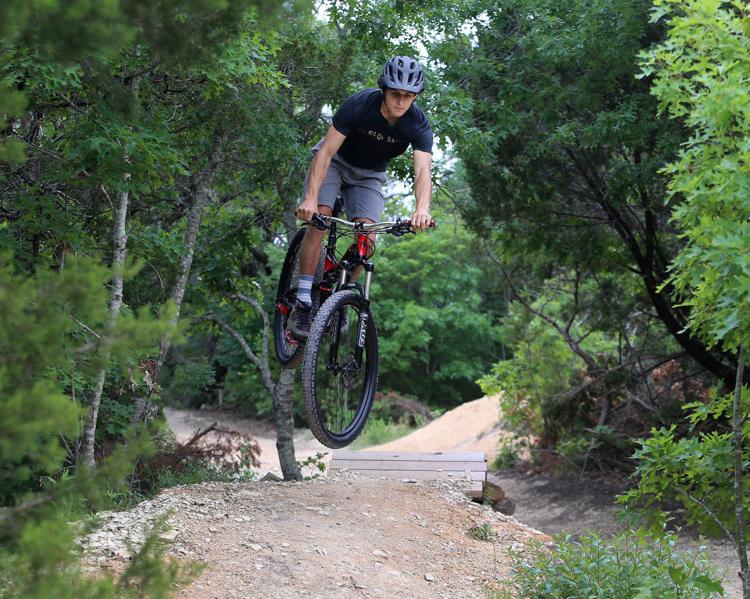 Monroy, 21, is at the higher end of that spectrum, having migrated to mountain biking a few years ago from the world of BMX bikes and skateboarding. He said he enjoys the Ranch at Cameron Park as much as a lot of the other courses he would have to fill up his gas tank to visit.
"I could definitely ride this a lot," he said, after demonstrating jumps on the Party Line ramps.
Swartz, 38, who has funded and helped build much of the course, has been riding in Cameron Park since he was 10. But he said the dedicated course has sharpened his skills.
The co-owner of Slow Rise Slice House pizzeria, Swartz says mountain biking is a mental break from the stresses of the day.
After a few circuits around the Cool Runnings trail, he described it as a kind of disciplined surrender to gravity.
"It's similar to dropping into a wave and finding your bottom," he said. "The wood wall is arching back. It's like turning hard on a roller coaster. You're hurled against the wall and you're curling into it. It's just the centrifugal force keeping you stuck to it.
"It's all about keeping your line of traction as you're maneuvering between trees. You're trying to find the line and trusting the line to hold you."
He also enjoys the "weightless, addicting" feeling of the Party Line jumps, though he takes them a bit slower than Monroy. He said the ramps were designed and spaced to gracefully link to one another.
"A lot of this is like a rhythm section: This here, this here, it's almost like a little tune," he said.
Bicycle club member Nicole Perez said she has quickly become obsessed with the course, recently getting in 17 miles on it in one day. She has only been working at the sport a couple of years, and she takes the jumps at her own pace.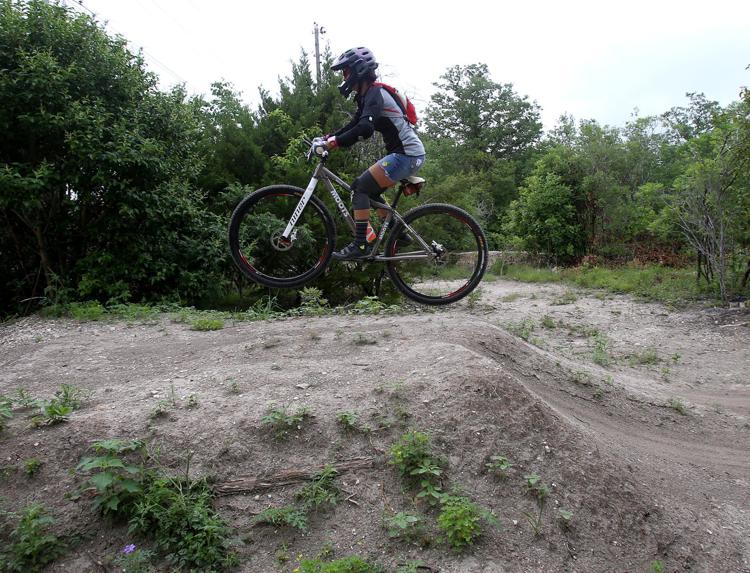 "I have no shame in my game," she said. "If I'm not sure about something I'll walk it. I want to be intact."
Dougherty said he sees the Ranch at Cameron Park as a laboratory for future improvements within Cameron Park itself, proving that a course can be both safe and challenging.
"All the things I'm doing are with an eye toward leading the city," he said. "There's no reason we can't have this stuff in Cameron Park."