Westrock Centre, covered with stone and potential, opened 13 years ago on Hewitt Drive, almost right across the street from a new Walmart Supercenter.
Since then, yet another Walmart has opened in the Hewitt area, at Interstate 35 and Sun Valley Boulevard. H-E-B built a 109,000-square-foot Plus! store at nearby U.S. Highway 84 and Estates Drive. George's Restaurant opened a second area location, in Westrock, where it has expanded three times.
Meanwhile, D.R. Horton and Stylecraft continue development of a 1,500-home subdivision, Park Meadows, in far West Waco, near Hewitt. These "rooftops" mean more demand for goods and services.
All that in mind, and more, the local attorneys who own Westrock Centre have put their property on the market with a $10.5 million asking price.
Local agents Brad Davis and Gregg Glime, both with Coldwell Banker Apex Realtors, are listing the more than 70,000-square-foot center and have prepared a marketing brochure showing the sales price translates to $148.28 a square foot. The center has an 89 percent occupancy rate, and 2019 rents will total $747,468. Users have an average of three years remaining on their leases, creating a "stabilized" tenant mix, according to marketing material, and an additional 50,000-square-foot pad site is available for development, with an estimated market value of $5 per square foot.
Local reaction
Sammy Citrano, a partner in the George's at Westrock Centre, said the restaurant now occupies 8,500 square feet.
He said center ownership notified him the property has hit the market. He soft-pedaled any personal interest in buying the center, saying at age 63, he may not pursue more real estate ventures. He owns the former Buffalo Wild Wings building on Franklin Avenue, near New Road, which is being remodeled into El Paso Mexican Grill, and has interests in restaurants in Tyler and Flower Mound. He was part of an ownership group that sold I-35 acreage near South 10th and South 11th streets to developer Shane Turner.
Meanwhile, Waco businessman Gordon Swanson said he, too, has learned of plans to sell Westrock Centre. Swanson invests in real estate, having pumped about $1.4 million into remodeling the Crossroads West shopping center at Hewitt Drive and U.S. Highway 84, and opening seven Aaron's Self Storage locations in Greater Waco, including one on Hewitt Drive.
"I think the center probably sells pretty quickly," Swanson said. "Interest rates have gone up, but they remain low, and as long as they stay decent, it's a good time to invest."
However, he said he has no interest in buying the center himself.
The center was built in 2004 by investors Billy Davis Jr. and Steve Harrison, both Waco-based attorneys. Davis told the Tribune-Herald at the time they would spend $6 million to $7 million creating the dining-and-retailing strip, including the cost of land. Brad Davis, Billy Davis' brother, said anyone desiring to "park money they may be taking out of the stock market" might find the center an attractive alternative. The cap rate, or rate of return on investment, is 6.9 percent, according to marketing material.
"That's a reflection of how the center is performing now, without any (lease) rate increases," Glime said.
A sale may not necessarily lead to higher lease rates, but existing leases will continue to mature, he said.
Longtime tenants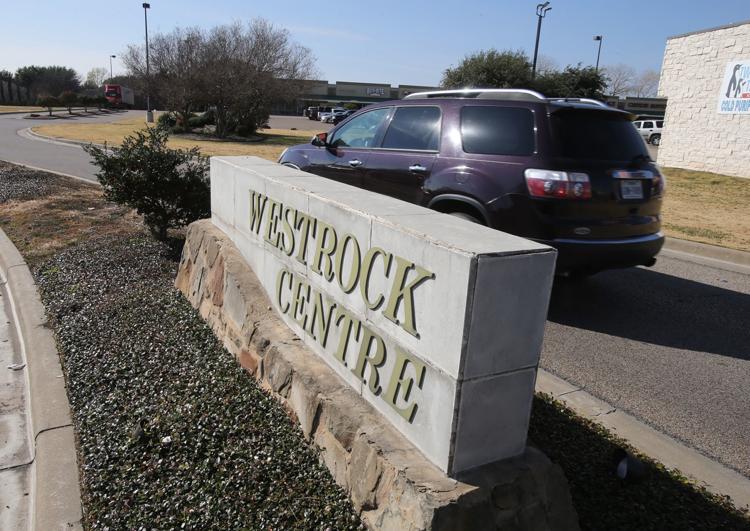 Outparcels at Westrock Centre, including the space occupied by a Bush's chicken restaurant, have been sold and are not part of the sale.
"George's has been a boon to the place, and Poppa Rollo's and 135 Prime are really good anchors," Brad Davis said, referring to a family-owned pizza parlor and a steakhouse owned by his brother and Harrison.
Other longtime tenants include Woof Gang Bakery, a sweets shop for dogs; the Summer Palace restaurant; Wingstop, Sport Clips; Central Texas Urgent Care; and Select Physical Therapy, Glime said. The restaurants and service-related users contribute to making the center more "Amazon-proof," meaning its use is not limited to retailers, he said.
A relative newcomer is Little Land Play Gym, which moved into space previously occupied by Cantina Texas, Glime said.
Hewitt Drive traffic
Though Hewitt Drive has seen explosive retail, residential and restaurant growth, traffic counts continue to play catch-up from 15 years earlier, said Chris Evilia, executive director the Waco Metropolitan Planning Organization.
He said figures from 2007 show 42,000 vehicles traveled Hewitt Drive daily near U.S. Highway 84. That number plummeted to about 27,000 vehicles daily as Greater Waco, lagging behind the nation, started suffering the effects of economic recession, Evilia said.
"But counts have increased by nearly 4,000 per day, to 31,000, the last two years, which means the area is back on the upswing," Evilia said. "The Hewitt-Woodway-West Waco corridor has been among the fastest growing in the area, if not the fastest, the past 15 or 20 years."