Blind military veterans receiving therapy in Waco know Heather Balmos, a vet herself, has their back — and their shoulders, sore necks and stiff muscles. She has been giving free massages on Fridays for months at the Doris Miller Department of Veterans Affairs Medical Center on New Road.
"The GI Bill paid for my massage school, and I could not have chosen a better career," Balmos said. "Giving massages, making people feel better, nothing is more rewarding."
The 39-year-old North Carolina native has opened a Hand & Stone Massage and Facial Spa location in Central Texas Marketplace, with her husband, Heath Balmos, 45, managing the business.
He and Heather met while both were stationed at Fort Campbell, Kentucky, Heath's last post after stops in Fort Benning, Georgia, and in Germany. He served with the Army's 101st Airborne Division on peacekeeping assignments in Bosnia-Herzegovina and Kosovo, both formerly part of Yugoslavia.
He said he remembers walking through riot-torn neighborhoods in full battle gear and having children join the ranks. They would eagerly follow him and other soldiers who shared snacks and articles of clothing.
Heath Balmos said he was eager to return to Texas after securing a degree in business administration from The Citadel, The Military College of South Carolina, his six years in the Army and 16 years with snack-maker Frito-Lay, for which he managed a production plant in Vancouver, Washington.
"I grew up in San Antonio. My wife is from Greensboro, North Carolina," he said. "We considered both states when deciding to start a business."
Texas won, specifically Waco. The local market was available for franchising, and the Balmoses liked what Waco had to offer. They have sons ages 18, 15 and 7, so schools and family-focused activities were important.
"San Antonio is getting a little too big now," Heath Balmos said.
Their search for a site ended at Central Texas Marketplace, the sprawling retail center at Bagby Avenue, West Loop 340 and Interstate 35. They signed a lease on 2,870 square feet near La Madeleine French Bakery and Cafe.
"I think being near La Madeleine is an advantage," Heath Balmos said. "Their demographics are very similar to a majority of our clients."
Heather Balmos said she served as an administrative assistant while stationed at Fort Campbell three years. With the military providing help with tuition, she attended the Everest Institute in Tigard, Oregon, where she was trained to become a massage therapist. She was employed at a Hand & Stone location in Washington state, where she met the company founders during a celebration of that spa's first anniversary. There she determined to have her own place.
"I had been taking business classes, which I really enjoyed, but I didn't want any of those jobs," she said. "When I secured my degree, my 12-year-old at the time told me I should follow my passion. I didn't think I really had any passion. We did have a spa room in our house. I got a massage every chance I got, and I gave my family massages. I went to massage school on the GI Bill, and it absolutely has become my passion.
"I don't feel as if I'm working when I'm massaging. I don't think people understand how beneficial a massage is until you get one on a regular basis. School teaches you the right spots and right techniques, how not to hurt the body or use your thumbs the whole time."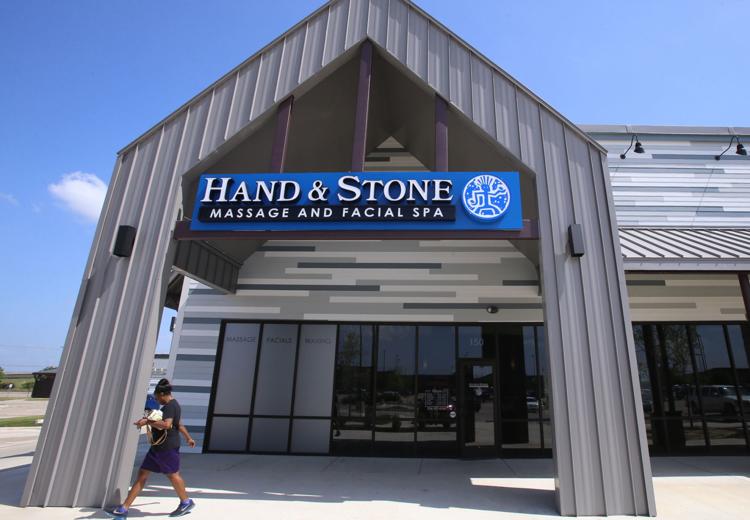 The Hand & Stone in Waco accommodates 11 rooms and 12 massage beds. Massages typically last 50 to 80 minutes, and are spaced 50 minutes apart. A 50-minute Swedish massage runs $59.95, and other treatments can run higher, according to the Balmoses. They employ five massage therapists in addition to Heather and want to hire more, they said.
"We think we can provide a great experience, help with whatever brings you to our spa: aches, pains, headaches," Heather Balmos said. "We can use heated rocks, Himalayan hot stones that become an extension of the hands to penetrate faster and deeper into the muscle and relieve tension."
Hand & Stone, founded in 2004, has more than 400 locations. Franchisees pay royalties, but owning a franchise gives the couple access to colleagues in the field and exposure to best practices.
"Our goal is to bring massage to the masses," Heather Balmos said. "Some places charge north of $100 for a massage. We start at much less than that."