Construction crews for Interstate 35 reconstruction started razing the 11th-12th Street overpass Wednesday evening, causing closures along the frontage road adjoining downtown.
The southbound frontage road between Fifth Street and 17th Street was set to be closed from 7 p.m. Wednesday to 6 a.m. Thursday as the east side of the overpass is stripped of its deck.
Other frontage road and main lane closures will be announced over the course of the project, which is expected to take several days, said Ken Roberts, spokesman for the Texas Department of Transportation's Waco district. Once the bridge deck is removed, crews will begin working west to east to remove the beams.
The bridge has been in the works for weeks but the timing was not announced until Wednesday morning. Roberts said the schedule for the project was still somewhat uncertain until then.
"We've been back and forth from the standpoint of demolition," he said. "We didn't want to say we were going to do it until we were sure. We are now comfortable with the plan and the ability of our contractor to safely and effectively move us forward."
TxDOT officials were contacting affected frontage road businesses individually to give them a heads up. The stretch includes a cluster of restaurants including Chick-Fil-A, McAlister's Deli and Torchy's Tacos.
"We're going to be out there making sure folks know," he said. "It's not necessarily a surprise that it's happening, but the fact that it's happening tonight is a bit of a surprise."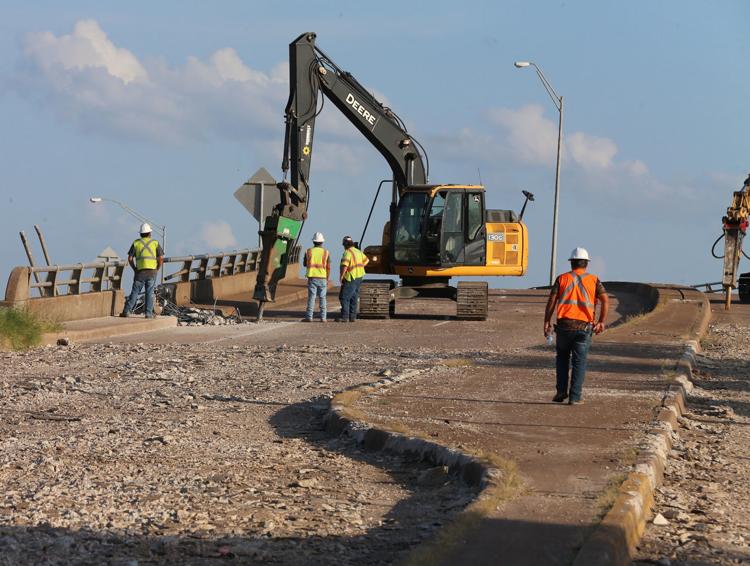 Brittany Wren, general manager of McAlister's Deli at 812 S. Sixth St., agreed the announcement was more sudden than she expected. But she said she hopes the effect on customers is short-lived, and she's glad it's only night work.
"I don't think it will have as much impact as if was at 2 in the afternoon," she said. "Most people who come in at night aren't tourists, anyway."
She said I-35 construction has already cut down on the number of customers coming off I-35.
"It's a learning curve," she said. "Once they figure out how to get here, it will be much easier."
During the frontage road closure, visitors to the affected businesses will be able to get back on Interstate 35 through direct ramps to the main lanes, Roberts said.
The 11th-12th Street bridge demolition is part of a multiyear $341 million project to reconstruct I-35 between 12th Street and North Loop 340, replacing overpasses and ramps and expanding the number of main lanes to four in each direction.
When completed, Interstate 35 will pass over 11th Street, which will be at grade level with bike lanes and sidewalks.