The Brazos Promenade development now underway on the city-owned riverfront could be getting an even bigger neighbor next door.
Business partners Joe Beard and Rick Sheldon are seeking downtown incentive funds to assist with a $129.3 million complex called "Brazos Commons." It would feature an 11-story hotel with a restaurant and conference center, plus 400 dwellings, 30,000 square feet of retail space and about 800 structured parking spaces.
The partners on Thursday will ask the downtown Tax Increment Financing Zone board for $7.9 million to help pay for utilities, paving, structured parking, demolition and the relocation of Oncor electric transmission lines.
The project would start late next year and wrap in 2019, according to the application.
At its noon meeting Thursday on the third floor of City Hall, the TIF board also will consider a $1 million contribution toward the redevelopment of the Stratton Building at 800 Austin Ave. as housing, restaurant and art space. The board makes recommendations on use of a TIF development fund that comes from a portion of property tax revenue generated from the downtown zone.
Creature comforts are in short supply at CrossFit Waco's gym at Webster Avenue and South Eig…
Sheldon and Beard been working on their riverfront vision for more than a decade and previously were chosen by the city to develop its riverfront property around the Waco Downtown Farmers Market site. The partnership bowed out of that project in 2014, citing ballooning costs and sitework issues, but they retained a seven-acre tract next to Clifton Robinson Tower and demolished the condominiums on that site.
"We're very excited about this new project," said Mike Anderson, spokesman for the partnership. "We've had a lot of time to study the project and the area, and we really think we're bringing something better than we had before."
City of Waco staffers are recommending the full $7.9 million, saying it will advance the redevelopment of the riverfront and University Parks Drive "gateway" to downtown, while providing more conference space when the Waco Convention Center is full.
The 160-room Drury Hotel would include an 8,000-square-foot conference center, as well as parking for guests and the public, plus a restaurant and an 11th floor observation deck.
The funding amount includes $2 million the city itself would use to relocate the electric lines, which would also benefit the adjacent Brazos Promenade project.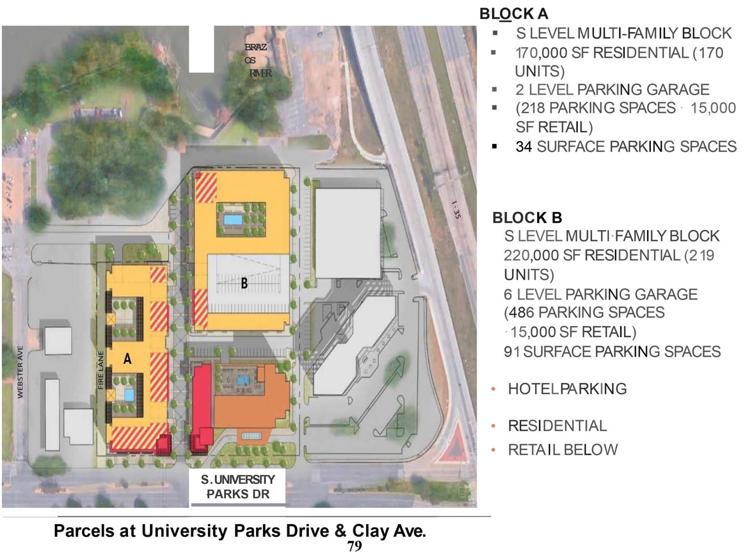 The TIF board and Waco City Council last year approved $20.2 million for the Brazos Promenade project, which is to be built in phases for a total cost of about $100 million. Catalyst Urban Development is planning to build 265 multifamily units, 44 live-work units, a 110-room hotel, 12,000 square feet of conference space and retail and restaurants, as well as a public riverfront park incorporating the farmers market.
The TIF money is approved for cleanup of the debris-strewn site and to build a network of roads, sidewalks, utilities and public spaces. The road and sidewalk network is designed to tie into the Sheldon-Beard development, including sidewalk improvements all the way along University Parks Drive.
Taken together, the two riverfront projects would create a new center of density for downtown.
"I think they complement each other," City Center Waco executive director Megan Henderson said. "The Catalyst proposal creates a very smooth, very public-space-oriented neighborhood kind of place. With the Sheldon-Beard proposal, I like how their new design includes some of their ambitious density but also pulls pedestrians through the site and toward the river and public spaces."
You might think giving away millions of dollars a year to help make downtown Waco more vibra…
Taken together, the projects would add 270 new hotel rooms to a downtown market where about 500 new rooms are already in the works. They would add about 700 residential units to downtown.
But Henderson said Waco's emerging reputation as a travel destination bodes well for the hotels, and market studies have shown there is room for hundreds more dwelling units downtown.
Stratton Building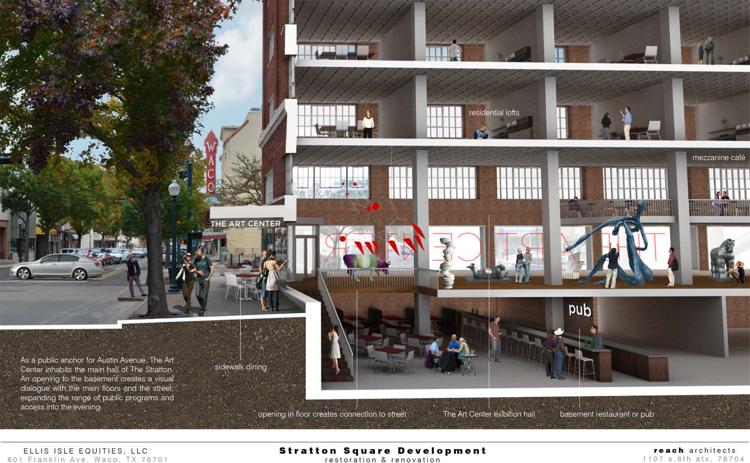 Meanwhile, the TIF vote on the Stratton Building marks a significant milestone for Austin Avenue's comeback.
A former furniture store built in 1923, the Stratton building is notable for its sweeping interior space and mezzanines, but over three decades of vacancy it has fallen into disrepair.
Ellis has spent several years lining up federal historic preservation tax credits that will fund about $1 million of the $5 million project.
Ellis plans to strip away some of the ground floor to reveal a basement bistro-pub. The rest of the ground floor would be arts-related, possibly home to Art Center Waco exhibits. The mezzanines would be used for art classes and would feature a coffeehouse and retail.
The upper floors would be turned into 27 apartment units.
Ellis has won a National Register of Historic Places designation for the building and will follow painstaking federal preservation rules both inside and out, he said.
"That was essential, because this building is so central to downtown and to the historic fabric of downtown," he said. "The only way to do this building right is to preserve it in the absolute best way possible."
Ellis said the building will complement the now-expanding Waco Hippodrome across the street and the small shops and eateries that have popped up along Austin.
"It's going to help bring a lot more people downtown, and having people living there really strengthens the economy," he said.
Henderson said the tax credit process wasn't easy.
"I would call the pace of progress frustratingly slow for all involved," Henderson said.
But she said the "vibrant street life" the project promises to bring will make it worth the wait.