Like Waco leaders, the McLennan County Appraisal District is bullish on Waco's resurgent downtown, with its food trucks, loft apartments and attractions such as Magnolia Silos, Waco Downtown Farmers Market and the Hippodrome.
But downtown advocates say overly optimistic tax appraisals for the area could nip that rebirth in the bud.
On average, land values across the downtown Tax Increment Finance Zone have doubled over last year, but in specific areas, the value increase is even steeper. Lower Austin Avenue land values have nearly quadrupled to about $40 per square foot. Values have climbed even higher closer to the Brazos River. Land values at RiverSquare Center and the food truck court along Franklin Avenue are now about $75 per square foot, the highest in the county.
MCAD officials say they're simply catching up with downtown's revitalization after years of undervalued properties.
But downtown development officials say the new preliminary values are out of line with the market and could drive entrepreneurs out of the area.
"This is a dramatic change that does not seem to square with what we're seeing in the market," City Center Waco executive director Megan Henderson said.
"I get that the appraisal district's job is not to assess the positive or negative impact of their valuations, but if their goal is accuracy, if it's wrong in a dramatic way, it has a huge set of unintended consequences. This community has invested too much time, talent and treasure nursing downtown back to health for us not to make a big deal when something threatens that health."
Henderson and the downtown Public Improvement District Advisory Board last week sent a letter to MCAD officials asking them to reconsider the downtown valuation increases. Meanwhile, scores of individual property owners are expected to go before the Appraisal Review Board this summer to protest their values.
Steve Sorrells, a longtime developer, was among four PID board members who were chosen this week to spearhead the collective effort to challenge the new valuations. Sorrells, who owns office buildings along Austin Avenue and is developing the Cameron Heights town houses, said the tax valuations have outpaced the actual economic progress of downtown.
"There's no reality in it," he said. "None of the existing buildings with existing leases have changed. Nothing has changed at all. The part we're most afraid of is that despite the good, positive movement that's going on, we haven't reached maturity by any stretch of the imagination. When you see a fourfold increase, that will cause people to go elsewhere."
Jhonas Theill, owner and salesman at Suit City at 707 Austin Ave., saw his land value increase from $11 to $40 per square foot. Now his small shop and the adjacent vacant space are valued at a total of $398,190, and his taxes will increase 47 percent to $11,878 a year.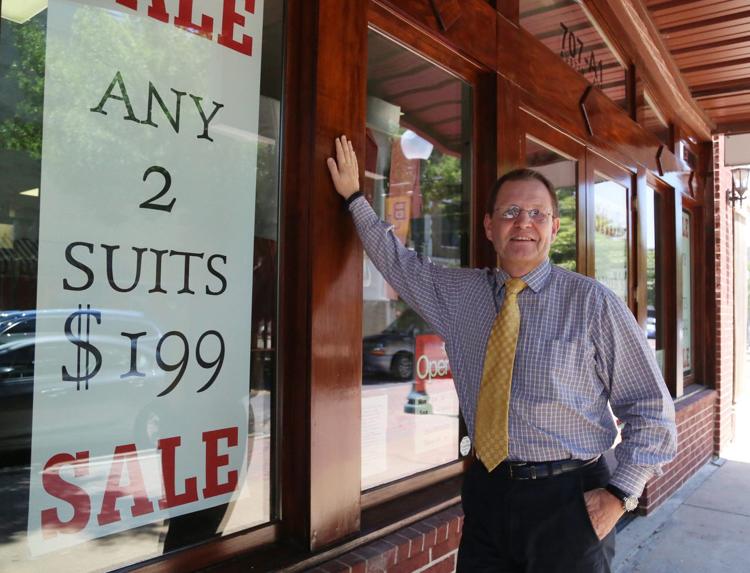 Theill declined to say whether that tax increase would cause him to look at moving out of downtown, but he said "it's definitely a negative."
"I'm very concerned that businesses that have moved to downtown might be pushed out," he said.
As a customer ducked into a dressing room to try on a purple suit, Theill recalled how he moved downtown about seven years ago, inspired by the vision of a revitalized downtown. He said he still believes in that vision, and his location has helped him gain a loyal customer base he might not have had in a strip mall. But he said Austin Avenue hasn't yet become a major destination with plentiful foot traffic.
Henderson, of City Center Waco, agreed that downtown's recovery is precarious.
"We are still attracting the market into downtown," she said. "If you look at the number of new projects subsidized by TIF dollars, in some sense we are still paying people to do deals downtown. That is the definition of a market that has not completely taken off."
The Tax Increment Finance Zone, or TIF, funds public improvements and development incentives through a portion of local tax revenues generated from downtown properties.
Bland Cromwell, a Coldwell Banker real estate broker who has been a major player in downtown land sales, said he understands the need to raise values downtown, but some land values he's hearing are out of sync with actual land prices.
"If I listed a tract at Sixth and Austin at $40 a square foot, I probably couldn't sell it," Cromwell said.
He suspects that much of the land value increases are based on a few anomalous sales. For example, he said the land for In-N-Out burger at Eighth Street and Interstate 35 reportedly sold for $45 per square foot — one of the most expensive recent land sales in the county, he said.
MCAD officials said the land sales along I-35 didn't have a direct impact on the revaluation of Austin Avenue properties.
Don Whitney, head of commercial appraisals at MCAD, said values in the interior of downtown are largely based on estimates of what kinds of leases and economic activity a property could support. In other words, the district takes an "income approach" for most downtown properties instead of a "cost approach," which would value a building according to how much it might cost to build. Also, it's difficult to base values on sales of comparable properties, because downtown properties are so varied and sales information does not have to be disclosed.
"The central business district is pretty difficult to appraise," Whitney said. "It's a real difficult task to come up with land value since it's nearly 100 percent built out. We don't have a lot of land sales."
Whitney said the downtown market has been changing so quickly that it's hard for the yearly tax appraisal process to catch up with it. He said the changes in the market aren't gradual, and the appraisals aren't either. That's why land values might double in a given year, he said.
"The problem with real estate is that everybody wants to see a straight line, but what happens in the real world is that the swings are drastic," Whitney said.
He said MCAD has seen evidence that land between Fourth Street and the Brazos River is in high demand.
"One of the properties backing up to the river did sell a number of years ago in excess of $60 per square foot," Whitney said. "My gut feeling is that was before things started picking up. We don't think any of that (demand) has gone away."
A casual observer might guess that much of the downtown increase is being driven by Magnolia Market at the Silos, which HGTV stars Chip and Joanna Gaines opened last Halloween. The renovated cotton oil mill complex at 601 Webster Ave. has reportedly drawn 20,000 shoppers a week, causing traffic snarls along Sixth Street.
Indeed, the property itself increased in value from $386,990 in 2015 to $3.3 million this year, and its land value increased from $6 to more than $30 per square foot.
But its valuation effect on immediate neighbors has been only incremental. The Findery, a large store that opened last year in the old Percy Medicine Co. building at 501 S. 8th St., increased sixfold in value, but most of that was because of the improvements. Its land value increased from $3.50 to $5.60 per square foot, a fraction of the value at Magnolia or lower Austin Avenue.
Likewise, CrossFit and the Yoga Bar, on the same block as Magnolia Market, saw land values increase to a mere $4 per square foot, from $3.52.
Whitney said land values in the silo area don't compare with lower Austin Avenue because the area is less densely developed, and the staying power of the silos has yet to be proven.
Henderson, of City Center Waco, agrees with that logic to a point.
"If you'd ask me, 'Is property on Austin twice as valuable as property on Webster?' I'd say, 'Yes.' That's about right," she said. "Certainly the silo area is getting a lot hotter, but that continues to be an emerging phenomenon."
But she said the reappraisal has made the gap between the two areas disproportionate. Henderson said she thinks MCAD's intent is to set accurate and equitable valuations for properties, but she is encouraging property owners to challenge any values they think are excessive.
"I'm looking forward to reviewing the information that the appraisal district is using for these numbers," Henderson said. "Neither I nor anyone I have talked to — property owners, commercial brokers, tenants — have looked at $40 a square foot for land and said, 'Oh yeah, that's reasonable.' "