Ritchie Robins said he knew Brake & Clutch Supply's days downtown were numbered when Magnolia Market opened in October 2015.
"Nobody could get to us for the traffic," said Robins, who co-owns the business founded in 1936. He said rubber-necking tourists in SUVs with out-of-state license plates clogged the street fronting his shop.
"Our typical customer is a 60-year-old farmer pulling a trailer," Robins said.
He doubted his clientele could peacefully coexist with travelers bound for the new attraction of Chip and Joanna Gaines at Sixth Street and Webster Avenue, where two towering former grain silos and long lines mark the spot.
Fast forward to today, and brothers Ritchie and Jason Robins are closing Brake & Clutch Supply and moving to Interstate 35 between Bruceville and Lorena.
Meanwhile, businesswoman Jill Barrett now owns the Brake & Clutch locale and hopes to pair it with the Falcon & Owl building next door to form Eighth Street Market, a shopping, dining, drinking and relaxing outpost directly across Eighth Street from a Magnolia parking lot. Nearby are train tracks, the Waco Transit headquarters and the federal courthouse.
"I dreamed of buying Brake & Clutch but had to wait until the timing was right, for the stars to align, to work out a deal that made sense," Barrett said. "Now we're planning a development that makes use of both buildings."
Barrett initially planned a Falcon & Owl antique and gift shop in the old warehouse-turned-diner she bought first, where a still visible message advertises long-gone early-bird specials. But she converted the building to storage space and bided her time.
Now, she envisions a "whole experiential place to go," a pairing of the two buildings to create a vibe of hospitality, much as she did with the Common Grounds coffee shop near Baylor University. The spot she founded 25 years ago became a hit with students and locals.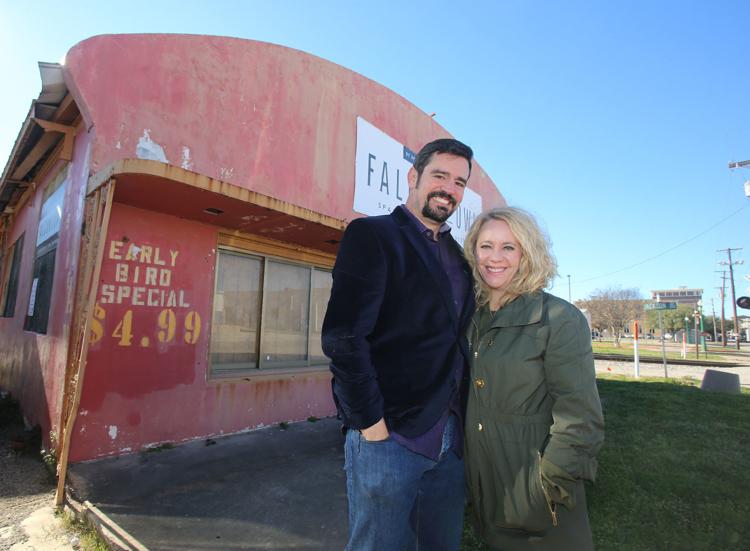 Much of what the site will become remains in flux, but definitely space will be provided Jimmy Don Holmes, a maker of metal decorations who gained fame on "Fixer Upper." He already operates a 36-foot-long trailer in the parking lot, selling products priced at $40 to $150 apiece, and estimates 400 people a day drift over from Magnolia Market to browse and take selfies with him.
"Yes, he will be one of our tenants," Barrett said. "He will have his own space attached to Brake & Clutch, with his own storefront, and we will work on preparing his place first. We are thrilled to have him down there with us. My goal is to have Jimmy Don's permanent location completed by summer."
First, the building must yield to a thorough cleaning and environmental adjustment to counteract more than eight decades as a garage. All the while, Barrett will continue to fine-tune her vision and that of her husband, Josh Barrett, and venture partners Holly and Mike Dunham, both of Waco. She also has recruited assistance from a Dallas-based urban planner.
Thinking out loud, Barrett said she has considered a "man-focused" getaway to anchor the development. It might include an upscale bar, cigar sales, a barber shop and leather goods. A beer garden has crossed her mind, as has a home goods and antique shop, with a food-and-beverage complement.
Barrett said she will not proceed in a vacuum. She hopes to collaborate with others eyeing projects near Webster Avenue, Eighth Street and beyond, including longtime Waco investor and businessman Bill Wetterman, who proposes converting the historical Geyser Ice Co. building at Ninth Street and Webster Avenue to a mixed-use venue anchored by a full-service hotel.
"I would like to see us gather together as a collective community of developers, all with an interest in making downtown all it can be," Barrett said. "How can we create walkability between projects? I think there is something to be said for meandering. Everyone could benefit. The economic engine is Magnolia, but I think that neighborhood can become even cooler. Two people shouldn't be responsible for the whole city. There are a lot of creative souls and entrepreneurs here. They just needed that shot in the arm."
Wetterman bought the old Geyser building about two months ago, as the previous owner continued a cleanup, Waco real estate agent Gregg Glime said.
Meanwhile, Kevin Durkin, a Homestead Heritage resident and founder of an organization that restores historic buildings and barns in several states, said he is involved with a group hoping to improve land along South Ninth Street between Webster and Jackson avenues, calling Barrett "our neighbor."
"We've considered several concepts, including retail involving craft-oriented and handmade items," Durkin said. "We probably would build something new but with an historical element. We're working with our neighbors to be a small part of what's going on there, the many interesting projects. We're very excited. There are two big pecan trees on the property, the old Waco Taxi site, which we cleared, and we want to work them into our plans."
He said Homestead Heritage is not directly involved, "but we were influenced by the craftsmanship there," referencing the 510-acre village where residents grow their own food and livestock, operate a general store, blacksmith shop and cheese shop, and welcome guests for tours and meals.
Local real estate agent Jim Peevey said he and colleague Kenny Stevens assumed the Brake & Clutch listing in May 2018, when the original asking price was $650,000. The owners "were looking for a user-type buyer who didn't need to find tenants, a Jill Barrett-type," Peevey said. "She was their neighbor, having bought the Falcon & Owl, and knew nearly as much about the building as I did. I'm excited for her. This could become a place for people to gather while friends or family members visit the Silos."
He said out-of-state interest in the building surged in November, when Chip and Joanna Gaines, stars of the HGTV hit "Fixer Upper," announced they were returning to TV with their own network in collaboration with Discovery Inc.
But all roads led back to Barrett and her plans, Peevey said.
Mike Schmidt, executive vice president for lending at American Bank in Waco, said he is working with Barrett on the project and shares her enthusiasm.
"We have a branch downtown, so obviously we believe in what's going on down there," Schmidt said. "But what impressed us most about Jill's plan was her interest in making this a gathering place for locals. Of course, it will be good for tourists, too, and Magnolia generates a lot of tourist traffic. We also were interested in what Jill had to say about other things going on in and around that area."
Glime mentioned, for example, investor Kevin Baker's plans to fill the building at 924 Austin Ave. with a brewery, pub, retail space and possibly a "fitness user." Built in 1923, the spot served as a Ford and Buick dealership in decades past, and Baker is pursuing tax credits to offset costs associated with retrofitting the historical building, Glime said.
Neither Ritchie Robins or Barrett would disclose the sales price for the Brake & Clutch building. Robins said he used proceeds to buy an 8,000-square-foot structure on I-35 most recently vacated by MDS Engine Service.
"Considering other deals being made down here, I'm sure we are small potatoes, but we are getting more than the property is actually worth, and getting enough to buy a building, move our equipment and set up shop without owing anybody anything," he recently told the Tribune-Herald.