Ike Kestner's department store on Elm Avenue enjoyed a 90-year run, closing in 2003 after surviving the Great Depression, two world wars and a tornado that devastated downtown. It fell victim to evolving demographics that saw its vibrant East Waco neighborhood become an afterthought.
Walmart's march to dominance did not help.
But with Elm Avenue returning as a hot commodity, where retail shops, restaurants and hotels have been announced, the two-story Kestner's building has been sold. The buyer, Kevin Durkin, oversees a team of architects, artisans and builders who disassemble historic sites piece by piece for relocation and reassembly. They do business as Heritage Restorations.
Durkin said he cannot wait to get his hands on Kestner's. It will remain where it was built in 1897, and opened as a dry goods store in 1914. A full-page advertisement from that era appearing in the Waco News-Tribune, a predecessor to the Tribune-Herald, trumpeted ladies' skirts priced at 25 cents, shoes at "bankrupt" prices of $1 a pair, all sizes available, and material for sewing marked down to a fraction above 7 cents a yard.
"Merchandise is being sold for less money than the raw material can be bought for during this sale," a caption atop the page said.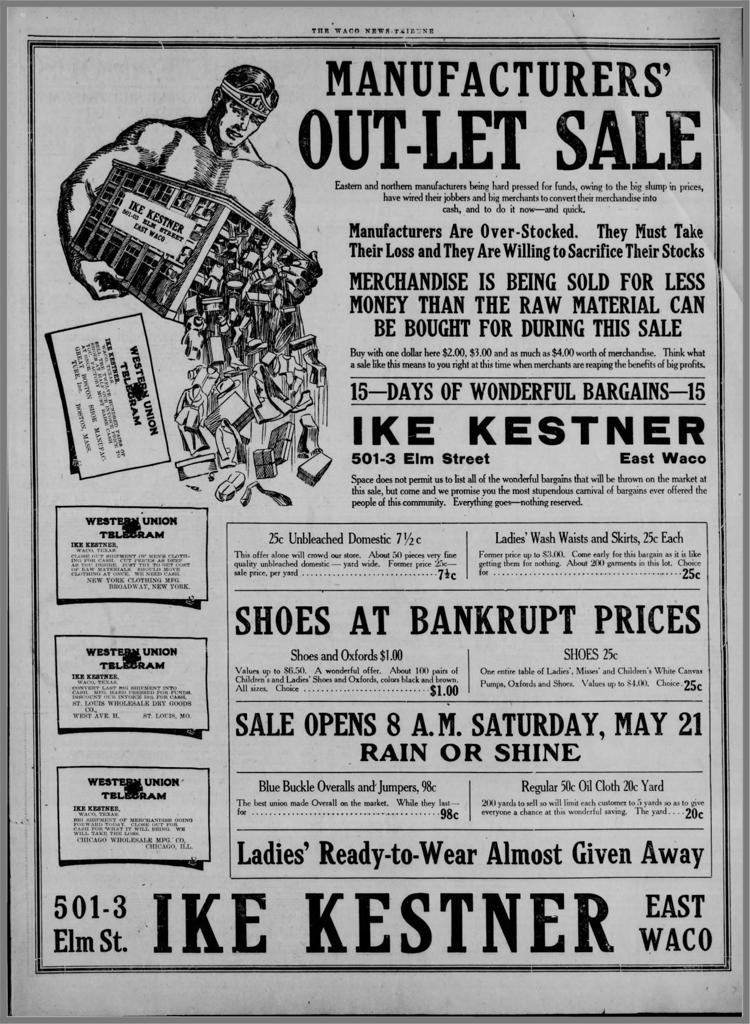 The 11,000-square-foot Kestner's building was inherited by the children of Douglas C. Brown, who died unexpectedly from acute leukemia in 2009. He spent years investing in East Waco, buying up properties he believed still held promise. His vision for Elm Avenue seemingly is bearing fruit.
"That was his pride and joy, the Kestner's building," his son, Sam Brown, said. "He was holding it for just the right time, just the right project. It was one of the last things my sister and I sold. It's such a jewel for the neighborhood, its size and architectural uniqueness. We were not going to let it go for just any development that came along. Kevin and his group have such a history of craftsmanship, revitalization and renovation. They're already involved in the East Waco community by implementing the food hub. They contacted us, and we felt they were right to take control of Kestner's."
Brown, senior vice president for commercial business development at Extraco Banks, said he never formally lists properties or publicly quotes asking prices. He said he assumes prospects with serious plans will seek him out.
Brown and Durkin have a history that made the Kestner's transaction palatable. Durkin assembled investors who in February bought 22,000 square feet of the old C.M. Brown Produce Co. complex at Dallas and McKeen streets in East Waco from siblings Sam Brown and Cathy Turner. The abundance of space, refrigerated and otherwise, proved tantalizing to investors envisioning parking space and a commissary for food trucks, commercial kitchens, food incubators, a growers' market and a virtual restaurant or two.
"The place is all cleaned up and painted on the outside. Next week we're going to be replacing roofs. We ordered materials today," Durkin said of the food hub development. "We're also awaiting approval of some city permits."
A 22,000-square-foot piece of the old farmers' market complex in East Waco is getting an "exciting and ambitious" collaboration.
Planning for the Kestner's adventure is about to get serious, Durkin said. He wants input from East Waco residents on what should become of the place. He hopes to continue tapping the resource that is District 1 Councilwoman Andrea Jackson Barefield, "who already has been very helpful." He also has touched base with Megan Henderson, who directs City Center Waco.
He must craft construction plans, secure bids on repairing or replacing the roof and schedule environmental surveys to detect any hazardous materials. Then comes the pursuit of building materials that will allow the restored structure to meet current codes while preserving its vintage look.
Through salvage companies around the country, some as far away as New York City, Durkin has access to stone and brick used in construction more than a century ago. He will apply these resources, if necessary, to restore the Kestner's building. He said the partnership also bought property on each side of Kestner's, and is mulling its options on those sites.
"We'd like to build on that side of the block," Durkin said.
What the Kestner's space will become remains up for discussion.
Dining venues, upscale shops or bed-and-breakfast uses, or a combination thereof, are not out of the realm of possibility, Durkin said.
"We want what's best for East Waco," he said.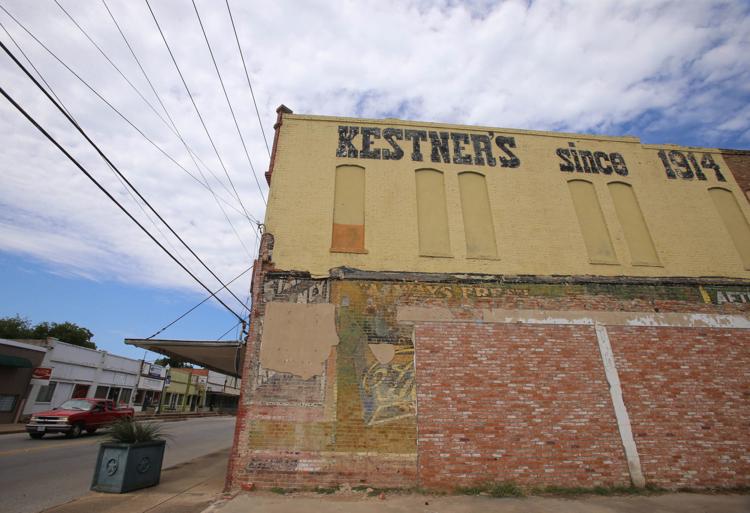 Durkin has lived in Waco 24 years and is a member of the Homestead Heritage community, where residents raise crops and livestock and make soap, furniture, clothing and other goods. His work with Heritage Restorations has included about 450 projects related to historic preservation all over the United States, and in Canada, Japan and China, he said. Recently, craftsmen visited the upstate New York home of "Tonight Show" host Jimmy Fallon, where they used wood harvested from a farmhouse in Canada to build a rehearsal studio, he said.
"Jimmy Fallon was there, and our guys met him and his wife," Durkin said. "They were very nice, and I think he loved his studio."
Heritage Restorations is now disassembling an inn located in Harleysville, Pennsylvania, with plans to ship the pieces back to Texas.
"We prefer that historic places such as this stay where they are," Durkin said. "We were told George Washington slept there, as did other revolutionary figures. Historians said a group guarding the Liberty Bell spent time there. They didn't want it to fall into the hands of the British. When we acquired the building, locals asked us if we would consider leaving it there. We said we would and gave them six months to find a new use or user.
"They called us back and said, 'We can't get it together.' Now we're counting the truckloads needed to transport it back to Texas," Durkin said. "The building will be disassembled, and each piece will be numbered, wrapped and palletized. It will be put back together exactly as it was. If you can move a bridge from London to Arizona, you can move this to Texas."
Durkin, who is now researching where best to place the historical inn, said he and his team of artisans will apply the same care to the Kestner's building.
East Waco advocate Nancy Grayson, whose Lula Jane's bakery on Elm Avenue occupies space bought from the Brown family, said she wants for Kestner's what she wants for other locales up and down Elm avenue.
"An eclectic mix of opportunities to shop, eat and spend time," she said. "Kestner's upstairs is beautiful, without a doubt the most beautiful on Elm Avenue, if not all downtown. It is extraordinary. I could see high-end apartments, bed-and-breakfast spaces, condominiums. Downstairs could become something that contributes to the foot traffic on Elm. Lula Jane's, oh gosh, stays very busy. We're happy to be part of the buzz on Elm Street."
Brown, meanwhile, said he's not finished making deals.
"I have a handful of properties under contract," he said. "They should close within 30 to 60 days, and I will have more announcements."