With bottles, books and strollers in tow, and Beyonce blasting on an iPhone, new moms are finding a new way to balance motherhood and staying fit.
Certified fitness instructor Alex Price launched Stroller Strides Aug. 5, and the mother to 4-month-old Marleigh Price has already seen her class grow, she said.
Operating six days a week, the stroller-based, full-body postnatal fitness class gets moms moving at Cameron Park and Hewitt Park with roving routines involving nursery rhymes and cardio, Price said. The classes are part of Price's local Fit4Mom franchise.
"We can discuss breastfeeding and C-sections, and fourth-degree tears in a way most women probably don't feel comfortable being as candid in a typical gym," Price said.
With children strapped tightly in strollers, moms start each class with introductions before moving through stations throughout each park. Parents are encouraged to come as often as they can, and about 10 are in the class so far, Price said.
Besides Price, only three showed up Tuesday morning at Hewitt Park: Hewitt mom Megan Peacock, who has attended the class since the beginning; Waco mom Bailey Dobelbower, who has been going for only a week; and Chilton mom Kinder De La O, who has throughout the past month.
Price pushed play on Beyonce's "Run the World" to inspire her class during their stroll toward a set of bleachers in the middle of the park. Then, she ordered her moms to run up and down the stands every time the word "up" was mentioned in a book she read to the infants as they looked on.
"I'm not a smoker, I promise. But I sound like it," De La O huffed after her first round of cardio.
"Yeah, smokin' hot," Price responded to reinforce a positive mindset.
De La O, a mother of two, smiled as she walked back over to check on Layton, who was more interested in his mother's cell phone than seeing her sweat.
"Part of it, too, is you get your own little time," Price said. "While Mom is off doing cardio down a field or something, I have the babies, and I have bubbles, so it's a little bit like there's somebody there to distract the babies while you get what you need out of the workout."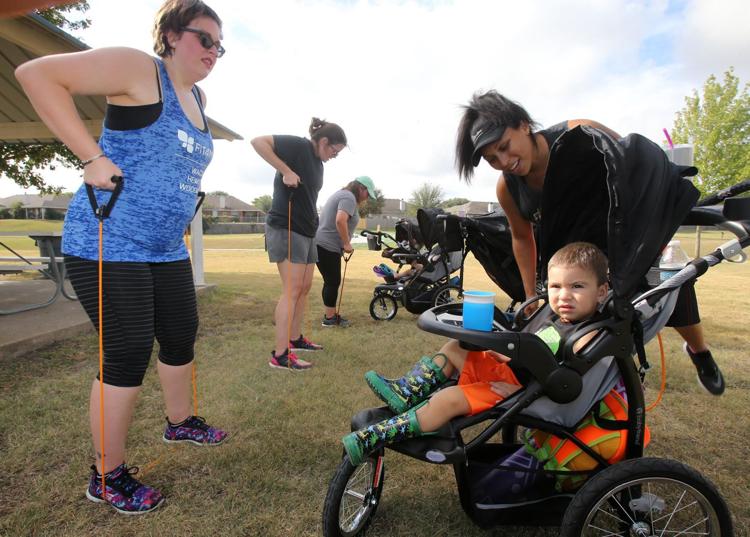 Tailored to help mothers regain their balance after birth, the classes offer support at a time when many are insecure about their bodies, Price said. If the routine is too difficult, she will adjust the workout and offer words of encouragement to keep participants going, she said.
As the group headed toward the basketball court, Toni Basil's "Hey Mickey" and Britney Spears' "Toxic" echoed from Price's cell phone speakers to keep the women focused and driven.
"This has been great. It's actually improved my relationship with my husband, not that it was bad." Peacock said. "For me personally, I was so self-conscious about my body during and after pregnancy. He would tell me after she was born, 'Oh, you look great today,' and I would be like, 'No, I don't. I look gross.' But coming here, seeing I'm not the only one who has felt that way, has helped me accept compliments and be more confident."
After a few sprints from one end of the court to their children, the mothers stretched with resistance bands. They walked to another area, where they placed their strollers in a circle and ran around them several times to the tune of "Pop Goes the Weasel," jumping up as high as possible in front of a child every time the word "pop" came up.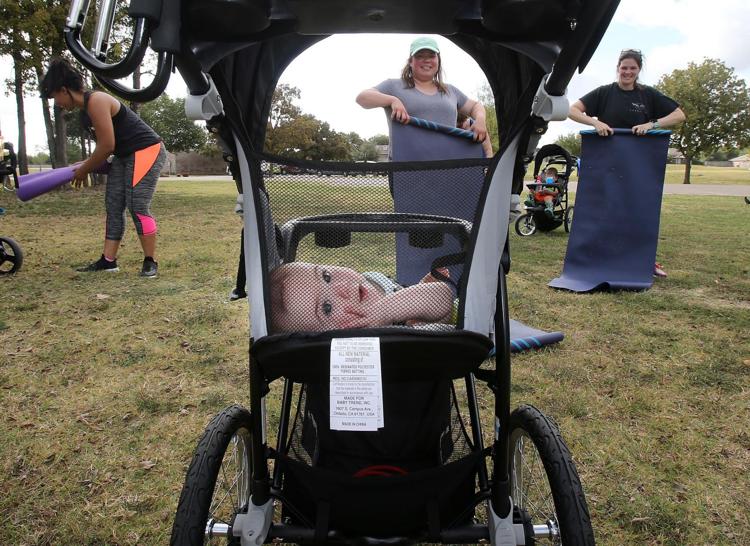 The women then trotted over to a picnic table to strengthen calf and quad muscles, followed by more stretching reps to the tune of "Mary Had a Little Lamb."
"Since, having a baby, I'm not sitting around as much and doing the strength workouts," said Dobelbower, the mother of 2-month-old Hadley Dobelbower. "I was a runner and walker before getting pregnant, so having someone there to motivate me to do the strength part, because I don't really like that part, is uplifting."
As the day's workout wound down, they pushed their children to a field, with Survivor's "Eye of the Tiger" playing in the background, letting them know they passed the toughest parts of their hour with Price.
They unrolled yoga mats, sat with crossed legs in front of their strollers and stretched one last time before heading in separate directions for the day.
"I need these ladies. They're so encouraging and they help lift you up to get you through it, because it's really hard," De La O said. "I need the motivation and it makes things so much better for me."
Classes typically meet at 9 a.m. Monday through Saturday. The first class is free, then classes cost $40 to $75 per month, depending on frequency of attendance.