A Louisiana-based chain called Walk-On's Bistreaux and Bar will place a restaurant beside the lake that anchors Legends Crossing, the development near Interstate 35 and West Loop 340 that also boasts a Chuy's Tex-Mex restaurant and Saltgrass Steak House.
Walk-On's, whose founders were non-scholarship basketball players at Louisiana State University, according to the restaurant's website, will close Friday on the purchase of two lakefront lots covering 2.8 acres. Construction on an 8,500-square-foot structure should start shortly thereafter, Waco real estate agent Jimmy Banks said. Banks markets Legends Crossing.
"The chain is making a strong move into Texas, and a Lubbock-based franchisee has also acquired rights to the Waco market," said MacKenzie Landry, who called herself a master broker for Walk-On's who helped the company find a local site.
Banks said Thursday he has received a commitment from yet another restaurant that he likely will identify next week.
He said he and business partner Lisa Monroe, who own and operate a local real estate firm called Triliji Group, will place a 15,875-square-foot retail and office development adjacent to the lake to be called The Axis at Legends Crossing.
"We will have two separate buildings, with Phase 1 covering 10,400 square feet and Phase 2 occupying 5,475 square feet," Banks said. "On the first phase, we are waiting for our architects to complete a full set of plans, which we will submit to the city for approval. I expect us to be under construction within 60 days."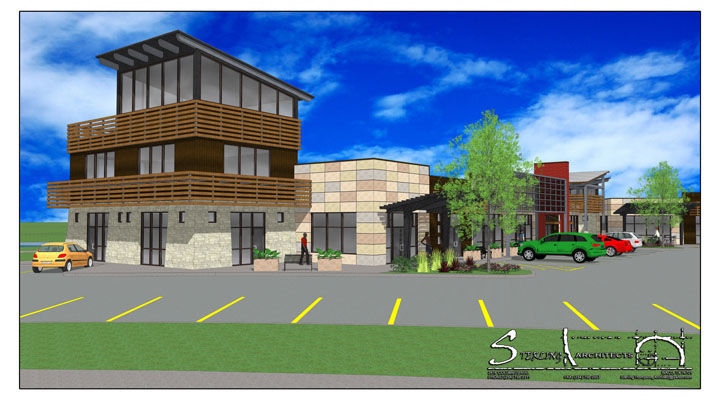 Legends Crossing originally covered 158 acres, but developers sold 74 acres to Baylor Scott & White Medical Center for construction of a new hospital complex and medical offices.
'Only 4 lots undeveloped'
"We began marketing the balance of the site more than 10 years ago, worked through the slowdown in the economy and yet were able to stay true to our vision of a quality, high-end development," Banks said. "We probably only have four lots undeveloped, and we're negotiating deals on a couple of those now."
Other occupants of Legends Crossing include Heitmiller Steakhouse, Douglass Nissan, Incommons Bank, FastMed Urgent Care, Premier Family Dental, Homewood Suites by Hilton, TownPlace Suites by Marriott and Holiday Inn Express & Suites. A Hilton Garden Inn is under construction.
"We are really satisfied with the mix of occupants," Banks said. "We have a nice variety of restaurants that are putting up some of the top dining numbers in the local market."
The Axis, the planned retail and office development, will become headquarters for Triliji Group. It also will provide as many as eight spaces for "upscale, boutique-type retail" that may include a jewelry store and a women's clothing shop, Banks said.
Walk-On's now operates 12 locations, including four in its hometown of Baton Rouge, Louisiana, two in New Orleans, five others in Louisiana and one in Lubbock, spokeswoman Kelly Parker said.
Planning continues for additional locations in Florida, Mississippi, Tennessee and Texas, where the company has targeted Austin, Beaumont, Dallas-Fort Worth, Houston, San Antonio and Tyler.
New Orleans Saints quarterback Drew Brees became a partner in the company in 2015, and in 2012, ESPN named it the No. 1 sports bar, according to the restaurant's website.
Menu items includes gumbo, burgers, salads and "specialties" that include VooDoo Shrimp, Louisiana Combo Platter, Cajun Ribeye, Cajundillas and Catfish Atchafalaya.
Johnny Qubty, who has partnered with Josh Allen to serve as franchisees for the Waco location, said in an email response to questions, "I can tell you that people do not come to our Walk-On's in Lubbock because we have a cool atmosphere and the best service. They come because our food is amazing and our culture invites you in. You and all of Waco are going to be amazed."