Waco Ale served up a cold one on Thursday, hosting a grand opening on Austin Avenue. Owner Brett Stewart used the occasion to applaud a new state law that allows craft breweries to sell their product for the road.
Breaking an extended standoff in Austin, the 86th Texas Legislature passed beer-to-go. Gov. Greg Abbott signed it into law, effective Sept. 1, making Texas the last state in the nation to approve on-premise sales for off-premise consumption. It puts "manufacturing" breweries on closer to equal footing with brewpubs, which long could sell their blondes, ambers, pale ales and specialty brews to customers bound for TV time, a party or the lake.
No longer do servers at Waco-area restaurants and bars have to tell patrons they're out of luck when asking to try a local beer.
Thanks to nuances in Texas' multi-tiered approach to beer brewing and consumption, Waco Ale and Bare Arms Brewing already have licenses to sell beer-to-go. Southern Roots is likewise permitted.
Brotherwell, on Bridge Street in East Waco, is alone among the four allowed only to serve for on-premise consumption. It has a popular taproom, plans an event there Sept. 1 to celebrate beer-to-go, and reportedly is taking steps to join its three colleagues in exercising rights it will acquire Sept. 1.
"I'm all for it," said Waco Ale's Stewart, a Midway High and Baylor University graduate, discussing the new law and repercussions within the industry. "I'm for every business being able to sell the product any way they are able to."
The bill was championed and co-sponsored by State Rep. Eddie Rodriguez, D-McAllen, and State Sen. Dawn Buckingham, a Republican representing District 24, which includes much of south central Texas, including Bell County.
Stewart said the change of heart among lawmakers reflects the growing popularity of craft beer and the clamor for accessibility.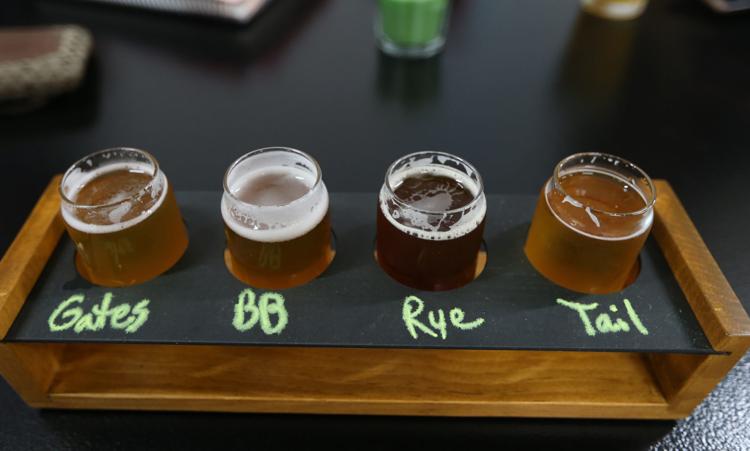 He said his journey to forming Waco Ale began with moving to Houston after graduating, starting a family and saving his money with the notion of returning to Waco and slaking its growing thirst for craft beer.
"When I got to Houston, there were two or three craft breweries. Now there are more than 50. There has been an explosion. I thought Waco would be a good place to start one, especially with the growth we've seen the past five to 10 years," Stewart said. "We definitely have room for even more. A lot of towns around the country have one for each neighborhood."
He sells growler cans to go and kegs directly to consumers.
Stewart said he accessorized Waco Ale with families in mind. It makes and serves beer in space adjacent to Hey Sugar Candy Store.
"We want people to come and never leave. We have comfortable seating areas, TVs, and we encourage people to bring their children, their pets," Stewart said. He added he hopes to serve food in short order, featuring a small menu long on quality and incorporating his own beer in the ingredients.
Southern Roots, a 5,000-square-foot brewery and pizzeria, is preparing for a mid-September grand opening at Eighth Street and Washington Avenue.
"Our specific license, which is a brewpub license with a 'self-distribute' permit, already enabled us to sell beer for off-premise consumption," said owner Dustin Evans, in an email response to the Tribune-Herald. "As such, we will have a crowler canning machine, which will enable us to can beer on-site, one at a time. This will be available as soon as we open."
Beer-to-go sales, said Evans, "is a giant win for our industry."
"We've worked alongside many breweries who have amazing craft beer, but were prevented from increasing their sales as they weren't permitted to sell beer to go. This is a major step forward, and will help guarantee success for the many other breweries across the state who don't have similar licenses to us. We're a firm believer that a rising tide lifts all boats," he added.
Southern Roots will power its operation with a seven-barrel brewhouse system, with a common beer barrel holding 31 gallons, Evans said in his email.
"We have 12 main taps and an additional four taps on a mobile bar, and we carry a selection of local wines," he said in his email. "Our seven flagship beers are our family recipes, which we've had for years, with the additional taps being used for our small-batch and experimental beers and ales."
On the food side, said Evans, Southern Roots will serve pizzas and pretzels, wings, garlic knots and nachos. It also will serve non-alcoholic beverages.
"We've mostly completed building renovations and anticipate our grand opening to be mid-September, hopefully a little sooner," said Evans "We'll feature televised sporting events on two main TVs and a projector, bands and community-based events and fundraisers."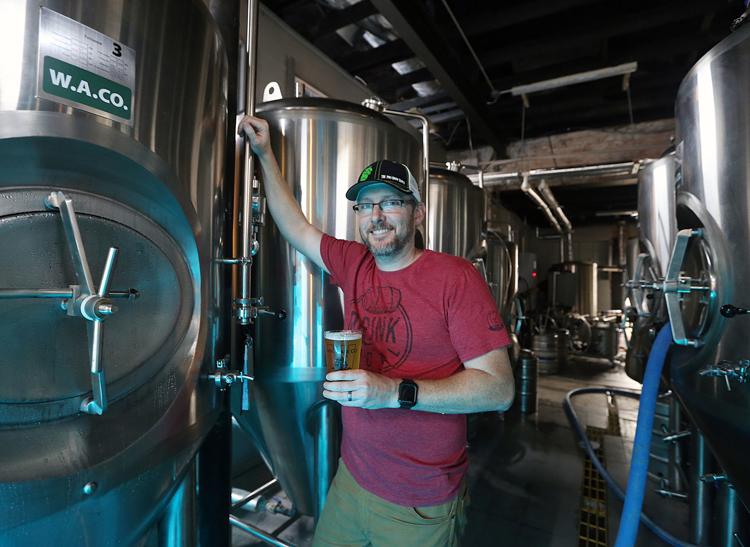 Bare Arms Brewing co-owner Justin Veach says personally, Sept. 1 is just another date on the calendar. For the industry, it's a watershed moment.
"As a brewpub, we can manufacture, distribute and sell beer to go, and we've been able to do that since the day we opened. We sell five brands in six-packs to go, and we sell kegs to those with kegerators. We also distribute to (retail) customers around town, like H-E-B and Spec's," said Veach.
Otherwise, "I think it's great," Veach said. "It's good to be able to visit a brewery and take beer home, talk about your visit, share with people."
Brotherwell Brewing, meanwhile, sees the law as a boon to its bottom line. It operates a popular taproom at its brewhouse on East Waco's Bridge Street, a hulking venue where it hopes to place a biergarten, covered porch, outdoor stage and indoor-outdoor space for gatherings. It does not yet have the financial wherewithal to add a canning operation, but the new law is "fast-tracking our schedule" in that regard, said co-founder David Stoneking, who owns and operates Brotherwell with business partner Jacob Studinka.
It plans to celebrate "our newfound freedom" on Sept. 1, offering reusable growlers to customers and one-year membership in a growler club for $300.
Stoneking said several providers statewide offer a portable canning service. They show up, hook their equipment to the beer tanks and fill as many cans as possible in a day or so, then take a hike, Stoneking added.
Brotherwell could create a sample size and gauge public acceptance, all while generating additional revenue from beer-to-go sales to install its own canning and filled-can cold storage operation, probably within six months.
Stoneking said the more craft beer breweries locally, the better.
"Each has its own personality, its own voice, brewing style and marketing approach. Beer is not the same everywhere you go," he said. "Having two breweries now, with two on the way, with our location between Dallas and Austin, we're not getting overcrowded. We're barely catching up to the norm."
Craft beer, said Stoneking, is becoming more acceptable to mainstream beer drinkers who once considered it elitist and intimidating.
"Now they're realizing they are just drinking different styles of beer."
The duo behind Brotherwell Brewing have spent years obsessing over recipes for craft beers that aren't necessarily for the craft beer-obsessed.
A Central Texas family is jumping into Waco's burgeoning brew scene, announcing plans to establish Southern Roots Brewery in a leased building…