A longtime nightclub site at State Highway 6 and U.S. Highway 84, once the scene of shootings, stabbings and brawls, has changed hands and will become a retail-and-restaurant venue under the guidance of a Dallas-based developer already known for major investments in Waco.
The club, which has operated as Club Junction 84 since 2013 and has an alcohol permit in that name, had previously operated as Club Alazan until state alcohol authorities shut it down.
Now it belongs to a partnership that includes Marshall Stewman, who is involved in remodeling an old building at 600 Columbus Ave. for use by several tenants; WacoWork, a co-working site; Guess Family Barbecue and Nexus Esports. He also is working to create The Outlook at Bosque Ridge, a mixed-use venue near Highway 84 and Ritchie Road.
Possibly his most high-profile venture is Mary Avenue Market, one block from Magnolia Market at the Silos and anchored by Hecho en Waco, a Tex-Mex restaurant.
His vision for the nightclub site is something called The Shoppes at 6 Eighty Four Crossing, where he hopes to place two dining establishments, retail and office space.
Stewman said he already has received interest from medical-related users, restaurant brands and fitness-related prospects, "and that's without a full-blown marketing campaign, which should begin next week, if it hasn't started this week. Signs are going up."
Stewman, a Baylor University graduate, said he closed on the purchase recently but had been eyeing the site and mulling its potential much longer.
"This is one of those properties I've been trying to purchase for years, but it was always off-market," Stewman said. "Then I missed it when it went back on the market. It came available last summer, and I put it under contract."
He declined to comment on the site's checkered past, saying he has no reason to disparage the current site manager or ongoing use.
"The club will operate during the balance of the lease, and we just want to stay out of their way," Stewman said.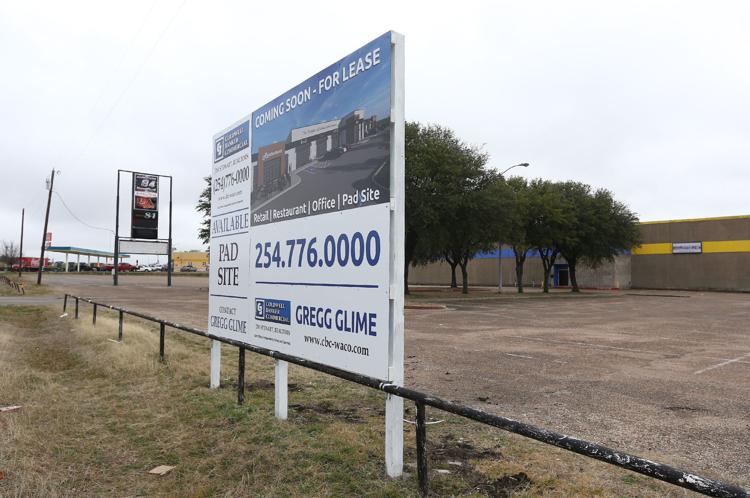 He suggested the lease for the 16,000-square-foot club space will expire around mid-year, and 9,000 square feet previously occupied by a pawn shop remains vacant.
Waco Police Department spokesman Sgt. W. Patrick Swanton said news of the sale is "fantastic," and that Club Alazan and the various clubs that preceded it "have been the scenes of disturbances, fights, fights that led to murder. … They have been a thorn in the side of law enforcement for a long time."
"We have had significant problems with that location for many years," he said. "It would be great to see it become something that contributes."
Club Alazan opened in 2005, over the objections of the city of Waco, which cited past history of disorderly conduct at the site. Former tenants included Mr. B's, DV8, Cutters 2000, Tequila's and Stockyards.
In 2012, the owner of the club voluntarily relinquished his liquor license to the Texas Alcoholic Beverage Commission after a series of violent incidents linked to the property, including the fatal stabbing of patron Anthony Levell DeGrate. Even before the death, the TABC officials told the Tribune-Herald the business had enough assaults and other violations to warrant canceling its license.
Police in November 2010 investigated a stabbing that sent a 53-year-old man to the hospital. In March 2009, officers were called to the club because a drunk patron was using his vehicle to ram others in the parking lot, sending people running for cover. In March 2012, a patron received cuts to his face and neck during a brawl involving broken beer bottles.
Angie McCallister, a crime analyst in the Waco Police Department's Criminal Intelligence Unit, said in a report provided to the Tribune-Herald that police responded to 20 calls for service at Junction 84 in 2017 and 14 in 2018.
None have been reported so far this year, McCallister said.
"The CFS types at that location run the gamut from disturbances, assaults, thefts and robbery," McCallister said in her report.
The appraised value of the 25,641-square-foot property built in 1978 is $2.09 million, according to the McLennan County Appraisal District. MCAD confirmed a deal closing Jan. 28 that transferred title to McLennan Development Co. LLC, but the sale price has not been disclosed.
Gregg Glime, a Waco real estate agent working with Stewman, said as the lease expires renovations will start. Space could become available by fall.
"We see uses ranging from 1,200 to 2,000 square feet, or we could attract a big-box retailer for the entire building," Glime said.
He said the owners likely will market land adjacent to the building as potential pad sites that restaurants or freestanding retailers might find attractive.
Whatever the case, he said, the location is prime, sitting near the crossroads of Loop 340 and U.S. Highway 84, along the growing Hewitt, Woodway, West Waco corridor and near Richland Mall and other commercial development.
"We've already had feelers and serious inquiries on nearly 8,000 square feet," Glime said. "People love seeing older buildings go through adaptive re-use. There is a lot of excitement about this project."
While not tossing out specifics of negotiations, Stewman said he could see approaching a prospect such as Houlihan's, an upscale restaurant chain offering made-from-scratch entrees, cheeses and a sizable wine selection.