Raising Cane's and Panera Bread reportedly will join the development boom between South Fourth Street and South 11th Street along Interstate 35 near downtown, with plans also in the works for another nine restaurants or refreshment shops, three retail centers and two hotels, according to real estate agents involved in the projects.
Raising Cane's, known for its chicken fingers and sauce, is considering placing a third location in Waco between Seventh and Eighth streets, next to the new Freddy's Frozen Custard & Steakburgers, sources familiar with the chain's plans said. The real estate agent marketing the site declined to confirm a deal.
"That deal is going to get done," one source emphatically said during a phone interview Wednesday.
"We are actively searching for a property for a third location, but I don't have a timetable for its opening," said Mark Strouse, area director for the chicken chain. He said he could not confirm that the new Raising Cane's would become the neighbor of Freddy's on I-35.
Raising Cane's also does business on Franklin Avenue near New Road and on Hewitt Drive.
Meanwhile, Panera Bread, whose fans enjoy its selection of soups and sandwiches, wants to place a second location in Waco and is considering the lot between South Seventh and South Eighth streets, adjacent to Chick-fil-A and also near the new Freddy's, said Jimmy Rogers, who manages Panera Bread in Central Texas Marketplace.
"I would not know where the process stands," Rogers said by phone, though he confirmed the site under consideration.
Development clustered around Eighth and Ninth streets is occupying an area where decades-old homes and buildings have been demolished. More homes, some already boarded up, will fall between I-35 and Cleveland Avenue and to South 11th Street, near the sprawling Kate Ross Apartments.
This six-acre site, near Greater Ebenezer Baptist Church, is being marketed in part by Bland Cromwell, a commercial real estate specialist with Coldwell Banker Jim Stewart Realtors. He said demand for land in the area "is just insane" and that property prices "are like we've never seen."
Downtown developers Shane and Cody Turner spent several years assembling a 15-acre tract by acquiring scores of commercial and residential properties, including some occupied homes, Cromwell said. They once considered selling it all to a single developer but now are parting with it piecemeal, he said.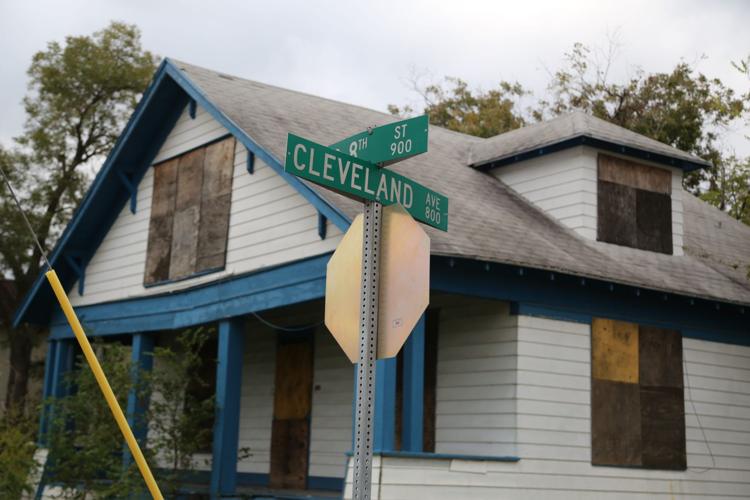 "We had 15 acres available, but ended up not making a deal for the whole thing. We broke it up into various segments, which is just as good, if not better," Cromwell said.
Austin-based SCC Development, which lured a Whataburger restaurant and a Sprint store to Lake Air and Valley Mills drives, reportedly wants to place an interstate-fronting retail center between 10th and 11th streets that would have space for two fast-food restaurants.
Behind the center, Cromwell said, SCC wants to place two sit-down restaurants that would back up to two hotels, but Cromwell said he does not yet know which brands the hotels would carry.
Cromwell said Mark Shaw with SCC is pursuing occupants for the acreage and reportedly has several prospects.
Shaw did not return phone calls seeking comment, but Cromwell said it is his understanding Shaw has the tract under contract for a sale.
A Houston-based group, Gore Creek Partners, has abandoned plans to place a 75-unit upscale student housing project along Cleveland Avenue between Eighth and Ninth streets, Cromwell said, adding that the partnership reportedly is pursuing an alternative use for the site.
"They decided to put their project on hold and will go ahead and try to sell the land," Cromwell said.
That area of Waco "is absolutely the hottest piece of the market right now," said Cromwell, adding that Baylor University's visibility, the school's new $266 million McLane Stadium and the presence of 115,000 to 120,000 cars a day traveling the interstate have become hard to resist.
Cromwell said a well-placed pad site in that area is selling for a minimum of $25 per square foot, which is a significant increase over what the market had been five or 10 years earlier.
"It's not like it went from $20 to $25. It was more like $10 or $15 to $25 a square foot," he said.
Cromwell said he has heard shop talk about land in that area selling for "crazy numbers, beyond that $25," but he declined to repeat those figures because he had not confirmed them.
In the area around Fourth and Fifth streets and I-35, Dallas-based DuWest Realty has attracted a CVS Pharmacy and an In-N-Out Burger shop, both of which will open later this month, spokesman Scott Rodgers said by phone.
He added DuWest also is placing two shopping strips along Fourth and Fifth streets, and already has received commitments from Chipotle Mexican Grill; a build-your-own pizza place called Pie Five Pizza; a gourmet popsicle establishment called Steel City Pops; Smoothie King, which sells blended drinks and nutritional snacks; WokBox Fresh Asian Kitchen, which Rodgers compared to Pei-Wei; and a nail salon called Le Nails.
Rodgers confirmed that land prices of $25 a square foot "are in the ballpark," though he would not get specific about prices for his development.
"Property is getting pretty expensive, because there were a lot of underutilized assets in the area," Rodgers said. "It came down to someone putting enough land together to create a land asset on which you could do something special. It helps that other restaurants, especially Chick-fil-A and Torchy's Tacos, are showing great traffic volumes."