As passersby waved and shouted from nearby Martin Luther King Jr. Boulevard, local leaders and developers broke ground Tuesday on what they hailed as a groundbreaking project for East Waco.
Ed Kinkeade and his son, Brad Kinkeade, will use a $4 million apartment complex to anchor a lodging, retail and cultural development called 101 Elm. It is near the historic Waco Suspension Bridge, Martin Luther King Jr. Park, the new memorial to local World War II hero Doris Miller, and historic Elm Avenue. It will have a rooftop deck affording a view of downtown, an 1,800-square-foot area for retail shops and designated exterior wall space for murals and works from East Waco artisans and students.
"It should be ready for move-ins one year from today," said Brad Kinkeade, who is overseeing the project. His father is a Dallas-area federal judge and Baylor University alumnus. The Kinkeades also have erected a pair of upscale apartment complexes on Clay Avenue, near Hotel Indigo, and both now are at full occupancy, with rates ranging from $1,100 to $1,400 for one-or-two-bedroom apartments, depending on square footage.
These properties are considerably smaller than 101 Elm, which will have 31 units spread over three stories featuring a brick facade. Brad Kinkeade said tweaking continues on lease rates for the one-and-two-bedroom units, but they likely will run in the "$1,000-a-month range." He said two units will be offered for lease at significantly reduced rates, probably about half the going rate, and made available to people who live and work in the neighborhood.
He said choosing those residents is a continuing process, and he welcomes feedback from the community and Waco's economic development staff.
Amiable approach
District 1 Waco City Council member Andrea Jackson Barefield, who represents East Waco, attended Tuesday's groundbreaking with other council members and Mayor Kyle Deaver, who said the Kinkeades' passion for the project and their desire to include the East Waco community and local neighborhood associations in the decision-making process is a lesson other developers should learn as they eye the burgeoning area.
"This is a new moment, a new season. History and vision are colliding here today," said Barefield. "I am very excited."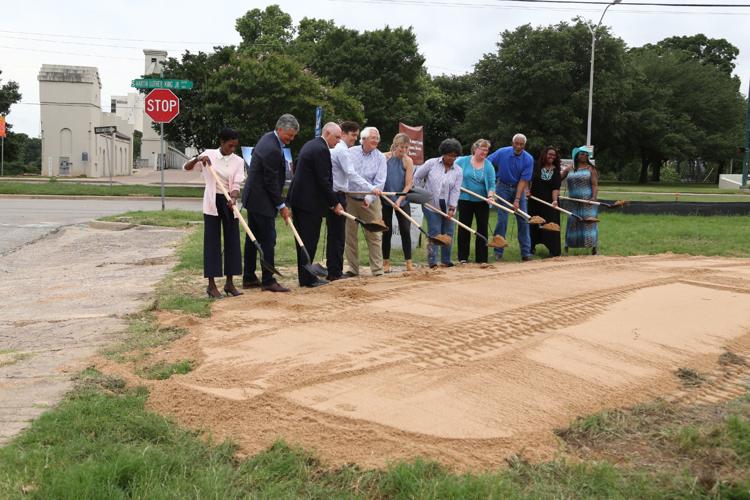 "He has reached out to the community, been getting opinions on how this is going to fit into the Elm Avenue corridor," Barefield said. "When we first met, I offered a suggestion that he research the history of Bridge Street, on both sides of the river. It once was part of a thriving district located where the Waco Hilton and the Waco Convention Center are now.
"I urged him to bring part of that to this project," she added.
Ed Kinkeade admitted to being a little nervous upon first meeting Barefield.
"She said, 'We want to get to know you, and we want you to get to know us,' " said Kinkeade. A rapport developed, the judge said, "and I'm glad to be part of a diverse and vibrant East Waco. Bricks and sticks are not what bring us together. Construction projects are not the answer. People are."
Patricia Chisolm-Miller, who is black and is the first woman elected to the McLennan County Commissioners Court, said growth and development have been slow in coming to East Waco. This project can cure many ills, she added.
"It is proof that hope and prosperity can bloom," she said. "There is no way this is not welcome. It will benefit the community, the city and the county."
East Waco concerns
Barefield said she has heard concerns about gentrification and the danger that East Waco residents would find themselves on the sidelines as new hotels, restaurants and entertainment venues alter their neighborhoods, possibly increasing property values and creating economic hardships.
"I believe the Kinkeades are approaching this with equity and inclusion in mind," Barefield recently told the Tribune-Herald in an interview.
The Rev. Jimmy D. Hunter, pastor of Toliver Chapel Baptist Church, on Elm Avenue, said a prayer before Tuesday's groundbreaking ceremony.
"I'm very excited about what this is going to do on the east side of the Brazos," said Hunter later. "This is a positive moment, a moment when we can say, 'Finally.' East Waco has an opportunity to become part of the whole, not apart from. I believe this development, where it is now proposed, will allow development to push even farther into East Waco."
Hotelier Kenny Bhakta, who attended Tuesday's groundbreaking, has announced plans to build three four-story hotels near Bridge Street and Martin Luther King Jr. Boulevard. He has secured a $3.2 million commitment from the downtown Tax Increment Financing Zone board.
During an interview, he said he has secured a site preparation permit.
Brad Kinkeade said his family's commitment to East Waco goes beyond construction of the apartment complex. He said he and his father have under contract a 6,600-square-foot building in the 300 block of Elm Avenue. They hope to remodel the space for use as a boutique retail shop.
It is near another relatively new business choosing East Waco for relocation: Brotherwell Brewing, located in the 400 block of East Bridge Street.