Housing and jobs remain heroes of the Greater Waco economy, with almost 2,500 homes changing hands through October and the jobless rate plummeting to 3.2 percent, according to a report released this week.
Amarillo-based economist Karr Ingham, who analyzes local sectors to prepare a monthly snapshot called the Greater Waco Economic Index, said hotel revenue, general construction and retail spending continue to impress. He said the raw GWEI score in October rose to 130.2, a record and up from 130.1 in September, which was revised downward by a tenth of a point.
Kris Collins, senior vice president for economic development at the Greater Waco Chamber of Commerce, discussed Ingham's findings during a news conference Thursday at the First National Bank of Central Texas, which sponsors Ingham's report with the Tribune-Herald. Ingham uses data dating to 2000 in creating a benchmark for his findings.
Collins said the economies of Falls and McLennan counties, which comprise the Waco Metropolitan Statistical Area, have added 1,700 jobs over the past year, meaning work is readily available "across most skill sets."
Making the falling jobless rate more impressive is the fact the number of people moving to Greater Waco to find employment continues to surge, Collins said. The 3.2 percent jobless rate is down from 3.9 percent a year earlier.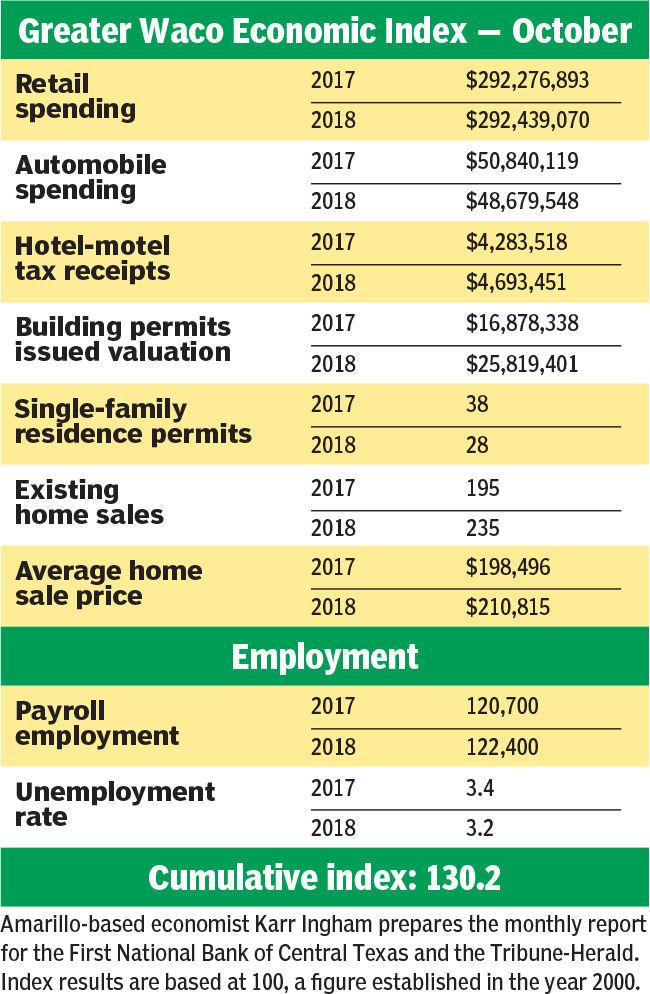 In the housing arena, Waco through October had issued 473 permits to build single-family homes, a significant percentage in the Park Meadows development in far West Waco, near Hewitt, where D.R. Horton and Stylecraft builders continue to collaborate on a 1,500-lot subdivision.
"Records continue to fall," said Collins, who recruits industry for the chamber.
Through October last year, 411 permits had been issued. In the 2000 base year, builders had secured only 167 permits through October.
Existing home sales totaled 235 in October, up from 195 the same month last year. Through October, 2,498 homes had been sold in Greater Waco, an almost 9 percent increase from the same period last year, Ingham reported.
Homes with a combined value of almost half-a-billion dollars were sold through October, a more than 10 percent jump from last year.
The average home sales price in October stood at $210,815, a year-over-year increase of 6.2 percent, while the average for the year through October reached $203,659, an increase of 4.3 percent, according to Ingham.
"The Greater Waco residential real estate market has been very strong in 2018, and that remains the case through October, with existing home sales up by 20 percent compared to October of a year ago, which was the second-highest October monthly total on record," Ingham said. "The year-to-date total is a record at nearly 2,500 closed sales recorded, surpassing the previous January-October record in 2016. The real, inflation-adjusted total dollar volume of housing sales registered a new October monthly record, logging a sharp 28 percent increase compared to October a year ago."
Hotel and motel activity "per city of Waco lodging taxes" remains strong, with real spending on hotel and motel activity up by almost 10 percent year-over-year in October, Ingham said.
"This marks the seventh year of strong expansion in hotel-motel activity in Waco, including a 15 percent increase thus far in 2018 compared to the total through October a year ago," he said.
The correct assumption, he added, is that those who spend money on lodging typically also spend it elsewhere on shopping, medical services, entertainment, sporting activities and dining, creating a ripple through the economy.
Spending increased only fractionally this October compared to last, but through October has grown a healthy 2.5 percent, Ingham said. Local retailers have enjoyed revenues of more than $3 billion the first 10 months of 2018.
"The Greater Waco metro area economy continues to post steady year-over-year growth, even though general spending has narrowed, and employment growth remains below 2 percent," Ingham wrote. "Other components have picked up the slack, with the Greater Waco housing market leading the way."
During a roundtable discussion involving several business and community leaders attending the press conference, these observations were made:
Amy Roberts, owner and operator of Jeff Hunter Toyota, said tax cuts have allowed her to hire 10 additional staffers, including two managers. She said she and others in the auto industry continue to have concerns about potential tariffs, and what they could mean to vehicle prices.
She said several Toyota models "are among the most American-made cars on the market," though Toyota is headquartered in Japan. She said Toyota has relocated its North American headquarters from California to Plano, "and we're selling the heck out of that move because it's nice having it in our backyard."
Waco restaurateur Sammy Citrano, who owns two George's locations locally, said revenue at his South Waco location is on pace to grow 5 to 6 percent this year compared to 8 to 9 percent growth last year. He said he finds that impressive considering the growing number of national chains building in Waco.
He said the George's locations, like most other dining establishments, are relying more on third-party delivery services to make product available in-home.
"That can hurt, in that customers don't order our Big O mugs of beer or our margaritas, but I can live with it because everybody is doing it," Citrano said.