A proposed attraction at Eighth Street and Franklin Avenue called Union Hall would feature space for 27 restaurants and food-related businesses under one roof. The "Union Hall" name is a nod to the former Waco Labor Temple building nearby that anchors the Franklin Square development launched by Shane and Cody Turner.
The 18,000-square-foot food hall will include 24 stalls for food and drinks, as well as three stand-alone restaurants, giving visitors a variety of options and hopefully becoming another downtown destination spot for local residents and tourists alike, said Jonathan Garza, an agent with the Turners' Lucra Real Estate who is marketing the site.
During a tour of the site, Garza said he will approach local operators of food trucks about their possible interest in a brick-and-mortar location, while also pursuing prospects from outside Waco.
He said Union Hall will provide a commissary kitchen with stainless steel preparation tables for use by tenants, along with cold storage, dry storage and dishwashing stations. Food stalls will range from 110 square feet to 600 square feet, "and each stall will be a blank canvas to allow tenants to build out their space as they see fit," according to an information sheet.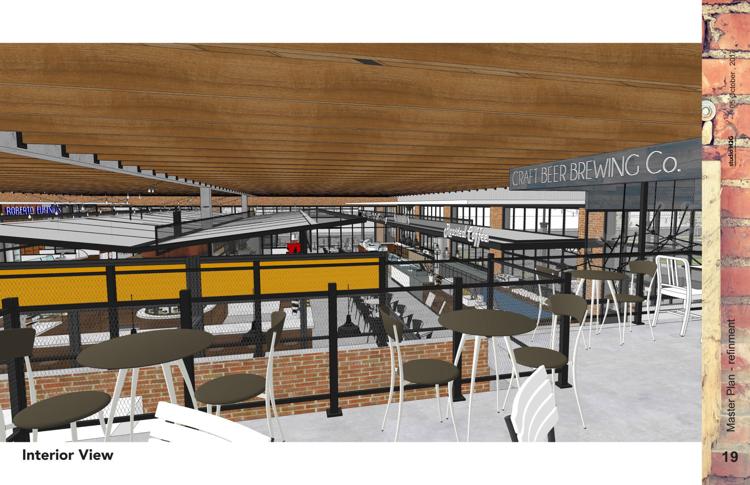 Turner Behringer Development Co. is launching Union Hall after fact-finding visits by Shane Turner to a handful of food-hall establishments, including the trendy Urbanspace Vanderbilt in New York City, "with which he was very impressed," Garza said.
Turner, who did not return calls seeking comment, also hired a food-hall consulting firm, Michigan-based Studio H2G, to provide guidance on designing Union Hall and selecting the merchandising mix, Garza said.
"We visited Waco, took a tour of the city with Shane and his team. He provided a lot of insight into the community and directed us to the two existing food-truck parks, one at Magnolia Market and the other on University Parks Drive," said Julie Dugas, a principal and partner with Studio H2G. "We explored the town from Shane's eyes and ours as well."
Dugas said she was impressed with Waco and its attractions, including Baylor University, and the apparent interest in creating a dining culture.
She said Studio H2G has provided input on the creation of more than 20 food halls the past year, including a dozen outside the United States. Americans are craving more variety in their dining options because of exposure to other cultures through the Internet, Dugas said.
"The key to creating a successful food hall is effective use of space," Dugas said. "Can you offer pastry and coffee for breakfast, maybe burgers, fries and gourmet tacos for lunch and an appealing atmosphere for dinner? The goal is to create food events, entertainment, and avoid becoming a one-note locale where the same thing is offered over and over."
Xristo's Cafe owner Chris Garman said he would welcome the opportunity to learn more about Union Hall. Xristo's started serving Greek dishes in a food truck at Franklin Avenue and University Parks Drive and has expanded into a restaurant at 810 La Salle Ave.
"I think it's an awesome idea that will go over well," Garman said. "Downtown is full of opportunity right now."
Union Hall will open sometime in 2018 and will open seven days a week for breakfast, lunch and dinner, according to Garza's fact sheet. Specific hours of operation remain under review.
"We anticipate they will be 7 a.m. to 10 p.m. Monday through Friday and 8 a.m. to 10 p.m. Saturday and Sunday," Garza said.
Lease rates
All leases are negotiable, but basic leases will range from two to five years. Garza said the Turners are considering annualized rates of $60 to $75 a square foot, which means a tenant occupying the minimum of 110 square feet and paying the minimum rate of $60 a square foot would shell out about $550 a month or $6,600 a year.
The lease would cover the cost of utilities, maintenance, taxes, cleaning and marketing, Garza said. Union Hall will offer seating for 500 people and common areas for mingling.
Union Hall will feature users that have a "food feature," but may not fit the description of a restaurant. He said the mix may include juice bars, coffee stands or "grab-and-go" kiosks for eating on the run, Garza said. Some may offer entertainment with a food component.
Gregg Glime, a commercial real estate agent involved in development of The Containery on South Fourth Street downtown, said he believes the food hall envisioned by the Turners will fill a need.
"I think it's certainly a new concept for Waco, but it has proven successful in many other markets. It's about time Waco caught up," Glime said. "Obviously, that approach allows you to attract from a larger pool than, say, having 3,500 square feet to offer. I'm excited to see those types of trendy uses downtown, and I think it will complement The Containery."
An aging building at 319 S. Fourth St. will become a haven for restaurants, retail shops and…
Glime said The Containery will feature a restaurant, retail and residential mix that will include a coffee shop, bakery, a jewelry shop, a sign company and a women's clothing store. He said plans also call for an event center and living quarters on the top floors, rooftop patios and an elevator.
Eatery incubator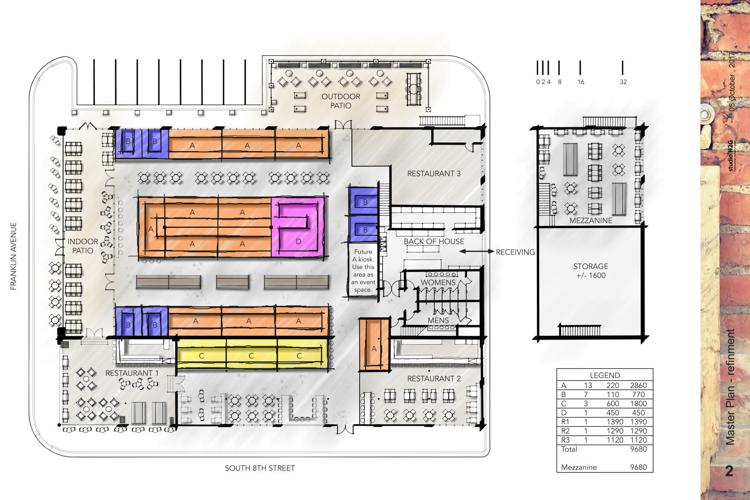 Megan Henderson, executive director of City Center Waco, said Union Hall could serve as a low-cost incubator for restaurateurs wanting to test dining concepts without investing in a stand-alone location.
"I certainly think of it as a place families will enjoy," Henderson said. "Rather than having to get a consensus from everybody on where to go, you can try a little something here, a little something there. It becomes a place of activity, where you can sample a little bit of everything."
Kyle Citrano, president of the Waco Restaurant Association, said he has confidence Shane and Cody Turner can make the concept work locally.
"I was just talking to someone the other day, and they mentioned that the owners of the Twin Peaks chain are about to open a food hall in Plano, and another with 18 restaurants is about to open in Fort Worth," he said. "These are a way to take up less space and spread out costs without the expense of having your own building, which can just kill you. I'm anxious to see how this works out, and I hope they can find 27 people to fill it."
Parking will be available east of the Union Hall site, near where the longtime Waco Labor Temple structure has become the new home of The Waco Running Company, said Christina Swanson, director of marketing for Behringer Group LLC.