A Czech-inspired mixed-use development including a brewery, restaurant, bakery and hotel on South Eighth Street and a pair of Elm Avenue projects received approvals Thursday for more than $1.6 million in development incentives from the downtown Tax Increment Financing Zone board.
A busy day for the eight-member TIF Zone board was shorter than originally scheduled because a presentation for a full-service Embassy Suites hotel slated for downtown was postponed to next month.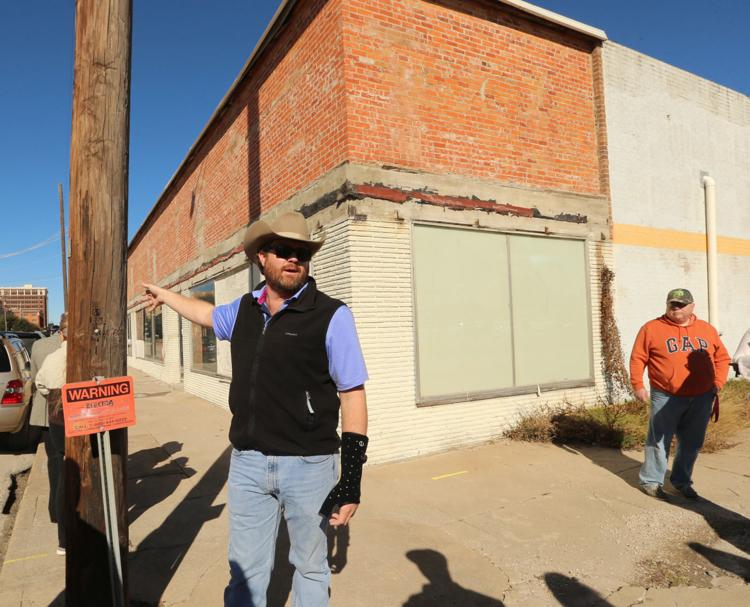 Pivovar, which means "brewery" in Czech, will stand at the corner of South Eighth Street and Jackson Avenue as a pillar of Czech culture, complete with Czech flags over the entrance of the 9,300-square-foot building.
A brewery on the ground floor will produce Czech-style lager, served tank-to-tap. The Pivovar Restaurant will serve a fusion Czech-Texan cuisine, complete with goulash, and Pekarna Bakery will offer authentic pastries, developers said.
The TIF board approved a $683,291 request for improvements to the facade, sidewalks, landscaping and repairs. It represents almost 8 percent of the project's $8.67 million cost.
It is the vision of Julius Kramaric and Oldrich Cichon, whose years-long search for a location ended in Waco because of the area's Czech influence, particularly in the nearby town of West.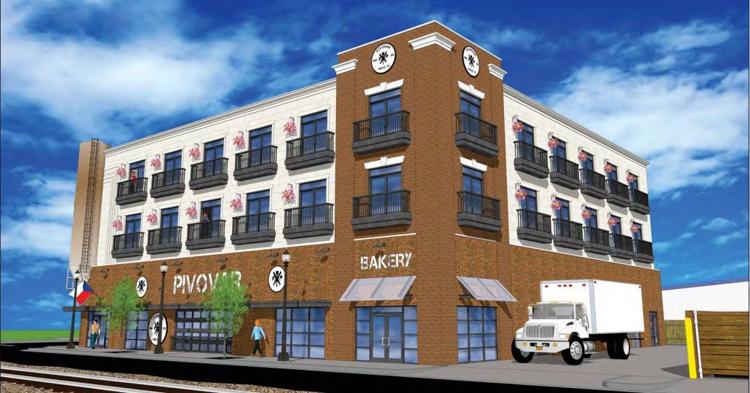 "We would like to bring a piece of Europe here, and we hope that you will like it," said Kramaric, who has practiced law in the Czech Republic for more than 20 years.
The second and third floors, which will be added to the existing building, will feature 32 boutique hotel suites, according to the plans. Each suite will be at least 400 square feet and include a small kitchen.
The development is expected to draw foot traffic from the nearby Magnolia Market at the Silos and attract tourists and locals alike.
"There's no closer spot for visitors that are wanting to come and visit the silos, as well as the rest of our beautiful city, than right there in the heart of downtown Waco," said Brian Mitchell, the contractor on the project. "We think it's a really good project, and again, we're honored to be associated with it."
Construction is expected to start next year.
Mammoth Culture Club
On Elm Avenue, a stretch of East Waco that will look dramatically different in a few years, the TIF board approved two more projects in the hopes of revitalizing the area.
Austin Meek, the owner of Pokey O's ice cream and cookie shop and host of the KWBU show "Downtown Depot," won $275,223, or 20 percent of the property investment, in TIF Zone funds. The money comes from a portion of downtown property taxes of four taxing entities and is used to encourage downtown development.
Meek's project in the 400 block includes three elements, dubbed The Mammoth Culture Club, the Mammoth Culture Club patio and The Slab.
The 3,500-square-foot "Bull Durham" building, which is likely more than 120 years old, will include an indoor stage for live programming, a recording studio, a full bar, a rooftop deck and a Pokey O's location, according to the plans.
The adjacent 7,500-square-foot patio will feature an outdoor stage, beer garden-style seating and open space. And The Slab will include outdoor retail three existing concrete slabs with repurposed shipping containers surrounding a pavilion. Meek, who is unrelated to District 4 Councilman Dillon Meek, said one container would be used for food, another would sell beer and wine and the final two would offer retail space.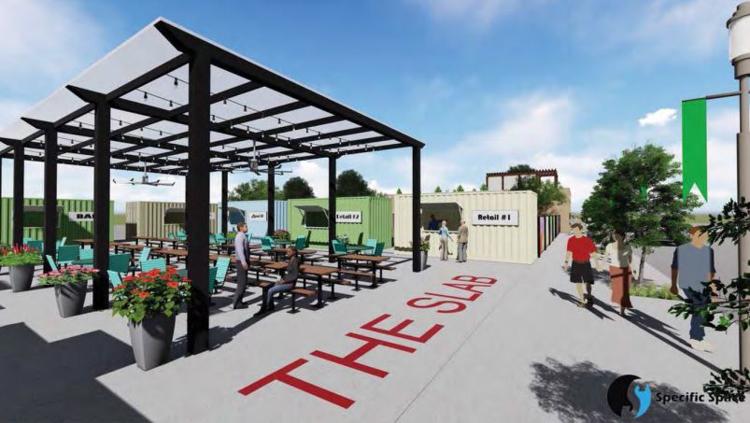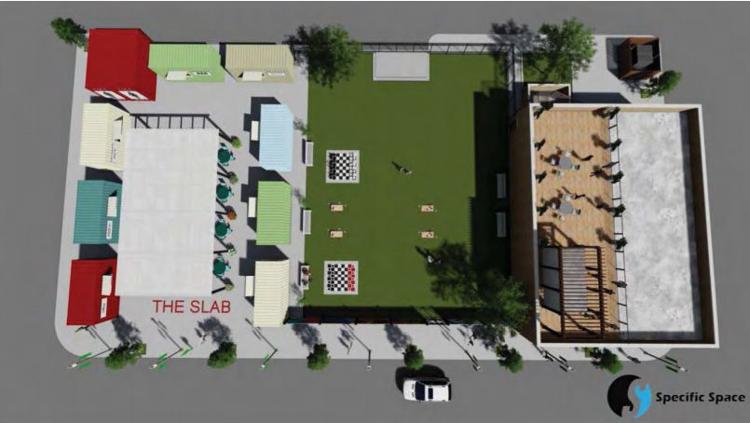 "I have been able to formulate what I think is my best way to help Waco become the next great place," Meek said. "In conversations that I've had with real estate agents, small business owners, it's clear that there's a missing component in Waco, and that is the entertainment sector. One way we hope to address that is through this project."
Meek requested funding for a five-panel, 6-feet-tall wall that would feature a variety of changing murals made for "Instagrammable" moments, he said. City staffers and the city-aligned nonprofit City Center Waco did not recommend funding the wall because it would violate an Elm Avenue overlay district requirement that would limit a wall in that spot to 4 feet tall.
After the board opted not to fund the wall, which would have increased the package to 25 percent of the project cost, Meek said he would continue working with the city and City Center Waco to find a way to protect the privacy of activities on the patio while meeting city requirements.
The TIF Zone board has traditionally covered about 15 percent of project costs, but the board has agreed 20 percent is an adequate incentive package for Elm Avenue developments.
Meek is hoping to complete the project by the beginning of 2020.
Apartments
A residential and retail development led by Ed Kinkeade, a retired federal judge, and his son, Brad Kinkeade, was awarded $660,000, or 20.6 percent of the project cost, for facade improvements, new sidewalks, landscaping, streetscape and repairs to Bridge Street.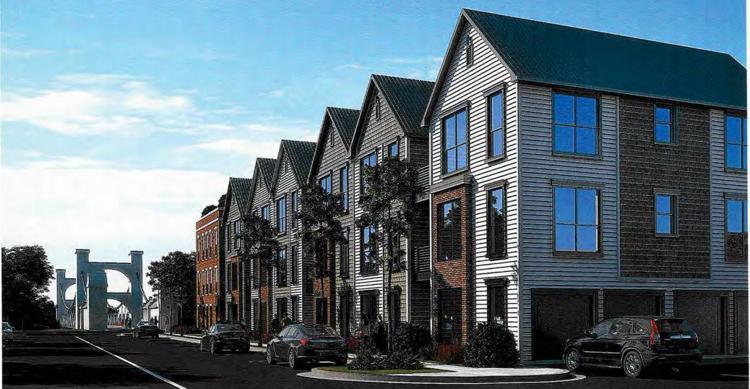 The three-story project includes 31 apartment units and 1,800 square feet of retail space at the corner of Elm Avenue and Martin Luther King Jr. Boulevard.
In October, the city council unanimously voted to abandon a portion of Bridge Street right of way to make room for the project. The Kinkeades, whose TIF request was identical to the city staff and City Center Waco recommendation, sought feedback from East Waco advocates and community leaders, quelling initial concerns over the project.
Brad Kinkeade said East Waco residents requested the project maintain a welcoming design without obtrusive security measures like a metal fence. Instead, laminated glass windows will be used on the bottom floor.
Developers also plan to have large, cut-out letter sign displaying the words "East Waco," atop the development and include public art vignettes.
"We really have a lot of confidence in this project," City Center Waco Executive Director Megan Henderson said. "We appreciate the sincere willingness of the Kinkeades to take a step back from what they thought was best and consider what other people thought, and they've made some pretty significant changes, and that says a lot."
Ruth Jackson, who represents the area on the TIF board, said she was pleased by the process and the willingness of the developers to take historic preservation and inclusiveness into account.
"The concerns of the neighborhood and the people who live in East Waco have been considered," Jackson said. "It's important. As a people, they have a lot of pride in East Waco. It's not a ghetto, it's not a hood."
Construction is expected to start next year.