A relic of Waco's transportation past came to light Monday as crews were working toward Elm Avenue's future.
Workers with Barsh Construction uncovered a well-preserved train track and wooden cross ties as they cut through pavement in a $950,000 project to rebuild curbs, gutters, drainage and sidewalks in the 700 block of Elm.
The tracks running down the north side of the road were entombed in concrete that had to be jackhammered away, but they will be left in place and paved over again for now.
"It's just a minor conflict we've worked around," said Jim Reed, city of Waco public works capital improvement program manager.
But as the city prepares a $4.4 million project to upgrade the remainder of Elm Avenue from Quinn Campus to the river, Reed said engineers may have to contend with a possible rail line extending the length of the project.
Reed said the rail line was not entirely unexpected, but he did not expect to find it so close to the curb.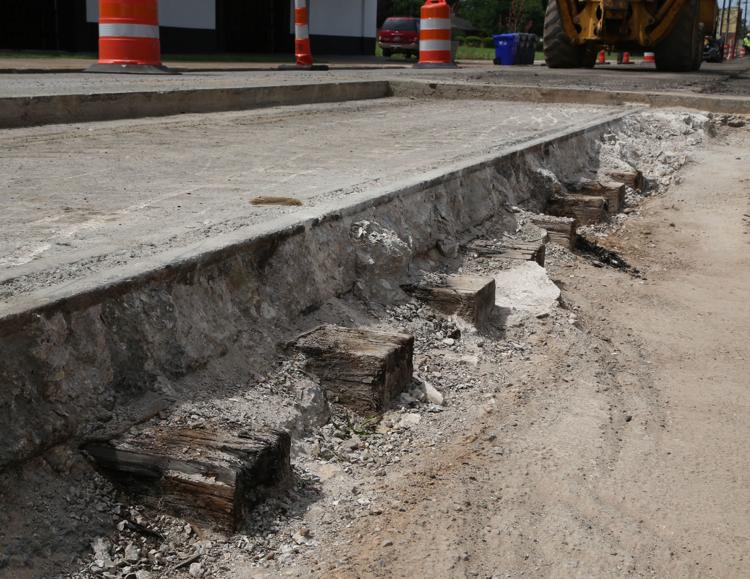 A bit of research in old Waco maps indicates the tracks belonged to the Texas Electric Railway, an interurban line that ran from downtown Waco to Dallas and beyond between October 1913 and December 31, 1948.
The railway extended into a downtown endpoint via a steel bridge on the Brazos River, of which only a series of pylons remains. In the other direction, it ran up Elm Avenue to Hillsboro Drive, then north to Lacy Lakeview, Elm Mott, West and Hillsboro.
Waco train buff Bradley Linda said the Elm Avenue tracks also served the local citywide streetcar system, which closed around the same time as the interurban service.
"Not a lot of people realize we had streetcars crisscrossing downtown and out into the residential areas," Linda said. "It's neat to periodically see these bits of the past come up."
He also explained why the tops of the newly exposed tracks rise more than a foot over the wooden railroad ties: Streetcar lines were designed to allow for a layer of brick paving to come flush with the rails, obscuring the ties.
Megan Henderson, who works across the street at City Center Waco, walked over to check out the rails during a phone interview Tuesday.
"It really is cool," Henderson said. "It's not nearly as far below the pavement as I would have expected."
She said the challenge of bringing a 19th-century street into the 21st century is dealing with layers of "underground systems over underground systems."
The city and the downtown Tax Increment Financing Zone board have taken on the 700 block of Elm as a "demonstration project" to show how streetscape and infrastructure improvements can transform a once-decrepit commercial district.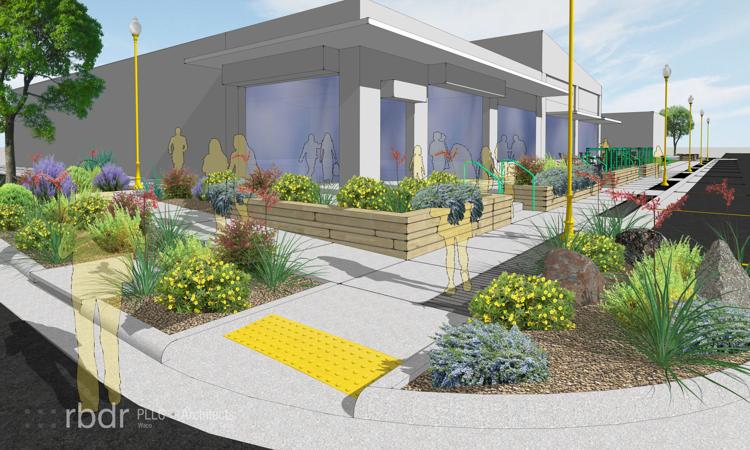 "Jim's dream is if we could just do one block it would let people see how much impact it could have and then there would be some excitement about making these improvements up and down Elm," Henderson said.
The public work dovetails with private building renovations on the block that will create a restaurant, food market, shops and dance studio.
The project includes wide sidewalks with wheelchair-accessible ramps, lighting, landscaping and new curbs and gutters. The street pavement will get a mill-and-overlay treatment to extend its life span, and storm sewers will be upgraded with a spray-in liner.
"We've had to do a lot of work to the storm sewers," Reed said. "We were surprised at the poor conditions we found."
Work on the demonstration block is expected to wrap up next month, and in the meantime crews are trying to finish enough sidewalk work so Saturday's Juneteenth parade can pass without obstacles.
The 700 block is just the beginning of a series of planned infrastructure upgrades in the Elm Avenue corridor that will cost a total of more than $10.6 million.
In September 2020, the city will bid the $4.4 million streetscape project from the Brazos River to Garrison Street that will create wide sidewalks, lampposts, benches and bike lanes, as well as delineated parking in the area. The project, up from an initial estimate of $3.8 million, is funded by the Texas Department of Transportation, the TIF Zone and the city.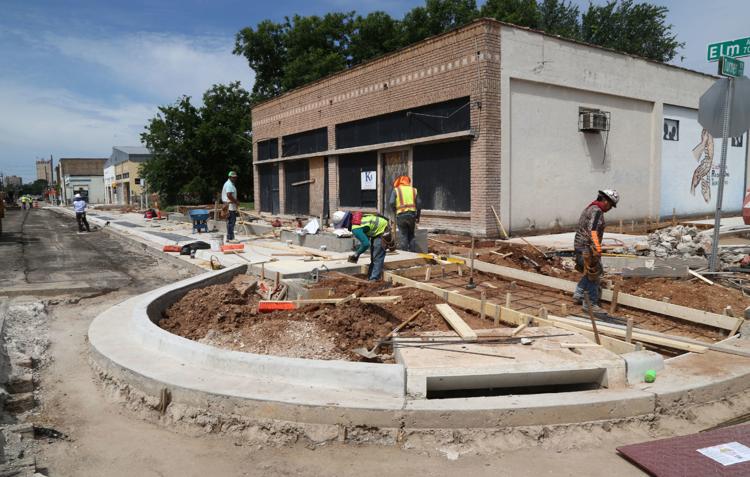 The city is also planning water, sidewalk and pavement improvements along Elm Avenue to Clifton Street and similar improvements leading to new hotel developments near Martin Luther King Jr. Boulevard.
Henderson said some of the improvements have been in the works for years, before Elm Avenue started to attract significant developer interest. Now ground has been broken on three hotels and an apartment complex, while entrepreneurs are busy turning old buildings into retail businesses.
Not that long ago, Elm Avenue advocates were looking at public improvements to entice future development, Henderson said. Now they are just trying to catch up.
"We actually can't get it done fast enough for the development that's happening," she said.