A cafe selling coffee created from a century-old roaster and a new home decor, furniture and gifts shop will open soon in the historic seven-story Praetorian Building in downtown Waco.
Developer Peter Ellis is renovating with a personal touch yet another part of the vintage building.
For the past four years, Ellis has worked to perfect his style of roasting coffee beans to create his brand, dubbed Brû. Customers will walk up to the old elevator inside the building to order coffee from baristas standing inside it, who will serve patrons.
Construction on the historic building itself began in 1913 and was completed two years later.
"We're probably the smallest coffee shop in Waco," Ellis joked. "We're excited to use it in a quirky, urban way."
Locked in place for safety, the elevator is a rare historical, intact and nondecommissioned elevator. With room for up to two baristas, customers can't expect the drive-thru efficiencies of a Starbucks with 10 people behind the bar, but the coffee quality is unmatched, he said.
"I fully support Common Grounds and the new guys with Pinewood Roasters and Dichotomy for taking their effort and time and risk and producing a great product," he said. "I think Waco has room for yet another quality coffee shop. With 10,000 people working downtown, three (college) campuses, I don't think we've met that saturation of coffee shops."
Ellis said he has sold his coffee at the Waco Downtown Farmers Market and has received great feedback. He said his roaster is not automated or high-tech, but more of an artisan roaster, and is set up in the basement of the Praetorian below the cafe. Ellis said the basement kitchen is being restored to its original look and is large enough to continue housing operations for the Pokey O's ice cream sandwich truck.
The older brewer uses flames as a heat source, he said. The design creates a whole different set of nuances to create different flavor profiles. Ellis said he focuses on ensuring his fair-trade coffee is made with organic ingredients for a more holistic product.
Ellis said he and his wife, Summer, have lived on three continents, including Europe and Africa, and time spent in cafes set in more dense urban environments helped spur ideas for this venture. Ellis is constructing canopies alongside the building on the Sixth Street and Franklin Avenue sides, which is a look original to the building. The shade will provide for covered seating, decked out in lights for those walking downtown in the evening hours.
Ellis said he thinks cafes should serve as connecting points for people, creating a communal location. He said he also is going to offer discounts for those who walk or ride a bicycle to the location versus driving.
The Praetorian in 1984 was added to the National Register of Historic Places as an exemplar of the Chicago School of modern architecture.
While one side of the first floor will host cafe patrons, a Waco couple are launching Interior Glow, a decorating and planning venture, on another side of the building, which features a three-story mural of Jesus Christ extending his arms, the work of a Russian artist.
Ellis said he is excited to bring in a more developed, mixed-market offering.
"Interior Glow is owned by a fabulous couple here in town," he said. "They have a lot of passion and heart in what they do. It's fresh and organic, yet very clean and on point with trends."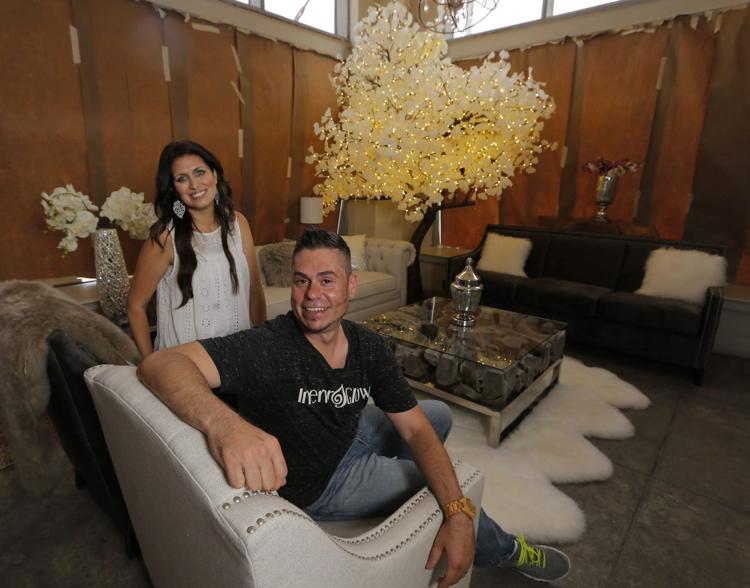 Bo and Alejandra Evans moved to Waco from Houston two years ago specifically to open Interior Glow. The couple closed on the building at 210 South Fifth St. in November, the original location where they planned to house Interior Glow.
But during that process, they met the Ellises and decided a joint venture in the Praetorian was the way to go. Bo Evans said they were eager to open the store, as the renovations needed on Fifth Street will take time.
Bo Evans said they were flipping houses in Houston when Alejandra discovered her love for planning and decorating. He said she has her own nature-centric style. Evans said they have always considered Waco a second home, as his parents live in the city and his brother attended Baylor University. During those visits, they fell in love with downtown.
"We believe it's just going to be another great destination for downtown Waco," he said.
Evans said they have included a kids' corner where children can watch Disney movies on TV while their parents browse items or sip on coffee in the cafe.
Alejandra Evans, who goes by Ally, said Interior Glow mixes wood with metal and presents more earthy home decor, featuring coral, and products from around the world. She said it also will feature contemporary and classier styles with a mix of modern.
"A little different than what I've seen in Waco so far," she said.
Meanwhile, in space facing Franklin Avenue, Summer Ellis' jewelry also will be displayed.
Peter Ellis said his wife has faced a growing need to separate the wholesale from retail to serve Waco better.
"We wanted to provide a better showroom and space for her designs," he said. "She's just elated and excited to have that space."