Scores of scooters came to roost Friday on the sidewalks of downtown Waco and Baylor University, charged up and ready to ride.
The dockless electric vehicles were placed by the scooter-sharing startup Bird Rides, to the surprise of city of Waco officials, who say the company is operating illegally and must remove the scooters.
Assistant City Manager Bradley Ford said he noticed a cluster of Bird scooters on Franklin Avenue as he drove to work Friday morning.
Ford and other staffers concluded the scooters run afoul of a city ordinance forbidding anyone to "store, sell or offer for sale personal property of any kind or character from or upon any street, sidewalk, alley, park or other public property in the city."
He said the city has created a framework for allowing bike-share companies to operate in the city, but Bird did not follow the process.
"We're waiting for Bird officials to get back in touch with us," Ford said late Friday. "The city's goal is to remove those from the right-of-way quickly so that we can continue engaging in a more coordinated effort. We just want to stick with the process we've identified. We think this is an emerging industry that can be beneficial to Waco, but it needs to be done in a planned way."
Media contacts for California-based Bird did not reply Friday to inquiries from the Tribune-Herald.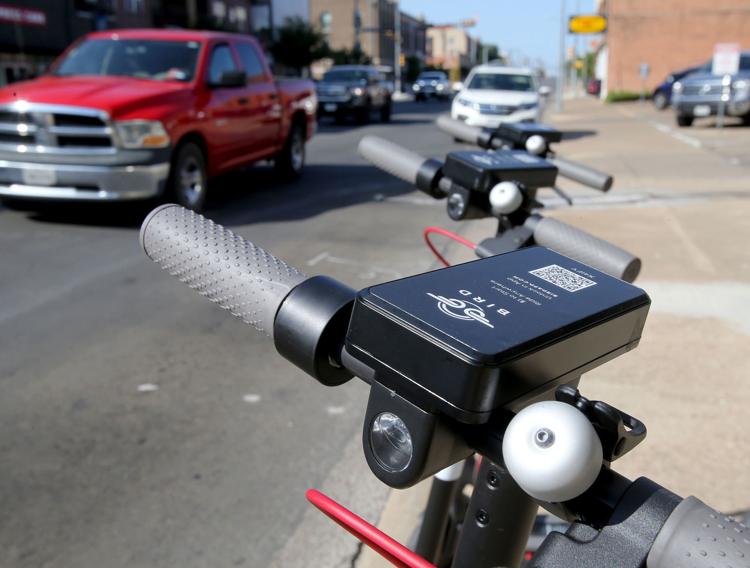 Waco is the latest in a string of cities where Bird has ruffled feathers with its unannounced mass scooter drops. The scooters have caused conflict in cities from San Francisco to Nashville, Cincinnati, Austin, San Antonio and Cambridge, Massachusetts.
Some cities have impounded the vehicles over sidewalk obstruction concerns, while others, including Austin, have hastily crafted new regulations to allow the scooters.
In Santa Monica, California, Bird paid a settlement of $300,000 after the city slapped misdemeanor charges against the company and its chief executive for operating without a license. On Thursday, city officials in Richmond, Virginia, rounded up Bird scooters after finding them scattered on city sidewalks.
Bird scooters are battery-powered standup scooters with a top speed of 15 mph. They are dockless, meaning they have no fixed home base. Their wheels are locked when not in use but can be unlocked through a smartphone app, with a base fee of $1 per ride plus 20 cents per minute, according to the Richmond Times-Dispatch.
Employees are paid to round up scooters to plug them in overnight.
The company requires riders to supply their own helmets, provide a driver's license number and agree to terms and conditions that include not riding on sidewalks. It has pledged to pick up vehicles daily, ensure vehicles are being used on average three times a day and to remit $1 per vehicle per day to local governments for bike infrastructure.
But city officials around the country have raised concerns about the scooters choking sidewalks and posing road risks. Because the vehicles are dockless, nothing stops riders from discarding them in front of doorways or wheelchair ramps.
City of Waco officials said they are also concerned about customers riding on sidewalks, which is illegal for adults to do in Waco. Bird instructs its customers not to ride on the sidewalk, but some were spotted doing just that Friday.
Similar concerns over dockless bikes have caused a public uproar in Dallas, where several bike-share companies set up shop in the last couple of years. Critics have posted pictures online of bikes being dumped on roadsides, strewn across sidewalks or even left in lakes.
With that in mind, city of Waco leaders last November started crafting a bike-share ordinance in cooperation with City Center Waco, with hopes of creating a licensing process for providers. Last month, the city council approved an ordinance revision allowing approved bike-share vendors to construct bike racks on city property for public use.
That ordinance does not cover electric scooter rentals, which are a newer phenomenon, planning director Clint Peters said.
"Right now it's only bicycles," Peters said. "(Scooters) are something we're going to need to address."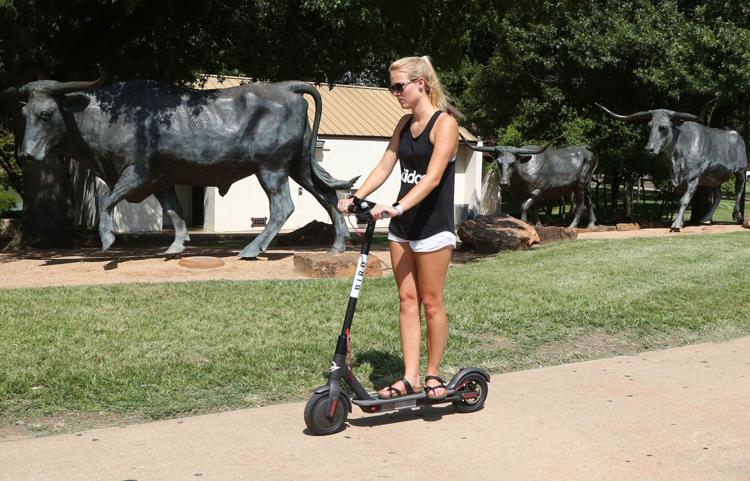 Ford, the assistant city manager, said rental bikes and scooters both hold promise as "last-mile transportation solutions," but city officials want them installed in a "coordinated fashion."
Some downtown regulars Friday welcomed the scooters for bringing fun and mobility to the center of the city. Michael Suttle, a barista at Dichotomy Coffee and Spirits, 508 Austin Ave., said all three scooters parked in front of the shop were in use by midday.
'"I think it's a good thing," Suttle said. "It beats walking, and it's probably fun."
He later took one for a spin himself.
At West Campus Lofts, 805 S. Eighth St., leasing agent Ashley Key said she had not seen anyone take a scooter from the corner near her office, but she considers them an amenity for student residents.
"We do have a lot of people who walk," Key said.
Youngdae Moon, whose Club Sandwich food truck does daily business at Magnolia Market at the Silos, took a ride on a Bird scooter Friday for about 10 minutes, mostly riding around Heritage Square.
"They've got a little zip, but they're not dangerously fast," Moon said. "It cost me $2.80, and I think I got about $2.80 of fun out of it."