Tax revenue, infrastructure improvements and the filling of a gap in Waco's retail market justify a $5 million economic development deal the city awarded two months ago to developers of a family entertainment center, Mayor Kyle Deaver and Assistant City Manager Bradley Ford said Tuesday.
The deal is slated to bring at least eight movie screens, 16 bowling lanes and an interactive arcade to a vacant 32-acre tract at the northeast corner of Highway 6 and Interstate 35.
Representing the first phase of development on a 352-acre site, the project is led by Waco real estate agent Bland Cromwell and longtime local developer Gordon Robinson. Cromwell is also a partner in the project, Ford said.
The deal, which calls for sales and property tax reimbursements over 10 years, will remain in place only if the developers, known as 35-06 LLC, produce a lead tenant within the next few weeks and make an estimated $25 million investment into the project.
After the city council had approved the deal, former Mayor Malcolm Duncan Jr. said last month that the plan does not align with the city's stated goals of encouraging new development in the urban core and discouraging sprawl.
But the tax revenue expected from the project would make the city's reimbursement a sound investment, Deaver said.
"Would this acreage ever develop? It might, but it won't develop the way we want it to develop and it won't develop as rapidly, so we don't start seeing taxes as quickly," Deaver said. "That's the reason to incentivize it, is to get, more than anything, the additional tax revenue to the city, and also importantly it's in Waco (Independent School District), so they'll begin seeing tax benefits immediately from this project."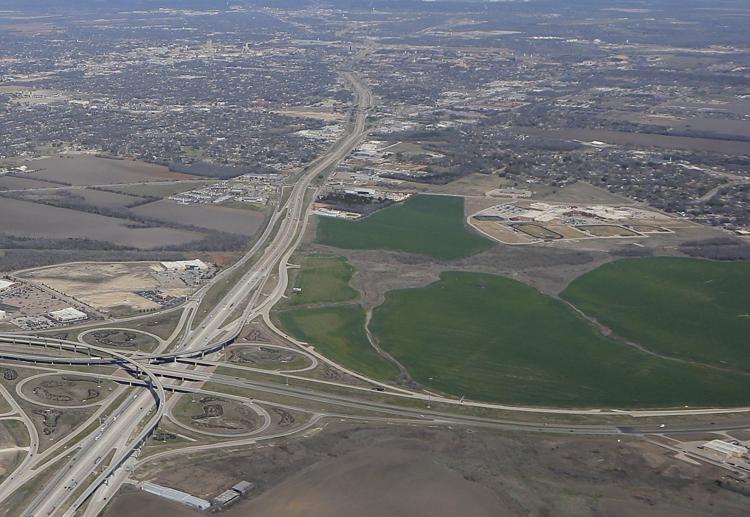 City projections show the center would generate about $28 million in taxable sales annually and would be done by next summer. If projections hold, the city would keep about $2.14 million in taxes over the 10-year deal and would pay about the same amount back to the developers.
"We need more of these tax-producing properties that are generating high sales and high property taxes to fund our operation," Ford said.
The city brings in $4.8 million annually from Central Texas Marketplace, another prominent retail center directly across the interstate from the proposed development.
The city has also considered creating a tax increment financing zone for the site. TIF zones reinvest revenue from new property value of projects started after the zone is created. Under the parameters of what is known as a "partial TIF," the developers would get 70 percent of the property tax revenue to use on infrastructure improvements, and the other 30 percent would remain with the city.
TIF districts across the state have invested in undeveloped ares, Ford said.
"I feel like it's appropriate to look at the tools in our economic development toolbox to bring the best value to the citizens," Ford said. "And, ultimately, I think this is a scenario we're doing that. Even during the term of the TIF, being a partial contribution, we're going to receive direct revenue, in my opinion, we would not receive otherwise."
The site has significant water and street challenges to be funded through the deal that would not have been met otherwise, he said. Those would be funded by the developer group.
Waco also has a need for a family entertainment center, he said.
"We know that Waco is becoming more and more attractive for young professionals, and but it is still missing a few things that they would like to have," Deaver said. "Plus, it will be a regional draw, so it'll bring more sales tax money in from the region. I think there are a number of good things about it, and it doesn't take away anything we're trying to do downtown in the core of the city."
The city recently referred a Tribune-Herald public information request for the identity of the developers to the state attorney general's office. Ford said the city has been in frequent contact with only Cromwell and Robinson, who have a group of investors themselves.
Within the next month, Cromwell and Robinson are expected to reveal their lead tenant. Ford said that tenant could be any center like Dave & Buster's, Main Event or any independent operator, as long as the city's requirements are met.
Cromwell has declined to name the full developer group.
"As a lawyer who practices in the business area, there are lots of LLCs and corporations where you don't know who all the investors are," Deaver said. "To me, that's not a significant factor. We know who we're dealing with locally, and we have confidence in that. They don't get the funding if they don't perform."
He said many downtown developments have investors the city does not know, which is allowed by laws governing corporations.
"As long as we have the right structure in place, it doesn't really matter to me who they are," Deaver said.
He said he would have asked Cromwell to reveal the group but also said the city should not make it a requirement for economic incentives.
"When we're dealing with these folks, we need to talk to them early on about who we can associate with the project," Deaver said.