A Cinemark movie theater could be part of a sprawling Cottonwood Creek Market development on Interstate 35 near New Road, with other features to include sit-down and fast-food restaurants, retail space and living areas, according to an online marketing flyer for the project.
The proposed mixed-use venture would materialize along the southbound I-35 frontage road between the Flying J travel center and Central Texas Marketplace, on a 143-acre site now brown with winter grass and subject to flooding. A site map shows three detention ponds placed near the target area, with roadways and 2,216 parking spaces serving the development.
Signs posted there say Houston-based NewQuest Properties is welcoming inquiries to lease or buy sites.
The flyer shows a Cinemark movie theater at the heart of Cottonwood Creek Market. It would occupy 44,247 square feet and feature 1,115 seats, according to the flyer, which had been recently updated.
Austen Baldridge, a Baylor University graduate who is marketing the site for NewQuest, confirmed developers are "targeting entertainment groups," and they will place emphasis on entertainment, retail and restaurant components. But plans for office and residential space near the rear of the development are also in the works. The flyer, for example, states developers have earmarked office and multifamily uses.
The flyer also touts the site's proximity to South Valley Mills Drive, Richland Mall, Legends Crossing, Texas Central Industrial Park and the Doris Miller Department of Veterans Medical Center, where an estimated 800 people work. It also mentions nearby apartments and residential units, including The Retreat, The Residence, Springs at Cottonwood Creek and Tuscany Ranch.
It states the population within a 3-mile radius of the site has grown an average of 27 percent annually, and includes a quote from the Fort Worth Visitors Bureau that says, in part, "Waco provides businesses and individuals an advantage of the proximity to large metro areas without the downside of expensive real estate and congestive traffic."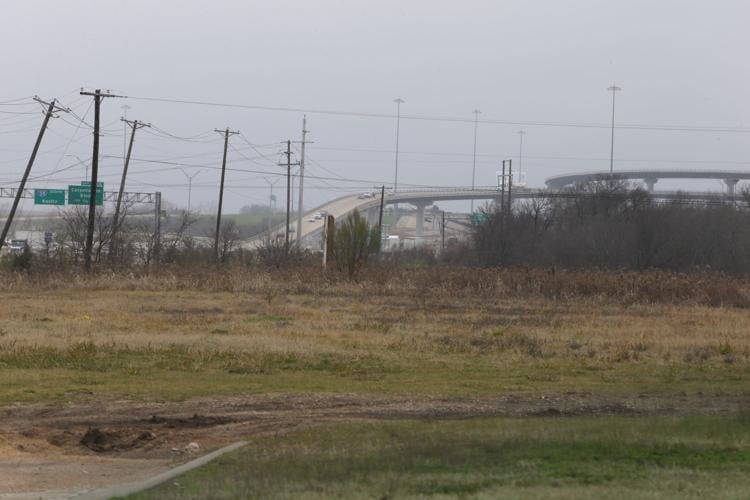 For his part, Baldridge said the change in Waco since he left Baylor eight years ago has been "mind-boggling."
Baldridge said he could not discuss the project in great detail, as loose ends remain. He said space may become available for occupancy in 2020, that he has been pursuing an entertainment anchor more than a year and that a Houston-area investor controls the property.
Other possibilities
The online site map includes a proposed entertainment venue in addition to the Cinemark theater that would occupy. Other designated uses include a 4,900-square-foot bank, a 5,994-square-foot restaurant, three fast-food restaurants ranging in size from 3,667 to 3,745 square feet, a fitness venue of 25,000 square feet, and a proposed tool-and-equipment-related user taking 20,000 square feet. Four two-story, 60,000-square-foot sites and a two-story 50,400-square-foot site are designated as medical office buildings.
Plano-based Cinemark did not return calls seeking comment. It had 541 theaters in 41 U.S. states and 15 other countries in the Americas as of September, according to its website. It has several locations in Dallas-Fort Worth, among 80 in Texas. The closest is the 12-screen Cinemark Temple and XD on General Bruce Drive in Temple.
At least 16 in the D-FW area are equipped with "Luxury Loungers," that feature electric-powered reclining seats with extendable footrests, plush seating and all-reserve seating.
Cinemark announced in June it had reached an exclusive agreement with Toronto-based Player One Amusement Group to operate and service all gaming equipment in Cinemark theaters in the United States, "and upgrade select locations with new and enhanced offerings," according to a press release.
"At Cinemark, we are dedicated to offering best-in-class entertainment to our guests, which includes our selection of interactive gaming experiences to be enjoyed before or after a film," Cinemark CEO Mark Zoradi, Cinemark chief executive officer, said in a news release discussing the deal with Player One.
Two 16-screen theaters now operate in Greater Waco, the Regal Jewel Stadium 16 on Woodway Drive and the AMC Galaxy 16 on South Valley Mills Drive. The renovated Hippodrome theater at Eighth Street and Austin Avenue offers plush seating and in-theater food service.
Stainback site
The proposed Cottonwood Creek Market has features comparable to a 200-plus acre development the Dallas-based Stainback Organization proposed in early 2017 at West Loop 340 and I-35, across the interstate from Central Texas Marketplace. Its flyer and site plan included a 140,800-square-foot retail anchor, a 36,400-square-foot movie theater, a fitness center, office complex, hotel and convention complex. It was described as a lifestyle center.
Waco real estate agent Bland Cromwell, who continues to market the site, said the Stainback Organization no longer is involved. He said he now represents an investment group with principles in Waco and Dallas.
He said a tract more than 30 acres in size has been placed under contract, and he expects a deal to close and an announcement within two months.
Cromwell said he would not describe the two development sites as competitors, saying the NewQuest deal "generally would be good for Waco."