Jim Allmon has written a 20-year success story in Waco with his aircraft modification business at Waco Regional Airport. Now his company is writing another chapter under the name Blackhawk Aerospace.
The company, which employs nearly 30 locally and is hiring, recently bought the former Waco Jet Center building at the municipal airport, doubling its available space to 23,000 square feet. The move follows a sales increase of 50 percent since 2015, with projected gross sales this year of $100 million.
"So far it's been a good ride," said Allmon, a former Californian who exudes confidence. "We are the 'Fixer Upper' of corporate aircraft. I had no doubt in my mind that we would enjoy the success we've had, but we have more growing to do."
Waco Jet Center, which had arrived in 2013 to sell fuel and other aviation-related services, recently closed and sold Blackhawk its building. Texas Aero bought Waco Jet Center's fuel farm from Blackhawk and now serves as the airport's sole fixed base operator.
Formerly known as Blackhawk Modifications, Allmon's firm has a presence in North and South America, Europe, Asia, Mexico and Africa, and is backed by 80 installation centers worldwide. Its customers skydive, provide border surveillance, fly corporate planes and embark on humanitarian missions in areas so remote they challenge ground vehicles.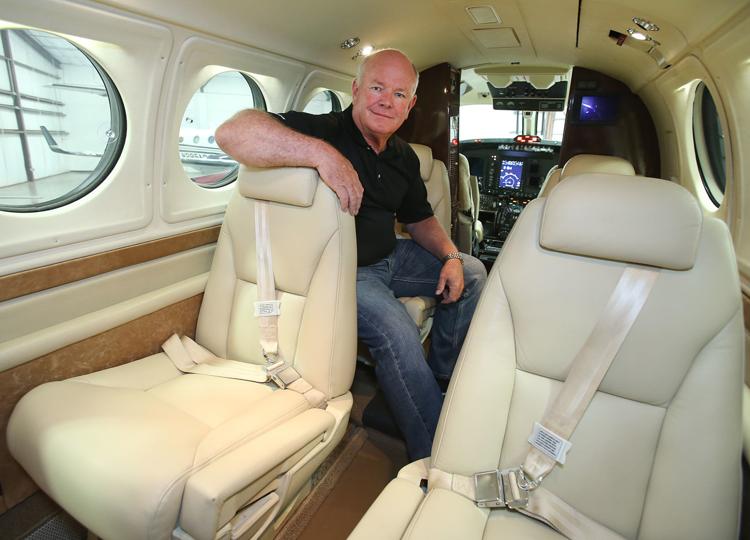 Blackhawk applies upgrades to turboprop planes, focusing on turbine engines that drive the propellers. It also installs glass cockpits and luxury interiors. It offers Supplemental Type Certificates, which means it has the Federal Aviation Administration's permission to apply its own technological improvements that are designed to enhance the speed, safety and endurance of turboprops.
"These products can be incorporated into older aircraft that were placed into service decades ago," Allmon said in a news release. He said more than 800 customers worldwide fly planes featuring Blackhawk upgrades, including owners of King Air, Conquest, Cheyenne and Caravan turboprops.
Blackhawk has introduced a package called Phoenix by Blackhawk that includes new paint, interior and avionics, as well as engine upgrades. Its popularity created the need for more hangar space, Allmon said.
Prices vary depending on make and model, but fresh paint and interior may run $95,000, while a new Pratt & Whitney engine could set buyers back $750,000 to $1.8 million, Allmon said. He said there is no such thing as a typical package, but estimated $1.4 million to $1.5 million would serve as a nice round number. Blackhawk often buys and refurbishes turboprops, applies its proprietary package and parks the finished product on the showroom floor. A red King Air 200-series turboprop there now is priced at $3.2 million.
"With the exception of original manufacturers, we are the largest buyer of Pratt & Whitney engines in the world," Allmon said. "Including those, we're still probably third or fourth. We're on pace to buy 120 this year."
Besides the modifications business, the renamed company includes Blackhawk Composites, Blackhawk Aerospace Solutions and Blackhawk Aircraft Sales. The company is creating newly designed logos, websites, graphics and marketing materials.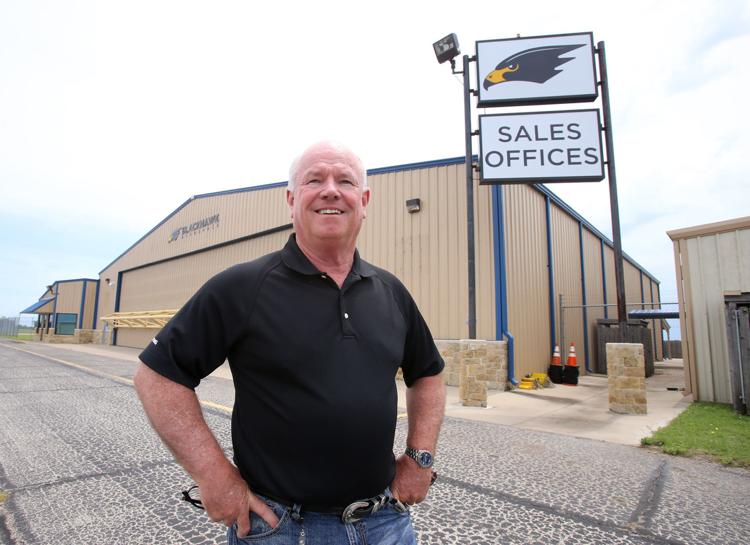 Blackhawk Aerospace Solutions, based in Huntsville, Alabama, focuses on turboprop products for government and military customers. Blackhawk Composites, based in Morgantown, Kentucky, creates designs and prototypes and conducts materials testing for specific projects, Allmon said.
All told, Blackhawk employs 48 and has five full-and-part-time consultants and contractors around the world. Then there is Allmon. He served in the U.S. Air Force, attended the Spartan College of Aeronautics and Technology in Tulsa, Oklahoma, has flown corporate planes and has a resume that includes stops locally with Aurora Aviation and RAM Aircraft Modification.
But after all is said and done, he said, he's a salesman.
"I'm an Executive Platinum with American Airlines, which means I travel at least 100,000 miles a year, and I probably travel another 200 hours a year on top of that," said Allmon. "The overall economy is giving us a boost, and I'm hopeful the momentum will continue. My only concern is the 2020 election."