Branch Davidian tragedy at 25: How the story overtook the storytellers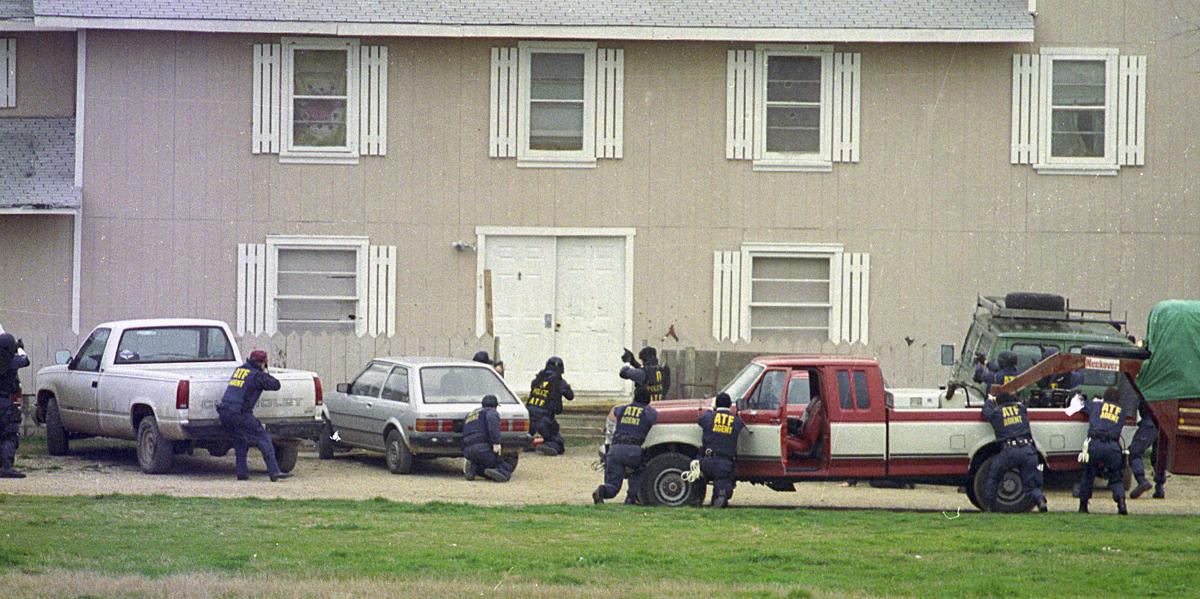 On a drizzly February morning 25 years ago, a Waco Tribune-Herald reporter knocked on a door on Double EE Ranch Road, 12 miles east of town.
He was preparing to ask permission to set up to observe "a news story" expected to unfold at a religious commune across the street.
A face appeared in the door, twisted in surprise and anger. The man didn't let the reporter finish the question.
"Get the f--k out of here," the man sputtered.
The reporter, Tommy Witherspoon, hurried back to a silver Honda Accord, where a photographer and another reporter waited. The car backed out of the driveway at 9:45 on a Sunday morning, Feb. 28, 1993.
Up to this moment it was possible to believe that this was a local story — newsworthy but not world-shaking. Those in the car that day recall thinking of it as a coda to the big story that had started running the day before.
In a seven-part "Sinful Messiah" series, readers were learning about the Branch Davidians and their messianic leader, who had recently changed his name from Vernon Howell to David Koresh. A slew of ex-members accused him of asserting divine mandate to take at least 15 "wives" and to have sex with young girls.
Witherspoon had a tip that that the Bureau of Alcohol, Tobacco and Firearms might serve a warrant that morning for the possession of illegal automatic weapons. Witherspoon recalls expecting to see Koresh and a crowd of his followers come out with their hands raised.
Reporters from KWTX had gotten a similar tip and were waiting in cars down the road, but the station management hadn't staffed up for live coverage and was scheduling the story for the 6 p.m. newscast.
For the moment, everything seemed under control. A moment later, nothing did.
The reporters in the silver Honda noticed two trucks pulling cattle trailers, covered in tarps, speeding down Double EE Ranch Road from Elk Road, followed by a KWTX crew and another Tribune-Herald car.
The trailers and the TV truck pulled into the compound driveway. Dozens of ATF agents in helmets and bulletproof vests sprang from the trailers.
The newspaper journalists clambered out of the Honda, joined by two colleagues from the other car, including "Sinful Messiah" co-author Mark England.
The five stood by the car and stared at the scene 250 yards away: a military-style raid like none they had ever witnessed, with agents scaling ladders and breaking windows. Then, a fusillade of gunfire. An agent on the roof fell on his side. A bullet hit the silver Honda.
Moments later, the five newspaper reporters were lying in a ditch, face down in the wet grass, where they would remain until a cease-fire more than two hours later. Bullets and tracers whistled overhead. From the house where Witherspoon had knocked, an ATF sniper, perhaps the agent who had opened the door moments before, returned fire.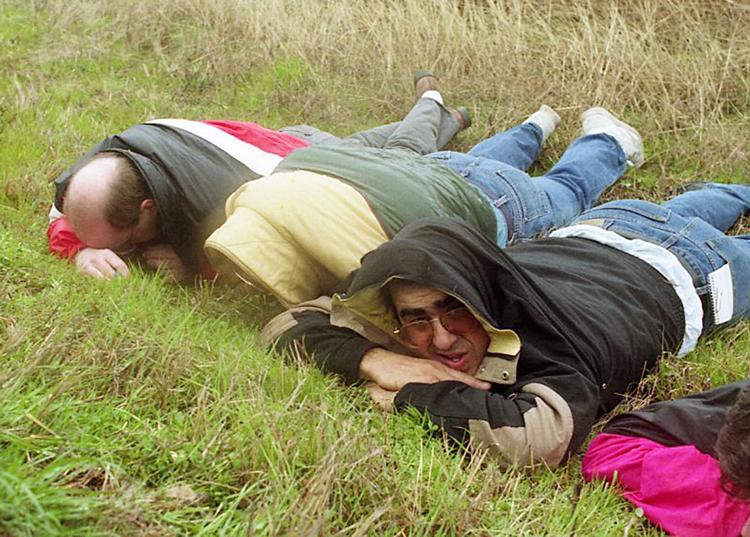 Witherspoon scrambled for a brick-like cellphone and asked photographer Rod Aydelotte how to work it. Another reporter turned on his cassette recorder. On the tape you can hear him hyperventilating as the gunfire escalates.
"Oh God. Oh God. Oh God," he repeats.
"Get your Hail Marys going, man," Witherspoon says to him.
"Should we, uh, try to get in the g-----n car and get out?" wondered England, the soft-spoken "Sinful Messiah" writer.
"No, stay where you are," Aydelotte barked, still shooting photos as bullets flew by. "We're protected from the line of fire. We're down below."
After cussing the cellphone repeatedly, Witherspoon finally got through to another car down the road, carrying Tribune-Herald employees, including "Sinful Messiah" co-author Darlene McCormick.
"Darlene," he says. "You gotta stay where you are. We got some serious s--t happening. Yeah, it's coming right over us. … We'll just keep our heads down. All right. We're all right, just a little shaken up, but all right."
Before the tape cuts off, the sound of helicopters and bullets continues, and England mutters something.
"What'd you say?" Witherspoon asks him.
"We're going to get blamed for this," England says.
Media involvement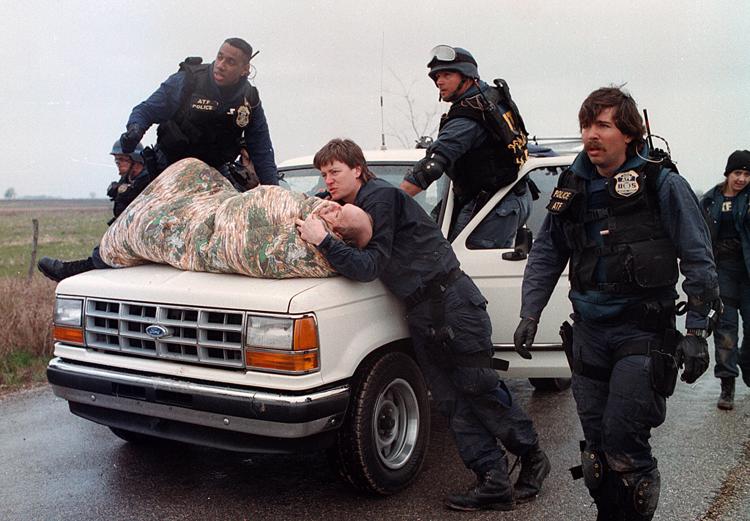 In the 25 years since that morning, the public has been bombarded with different versions of the raid, which resulted in the deaths of four ATF agents and six Davidians.
There's no shortage of accounts of the resulting 51-day standoff and siege by the Federal Bureau of Investigation, of the frustrating negotiations between authorities and an apocalyptic Koresh, of the ill-fated decision to send in an assault vehicle to insert tear gas, of the fire that erupted into an inferno and blackened the horizon, of the fiery deaths of Koresh and 75 adults and children.
Former Davidians, ATF officials, federal investigators, conspiracy theorists, documentarians and dramatized depictions — including an ongoing Paramount Network series called "Waco" — have had their say on the series of events.
But for the most part, local media leaders have been silent about their role in the case.
It's not just because journalists typically try to stay out of the story they are telling. In this case, that aim was impossible: The Tribune-Herald became part of the story when its explosive series on a well-armed, child-molesting religious leader spurred authorities to respond with brute force. And KWTX's crew provided the only footage of the initial raid and later helped escort wounded ATF agents out.
Local media figures were also silent for legal reasons. The newspaper and KWTX were blamed — first in rumors aired on national television, later in a lawsuit by ATF agents and their families — for the failure of the raid. Insurance companies for the newspaper and TV station decided to settle the case three years later, over the protest of the media companies, who said they wanted their day in court to refute the charges.
"To this day, we are sort of considered to be responsible," said KWTX managing editor Rick Bradfield, who was news director at the time. "I have always resented the way we were portrayed. And (the Tribune-Herald), too. You guys did a series that was nominated for the Pulitzer Prize. It was well done and powerful. And to suggest that somehow you were complicit in it is ludicrous."
All the editors involved in the "Sinful Messiah" series and subsequent Tribune-Herald coverage are retired now. Witherspoon and Aydelotte are the only news staffers involved in the Davidian coverage remaining at the Tribune-Herald from that contentious era, which is now receding into history. (Disclosure: This writer joined the staff in late 1997 but no longer works under anyone involved in the episode, including editors and ownership.)
In recent interviews, those former newspaper leaders conveyed a lingering anguish and anger over the saga at the Mount Carmel compound and its might-have-beens.
Retired managing editor Barbara Elmore recalled that the Tribune-Herald spent eight months reporting the "Sinful Messiah" series, scouring public records and interviewing more than 20 former Davidians.
The focus was on children who were abused and sexually assaulted, and the inaction of local officials, she noted. But those concerns were overwhelmed in the subsequent national media coverage, which focused on guns, religion and government overreach. As for the children who were the newspaper's concern, many of them ended up dying with Koresh.
"That's what always bothered me so much," Elmore said. "What happened to the story about the kids he was abusing? … (The national media) focused on the raid. They focused on the 'We ain't coming out,' and slamming the door and shooting back. They focused on the dead ATF agents. And that was a big deal. I don't deny it. But (the child abuse allegations) became lost in the raid, which I think it was supposed to. Maybe I shouldn't say that, but I think it was supposed to. ATF wanted it to get lost. ATF knew about this mess … and they didn't do a thing until they got wind of our reporting."
'Sinful Messiah' series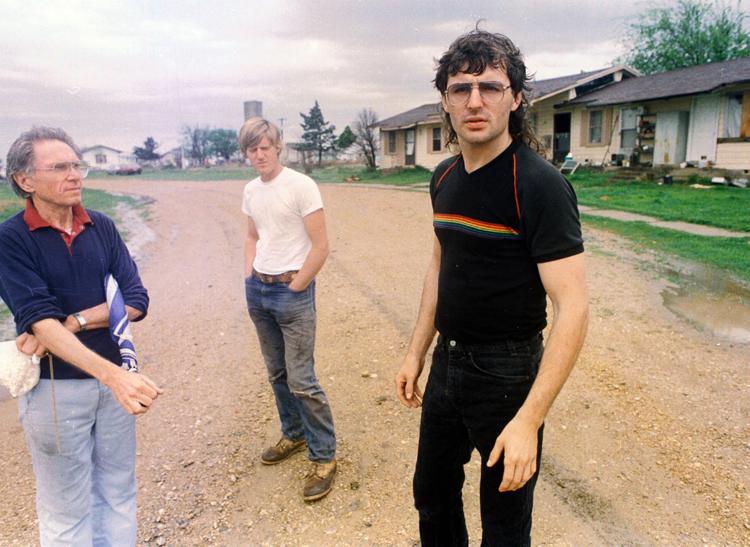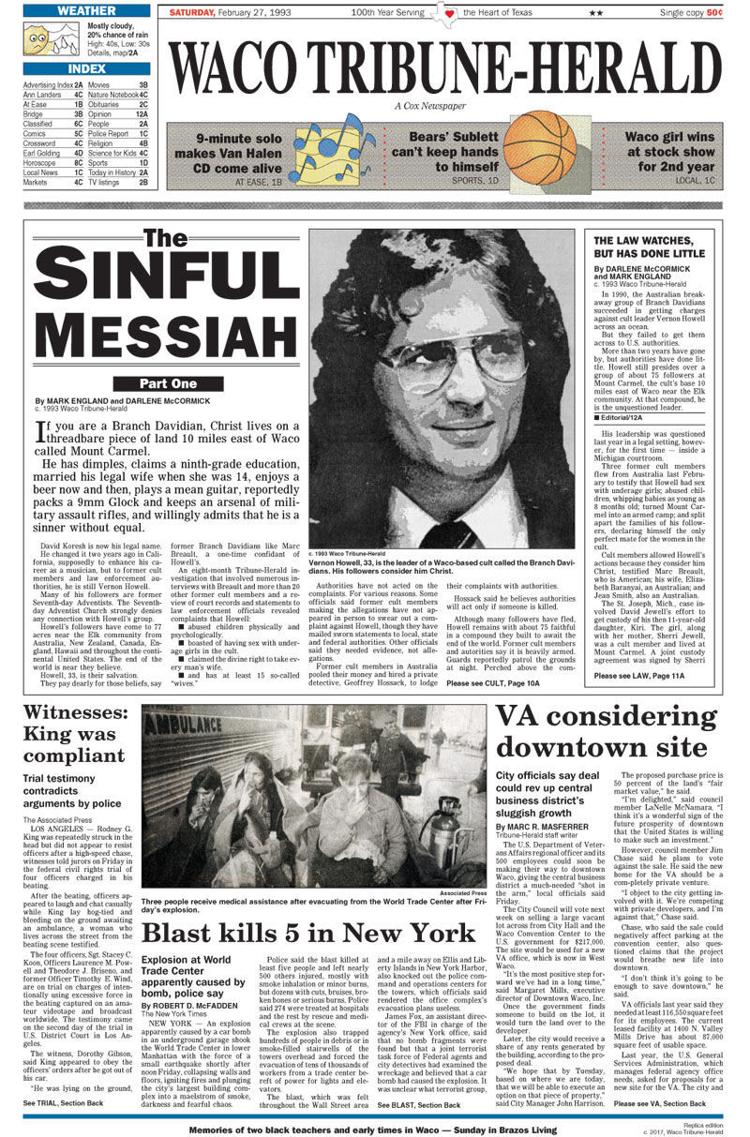 The day after the raid, the rest of the "Sinful Messiah" series was dumped into the Monday paper, where its impact was apt to be diluted by the stunning news of the day.
"There's no question that events overtook the series," former city editor Brian Blansett said. "It did not have the impact it would have had if they'd just gone and arrested him."
Still, "Sinful Messiah" became required reading for the media hordes that descended on Waco that spring, serving as a primer on Koresh and his followers. It was later reprinted as a special section due to demand.
"Sinful Messiah" set a high water mark for investigative reporting at the Tribune-Herald and beyond, showing what a few dedicated reporters in a third-tier market could do. It was among three finalists for the 1994 Pulitzer Prize for investigative journalism.
In a September 1993 review of the media's role in the Mount Carmel tragedy, the Society of Professional Journalists praised the series as a "good example of thorough, contextual reporting" and concluded that neither the Tribune-Herald nor KWTX violated ethical norms in covering the event on Feb. 28, 1993.
Some scholars and critics would later question details of the series, such as its use of self-styled "anti-cult" activists to decry Koresh, and its suggestion that members were held at the compound against their will.
But the key allegations were borne out by investigations and court testimony after the April catastrophe. DNA testing confirmed that at least 13 children who died at the compound were Koresh's, including some born to young teenagers. Former Mount Carmel resident Kiri Jewell testified to Congress in 1995 that Koresh had raped her at age 10.
The origins of the series were unassuming.
In April 1992, reporter Mark England had heard rumors that the secretive Branch Davidian sect outside of town was planning a mass suicide over Passover.
Around that time, Blansett, the city editor, asked England if he had any Sunday feature ideas.
"He said he thought he could probably do something about the Branch Davidians," recalls Blansett, who now owns newspapers in Oklahoma. "A few days later he came to me and said, 'I need a little more time.' "
England declined to be interviewed for this story, saying in a letter that he'd prefer not to revisit that time of his life.
Blansett recalls that he and England didn't always see eye to eye in those days. Blansett was extroverted and enjoyed the back-and-forth process of coaching reporters through a story. England was taciturn and liked to guard his drafts from the prying eyes of editors.
"He was the worst kind of reporter for an editor like me, and I was the worst kind of editor for a reporter like him," Blansett said.
Passover came and went without event, and England continued working on his side project. In his interviews he began hearing about the multiple wives, some underage, as well as harsh punishments for children, stockpiling of guns, and militant, apocalyptic beliefs.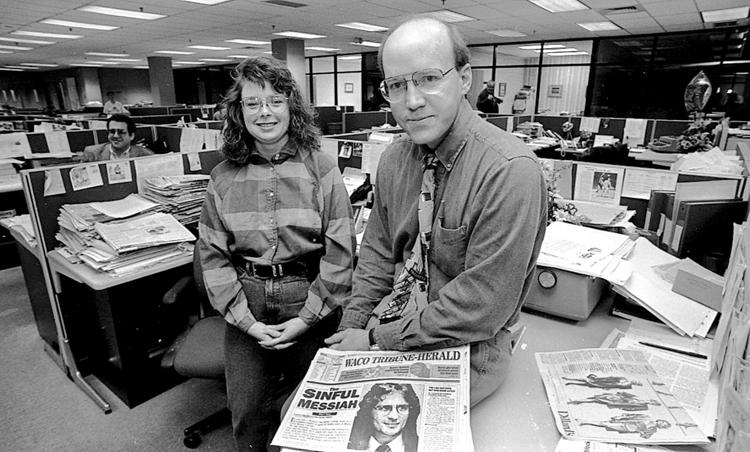 One day, the young reporter in the next cubicle asked him what he was working on. Darlene McCormick was a few years out of college, working her first journalism job as the Trib's Central Texas reporter. In contrast to England, who enjoyed methodical research and crafting stories, she enjoyed the thrill of the chase.
"I said, 'Do you want some help?' " recalls the reporter, who now goes by her married name, Darlene Sanchez. "He said, 'Sure.' "
The two began working with then-assistant city editor Becky Gregory on the project but kept it a secret from most of the rest of the staff, right up to publication.
"We had our regular stuff we did during the day, so we could come in at night and work on this," Sanchez recalls. "As this progressed and we started talking more to editors, we started getting more time. I remember going to Becky a lot with the things we had learned and saying, 'What do we need to do in order to prove this?' "
Sanchez recalls talking to a midwife who said she had delivered Koresh's babies at the compound but was instructed to leave the "father" line blank on the birth certificates.
Though birth certificates weren't accessible to the general public, England and McCormick kept calling different state employees until they found one uninformed enough to send copies to the newspaper. Those copies confirmed that the father's name was left blank.
They talked to Robyn Bunds, who gave birth to one of Koresh's children before leaving the compound. She recalled Koresh bragging of climbing into bed with a 12-year-old, who became pregnant at 14.
They talked to David Jewell, a Michigan disc jockey who was not a member. Jewell had sued his wife, a Davidian, for custody of their daughter, Kiri, whom Koresh had sexually assaulted at age 10.
Most helpful was Marc Breault, then 29, a Davidian whom Koresh had recruited in Australia. Breault became disillusioned when Koresh began claiming a "New Light" doctrine that granted him the right to all women, including pubescent girls and the wives of members.
England and McCormick would slip into the Tribune-Herald offices at 3 a.m. to make phone calls to Breault in Australia.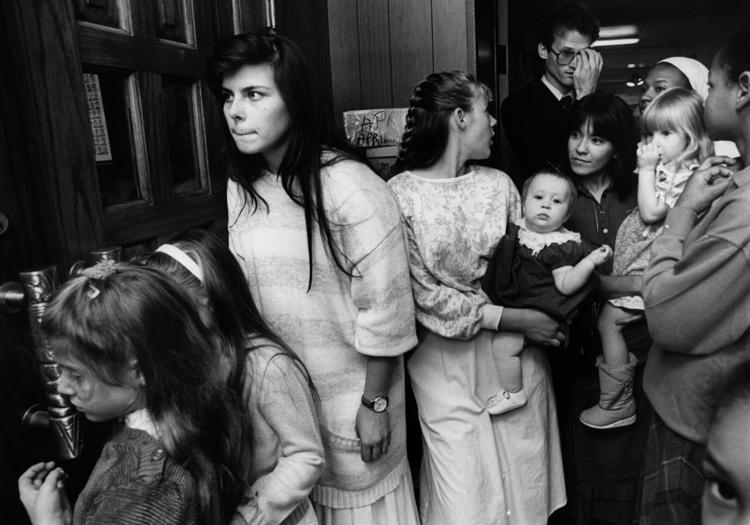 In October 1992, McCormick had learned information about Koresh's munitions stockpiling, including semi-automatic rifles modified to be automatic. She called Waco federal prosecutor Bill Johnston for more information about whether the weapons were illegal. She mentioned that she suspected that a federal investigation was already afoot, according to a 1994 Department of the Treasury investigation.
Johnston wouldn't confirm to McCormick that an investigation was ongoing, but he called ATF officials, who had begun investigating the case that June, and told them about his conversation with McCormick.
Through that fall, the ATF interviewed many of the same ex-members who were talking with the Tribune-Herald, including Breault. ATF Special Agent Davy Aguilera asked Breault in December to cease contact with the newspaper, but by then the Trib investigation was mostly done, and he continued contact.
The reporting culminated with McCormick calling Koresh, whom reporters were still calling Vernon Howell. In the interview, McCormick cut to the chase.
"I asked him if he had multiple wives," she said. "I asked about children being born through these multiple wives. I asked these questions directly about it but didn't get anything solid. I did get quite a long talk or sermon about how 'You, too, could be one of the queens of heaven.'
"He told me all about his heaven, that he was the next Messiah, that he wanted everyone to go to heaven with him, that he would rule up there. . . . It didn't seem to bother him that I was asking him about things that would have bothered other people. He was smooth, very charismatic, even on the phone."
In January, England and McCormick submitted their draft of the series, and editors began vetting and debating it. Blansett recalls some resistance at times from upper management about running the story at all.
But Bob Lott, who then was the newspaper's top editor, said he was convinced by the evidence that it was a story that had to be told.
"It became believable that Koresh was raping girls in the name of God," Lott said. "And beating children. I think our intense interest came about at that point."
In a joint interview with Elmore, Lott recalled that Gregory, the assistant city editor, and Elmore wanted to downplay the arms stockpiling as a focus of the story. He agreed, but wanted to mention it in the all-important "lede," or first paragraph of the story.
After all, he argued, Koresh had been brought to trial on an attempted murder charge a few years back when he engaged in a shootout with George Roden, his rival for the control of Mount Carmel. The jury deadlocked on his guilt, and he went free.
"Barbara early on did not want to make it a story about guns," Lott said. "Yet, at the same time, the guns were a big deal.
"I overruled y'all and made us put guns in the lede," Lott said to Elmore, who chuckled at the memory. "You still don't forgive me. I think they allowed me to put about four words in there."
In the final version, the story would begin as follows:
"If you are a Branch Davidian, Christ lives on a threadbare piece of land 10 miles east of Waco called Mount Carmel.
"He has dimples, claims a ninth-grade education, married his legal wife when she was 14, enjoys a beer now and then, plays a mean guitar, reportedly packs a 9mm Glock and keeps an arsenal of military assault rifles, and willingly admits that he is a sinner without equal."
The story would go on to describe Koresh's unusual doctrines that he was a new Christ, but one who could identify with humanity because he was a sinner, and that all women in the world belonged to him. A copy editor read the first installment and came up with a working title: "Sinful Messiah."
'We didn't anticipate . . . gunfire'
The parallel investigations, it soon became clear, were on a collision course.
The ATF had created an undercover house across the street from the compound in mid-January, according to the Treasury report.
Undercover agent Robert Rodriguez met Koresh, who invited him to attend Bible studies and shoot guns at Mount Carmel.
By February, the ATF still had no warrant for Koresh's arrest, but agents were concerned about the Tribune-Herald investigation.
At the same time, newspaper officials had reached out to Johnston, the prosecutor, for advice about preventing any retaliatory attacks from Davidians after the series ran. He arranged a Feb. 1 meeting with managing editor Elmore and two ATF officials: Earl Dunagan and Chuck Sarabyn, who would be the raid's tactical commander.
"They said they understood we were working on a story," Elmore recalls. ". . .They said 'We just don't want you to run that series. If you don't run the series, we will put your reporters into bulletproof vests and take them on the raid with us.' I said, 'That is not something we would do, but are you doing a raid? Are you doing any activity out there?' They said, 'We're investigating.' "
Elmore said she made no offer to call off the story, and told the men that she was not authorized to make such a decision. The Treasury report, based on numerous interviews, would later affirm that no one at the newspaper ever promised to delay the series.
"Dunagan believed the paper was cooperating with the ATF's request to hold the story because Elmore had not told him anything to the contrary," the report states.
The Tribune-Herald did delay the series a few weeks, but only because of security concerns, Lott said. A high-level official from the newspaper's then-parent company, Cox Newspapers, was flown in to consult on security measures.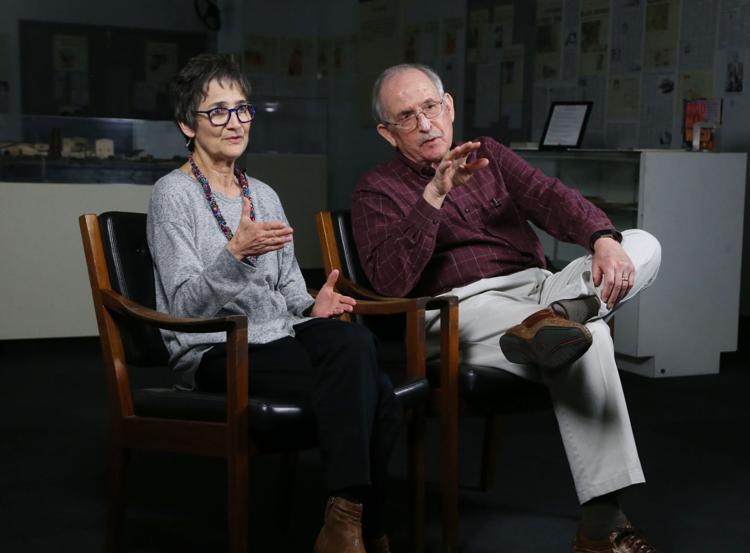 In mid-February, Rodriguez was attending Bible studies and shooting guns with Koresh. Koresh would later suggest that he suspected Rodriguez was a federal agent all along. Meanwhile, senior ATF official Phillip Chojnacki was finalizing plans for a March 1 raid and trying to persuade the Tribune-Herald to hold off.
On Feb. 24 he met at the Tribune-Herald with Lott, Elmore and Blansett, pleading with them to delay the series. But he could give no timeline and admitted that he didn't have a warrant.
In interviews with Treasury officials, Chojnacki would later recall asking: "So does that mean that you are willing to run this story even though we are asking you to keep it quiet for a few more days so that we can do what we have to do?"
He recalled Lott's reply as follows: "The important thing to us is the public's right to have information that they need to know, and that's our job. We're not concerned about where it falls in or falls out in terms of your law enforcement case."
Lott remembers being frustrated by a lack of information from Chojnacki, and doubting whether any action would be taken at all.
"I asked him, give us a good reason why what we're doing would hurt your operation," Lott said. "He never could . . . He left in not a good mood."
The editors quickly conferred with publisher Randy Preddy. It was Wednesday, and Preddy supported a Saturday start date for the series, so that few employees would be in Trib offices and the newsroom if Davidians attempted to retaliate.
That same Wednesday, Witherspoon, the reporter, heard from a local law enforcement source that a warrant would be served to Koresh on Monday. He played racquetball Thursday with KWTX cameraman Dan Mulloney, and both corroborated that their sources were expecting Monday action.
In the meantime, Chojnacki told his superiors the newspaper was probably going to publish the series in the Sunday newspaper and sought to move the raid back to Saturday as a result. ATF officials compromised, moving it back to Sunday, according to the Treasury report. On Thursday, the ATF received a federal warrant for Koresh's arrest.
On Friday, Preddy informed Chojnacki of his final decision: The story would begin the next day. He mentioned that nothing would be said about the ATF investigation.
Meanwhile, ATF officials in Washington were learning about the planned raid and growing increasingly concerned about it. On Friday, they ordered the commanders in Texas to call it off. Chojnacki promised the Washington officials that the raid could be executed safely, and he won permission to go forward.
On Saturday, Rodriguez went to the compound to scope out the effects of the "Sinful Messiah" series, and he found Koresh preaching about it and warning of a future confrontation with authorities.
That day, Witherspoon at the Tribune-Herald and Mulloney at KWTX had each gotten tips that the enforcement action would be moved up to Sunday, and their bosses assigned them and other staffers to cover it.
"Honestly, I think we were expecting them to go in there, put on a show of force, arrest David Koresh and drive him to jail," Bradfield at KWTX recalls. He made plans to come in Sunday morning, then take his 2-year-old to see "The Lion King" in the afternoon.
"We didn't anticipate helicopters," he said. "Certainly not gunfire."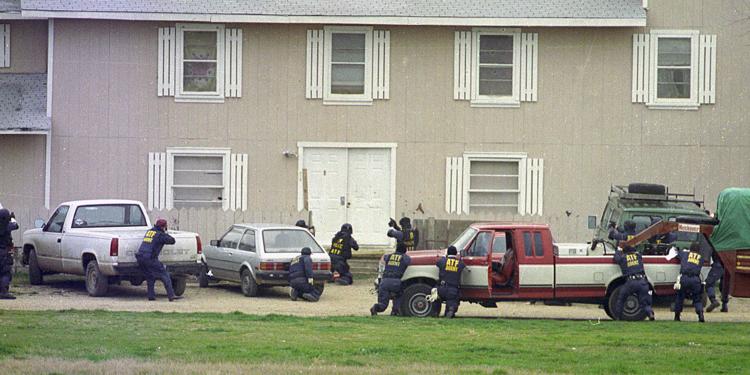 Treasury report
It took months to sort out the events of that Sunday morning, partly because they were so chaotic, and partly because — as the Treasury report concluded — ATF officials lied about them.
According to the report, Agent Robert Rodriguez paid a last-minute visit to the compound around 8 a.m. that morning and found himself in a Bible study with Koresh. Half an hour later, Koresh's father-in-law, Perry Jones, pulled the sect leader aside, saying he had a long-distance telephone call from England.
When Koresh returned to the room, Rodriguez found him "extremely agitated" and trembling too much to hold his Bible. He declared that "neither the ATF nor the National Guard will ever get me. They got me once, and they'll never get me again." He looked at Rodriguez and said, "They're coming, Robert. The time has come."
Rodriguez excused himself and sped to the undercover house, where his colleagues found him visibly upset. On the phone, he related his experience to tactical commander Sarabyn. But by now, it was 9:05, and agents were preparing to board the trailers at the Bellmead Civic Center. The raid would continue, even though the element of surprise was now lost.
Sarabyn announced to agents inside the center that Koresh knew they were coming, and that they must move quickly.
Sarabyn and Chojnacki would later insist to their superiors and to the press that they didn't know their position had been compromised.
"Two of the principal raid commanders appear to have engaged in a concerted effort to conceal their errors in judgment," the report found.
"The decision to proceed was tragically wrong, not just in retrospect, but based on what the decisionmakers knew at the time," the report states. "It is now clear that those decisionmakers had sufficient information from the undercover agent to conclude that the raid had been compromised."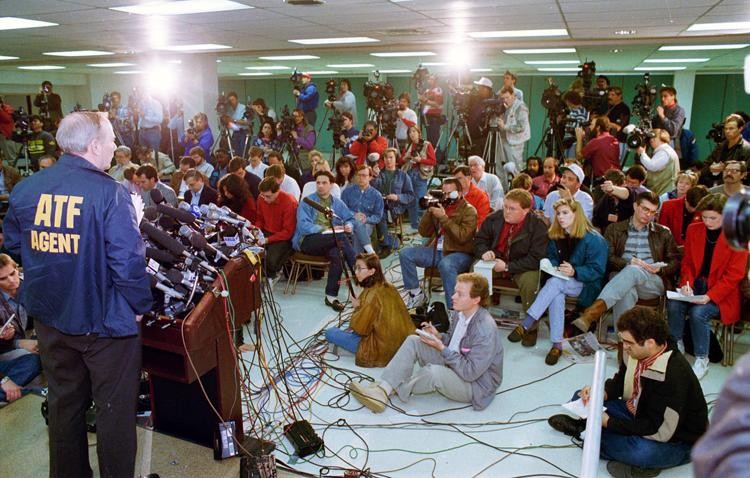 In the following days, as the worldwide media gathered to watch the siege at a designated "satellite city," ATF agents would name their culprit for the disaster: the local media.
On the Tuesday after the raid, Houston Chronicle reporter Kathy Fair appeared on "Nightline" and repeated those rumors.
"But unofficially, and off the record, I think many officers will tell you that they blame the media, particularly the local media, for the tragedy that occurred here," she told Nightline's Ted Koppel. "They think the fact that both the newspaper and the local television station, who were already at the compound ... allegedly were already hiding in the trees when federal agents arrived."
A lawsuit filed that March by Waco attorney Jim Dunnam on behalf of wounded ATF agent John T. Risenhoover went further: It claimed that "Sinful Messiah" co-author Mark England had called the compound that Sunday morning to warn them of the ATF raid. In addition, Dunnam claimed that the Tribune-Herald had promised ATF officials the paper would hold the series, then reneged on that agreement.
Neither of those claims is supported by official accounts of the raid. The Treasury document notes that the "call from England" was apparently interpreted to refer to Mark England. However, the call was fictitious, and no phone records support it ever happening, the report states.
Dozens of other plaintiffs would join the case as months passed, including Chojnacki and Sarabyn. The lawsuit broadened to include KWTX and a local ambulance company, AMT, which employed a dispatcher who relayed information on the raid to KWTX's Mulloney.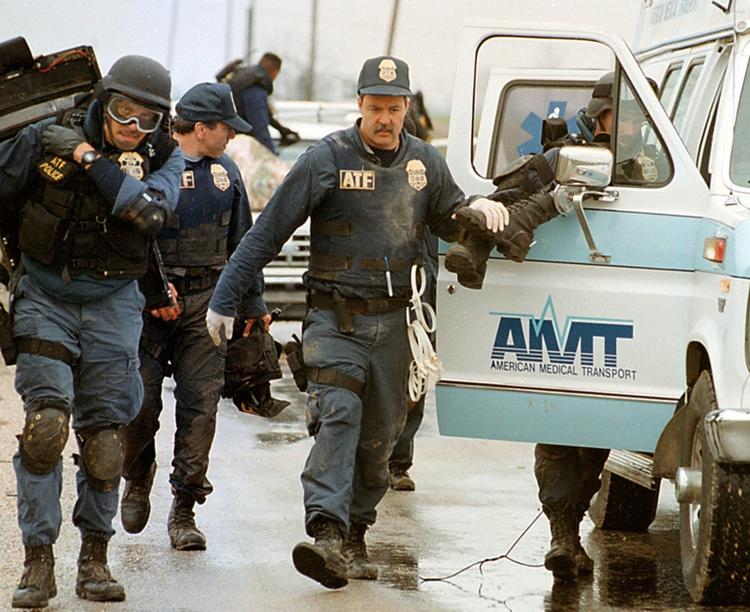 In the meantime, depositions and law enforcement investigations began to clarify where the tip that morning came from. According to the 1994 Treasury report and a 1996 court order, it came from another KWTX cameraman who had gotten lost on the maze of country roads near the Davidian compound.
About 8:30 a.m., according to the Treasury report, cameraman Jim Peeler stopped and asked a mailman for directions to "Rodenville," the former name for Mount Carmel. He mentioned that some kind of law enforcement action was about to happen there, according to the report.
The mailman turned out to be David Jones, a sect member and Koresh's brother-in-law, who sped back to the compound and alerted his father, Perry Jones.
Ultimately, the focus of the lawsuit would shift to Peeler's accidental tip-off, the ambulance company's leak and the general obtrusiveness of newspaper and television vehicles driving up and down the road that morning.
In a partial summary judgment in April 1996, U.S. Judge Walter Smith released Mark England from the lawsuit and removed the "Sinful Messiah" series as an independent cause of action. However, he criticized local media for failing to take precautions to preserve the integrity of the raid and their own reporters' safety.
"Common sense would dictate that a reporter on the scene would do everything possible to avoid detection when covering what is known to be a secret law enforcement operation," Smith wrote. "Instead, the media arrogantly descended on the compound as if the First Amendment cloaked them with immunity from acting as reasonable individuals under the circumstances. Their actions are particularly egregious when considered in light of the fact that they knew how dangerous Koresh and his followers were."
Dunnam said in an interview last week that his clients made all their claims based on their best knowledge, and the lawsuit evolved as more information became known through depositions. But what stuck was the duty of journalists not to interfere with law enforcement operations.
"Our claim, fundamentally, was that if you're going to write a story, you cannot run a stop sign to get a story," he said. "But for the meddling of the media, the circumstances would have been different, and events would have unfolded differently. ... To the extent that the ATF made the wrong decision, they wouldn't have had to make the decision at all if Koresh had not been alerted."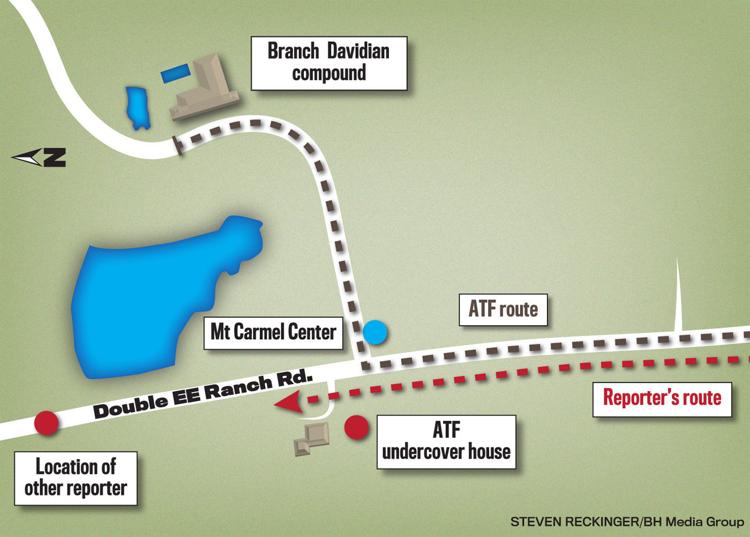 The Tribune-Herald's parent company and insurer had spent $1 million in legal fees by October 1996, when the insurance company decided to settle the lawsuit for an undisclosed sum. Insurers for KWTX and the ambulance company quickly followed suit. Both the newspaper and the TV station expressed their disagreement at the time with the decision.
Former Tribune-Herald leaders and Bradfield said settling the case left the mistaken impression that they admitted to making wrong decisions on the day of the raid. Bradfield said he believes the media's presence might actually have kept the raid from going even more horribly wrong.
"I think the issues they raised needed to be heard in court," Bradfield said. "I understand why it needed to be settled, but there's a fundamental access question there. Can media be liable for being in the neighborhood if something bad happens? We do that every day. If you're a First Amendment advocate, you have to believe that the right of free publishing also means the right to access, to a point at least. That's an issue that's never really been litigated. ... This could have been a good case to do that."
Actually, the ATF agents' case against the Waco media has been tried, many times, but not in a court of law. The Baylor Law School practice court program regularly stages a trial on the case, with actors playing Tommy Witherspoon and various other characters involved in the matter.
Sometimes the agents win, and sometimes the local media win, law professor Jim Wren said.
"It's a very challenging case," he said. "There's nothing about this that's a slam dunk."
He said if the case had been tried in a court of law and a clear verdict reached, it could have been precedent-setting for media law.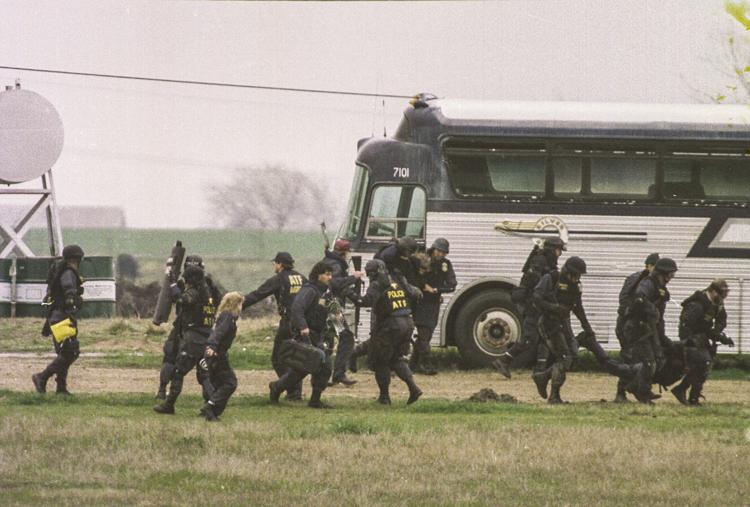 In the real world, the drama of the Davidian raid and the resulting lawsuit took a toll on some journalists involved. KWTX reporter John McLemore unsuccessfully sued newspaper and TV stations for libel in suggesting that he had a part in tipping off Koresh.
Dan Mulloney, the cameraman, died of health problems in 2001. Jim Peeler, who recently left KWTX, could not be reached for this story. But he has been quoted in other news media as saying that he is haunted by the idea that he might bear responsibility for the Mount Carmel tragedy.
Bradfield said the failure of the raid rests with Koresh and the ATF, not Peeler.
"Peeler was a convenient scapegoat for just about everybody," he said. "I regret that. I feel awful about that. He's a thoroughly decent guy and very capable photographer."
Pulitzer Prize finalist England left the newspaper business and Waco in 2000, while McCormick went on to work at The Tampa Tribune.
"I think Mark felt the effect far more deeply than anyone else," said Blansett, the former city editor. "I talked to him one day. It was after the fire, some time later. He said, 'We'd started out to change the Davidians, but in the end we changed ourselves.' . . . I think he felt the blackness of it more than the rest of us. That was a terrible thing that happened, but he felt the full magnitude of it."
Blansett said his admiration for England grew over the course of the "Sinful Messiah" project, and their relationship grew more friendly. He said he just wishes the "Sinful Messiah" series could have brought a troubled, abusive sect leader to justice without bloodshed.
"A lot things became known about Koresh because of Mark," Blansett said. "Without Mark, none of that would ever have been known. . . . Mark should have emerged as a heroic figure recognized for his part in putting an evil person in prison."