An afterthought no more, Waco has earned its place on Texas Monthly's barbecue map with two spots on the magazine's list of the state's 25 best newcomers to the scene.
Guess Family Barbecue and Helberg Barbecue, both food trucks with brick-and-mortar ambitions, are on the list released Monday by the magazine.
Once upon a time, Texas Monthly barbecue editor Daniel Vaughn felt compelled to label Rudy's Country Store & Bar-B-Q the best in Waco. That was no slap at Rudy's, a worthy chain, Vaughan said recently by phone as he headed to scope out smoked meat in far West Texas.
But the city needed its own signature sauce, a locally owned operation patrons could sink their teeth into, in Vaughn's opinion. Guess and Helberg fit the bill, said Vaughn, who has also lavished praise on David Gorham's Honky Tonk Kid Bar-B-Q, in a February 2017 article.
Vaughn stopped short of saying Waco was a barbecue desert in the past, noting that Tony DeMaria's has won notice in the magazine's pages over the years. He has enjoyed visits to Jasper's, Uncle Dan's and Mama & Papa B's, to name others in Greater Waco.
But the area had suffered a dry spell and had failed to keep pace with other sauce-stained destinations in the state's barbecue heartland of Central Texas.
Helberg Barbecue represents the handiwork of native Houstonian Phillip Helberg. He moved back to Texas from Southern California, where the dearth of quality Texas-style barbecue forced him to prepare his own, after much research peppered with trial and error. Word began to circulate that his recipes were special, and catering gigs soon dominated his weekends.
His reputation outgrew his small smoker, but expanding in Orange County looked impossible due to high real estate costs and restrictions on burning wood.
Hello, Waco, where two sisters attended Baylor University.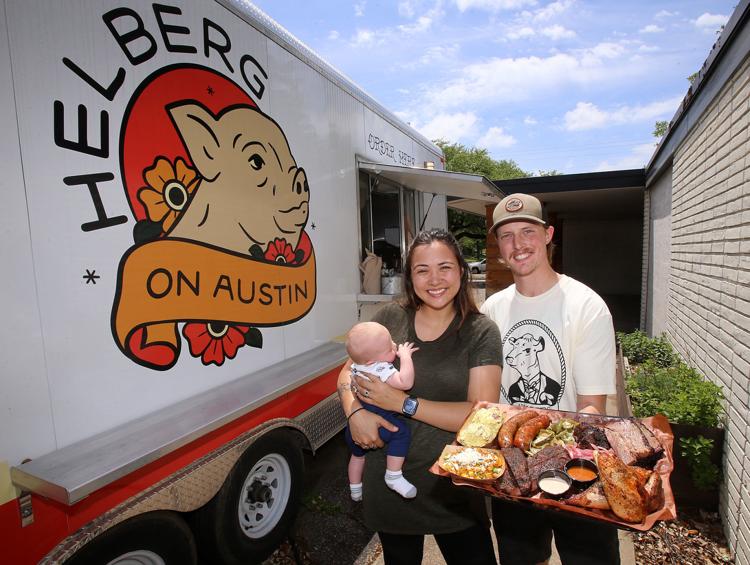 With his wife, Yvette, who grew up on a grape farm near Fresno, California, he converted an old RV into a food trailer they parked outside Pinewood Coffee Bar, 2223 Austin Ave., where they won a following. They later "decommissioned" the RV, installed a customized food trailer, and served the faithful from noon to 10 p.m. seven days a week, much of their business generated by those visiting Pinewood, Helberg said.
With business percolating, the Helbergs have signed a five-year lease with two five-year options on a 4,000-square-foot metal building on State Highway 6, previously a tasting room for Valley Mills Vineyards. The area has a bucolic feel and a cornfield as a neighbor, but is 15 minutes from downtown.
Helberg plans to keep up the expectations that the Texas Monthly review raised. Vaughn, who has visited 1,600 barbecue joints from Amarillo to Brownsville, has some credibility in that arena.
Says his recent review: "They offer smoked turkey like nobody else in Texas. The breast is butterflied, filled with herbs and spices, and then rolled up and smoked. Pair it with some jalapeño corn, a smoked Gouda macaroni and cheese, or mustard potato salad as yellow as a raincoat."
The pastrami beef cheeks at Helberg's "are one of the most unusual barbecue items in Texas," said Vaughn in his pro tip accompanying his review.
"Yes, they are real beef cheeks," said Helberg. "We apply the pastrami process to the cheeks. Some find the idea offputting at first, but it is extremely tasty. If you've eaten barbacoa at a taco stand, you've probably had it. We sell it for $18 a pound, but most get only half-a-pound as it is very rich."
Helberg said he uses grass-fed beef, offers a line of house-made sausages and sees considerable demand for his pesto-filled turkey. He uses spices sparingly, his website proclaiming: "Salt. Pepper. And a whole lot of prayer."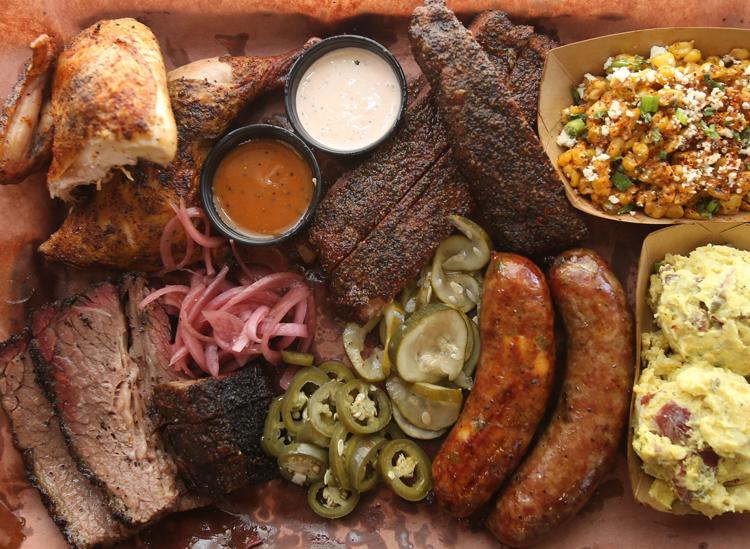 His approach to preparing barbecue sauce is equally sparse.
"It is mustard-based and inspired by a really old barbecue joint in South Central Texas called Luling City Market," he said. "I'm not really big on sweet, sugary ketchup-based sauces, which are more engineered for pork than beef. I've always been encouraged not to put sauce on beef. I do prepare pork steaks, which I finish on the grill to create crisp edges."
Vaughn said he appreciates Helberg's stripped-down, traditional way of cooking, long on salt and pepper and patience, short on glazes and finishing sauces. A beautiful, pristine slice of brisket, simply seasoned and well prepared, is close to heaven on a paper plate, Vaughn said.
"But good barbecue sauce can hide a lot of sins," he said.
Helberg opened locally on April 27, 2018, almost exactly one year ago. His spot on Austin Avenue will remain open as a satellite location.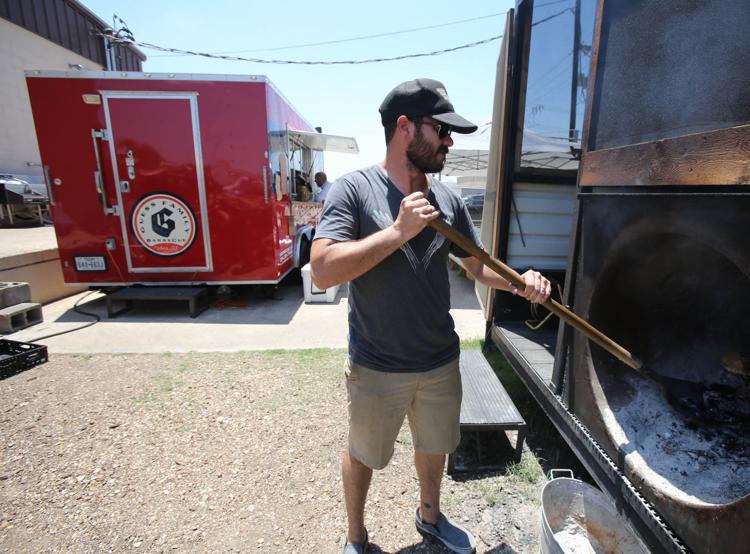 Guess Family Barbecue appears on Texas Monthly's list of top-25 newcomers, but some might view that as a misnomer. It has been around long enough to create a cult following. The magazine heralded its presence in a May 2017 feature by Vaughn, who mentioned the food truck on South Sixth Street, owner Reid Guess' former employment at Lambert's, a venerable barbecue haunt in Austin, and Guess' claim that his 'que "is the kind Jesus ate."
Vaughn says in his most recent ranking: "Guess' ribs — smoky, tender, and savory rather than sweet — are the ideal version of Texas spareribs. His brisket and sausage are good too, but I can't wait to see what surprises he'll be serving up with a full kitchen and a bigger staff," the author wrote.
Reid is renovating the former Michna's barbecue restaurant at 2803 Franklin Ave., with an opening planned in June or July, the Tribune-Herald has reported.
Vaughn, in an earlier story, said Guess had become a Texas Monthly favorite since it arrived in Waco early in 2017. But its breakthrough came a tad late for inclusion in the magazine's top-50 best that year. The magazine attempted to make up for the oversight by inviting Reid Guess to a barbecue-centric festival it hosted last November in Austin. The next top-50 rolls out in 2021.