A bassist often finds himself out of the limelight, playing behind lead singers or lead guitars, relegated to the side of the stage although often in front of the even-more-anonymous drummer.
Veteran Waco bassist Tonee Calhoun, however, takes center stage Saturday night when he releases his new album "Black Knight" in a show combining music, visual art and even food at the Waco Convention Center.
Calhoun, 65, has played with the likes of Buddy Guy, Sonny Rhodes, B.B. King, Robert Cray and more in a career that's spanned Texas; Berlin, West Germany; Tacoma; Washington; and Milwaukee, Wisconsin.
Since moving to Waco in 1983, the Mart native has added a funky, jazzy, soulful or driving backbeat to bands led by Sherman Evans, David Zychek, Billy Joe Shaver and his own band, Tonee Calhoun and Pleasure, though he's been known as Tony as much as Tonee.
After playing with Mojo Assassins and Billy Joe Shaver in recent years, the time was right for Calhoun to turn to his own music and "Black Knight" samples a wide range of musical styles — the legacy of an adept sideman who could adapt to most bands. "There are boxes of songs I never got a chance to record," he said.
Calhoun grew up in a musical family in Mart, one of five sons of Oscar Calhoun Jr. and Geraldine Henderson Calhoun, both talented musicians who led music at their church. He started on piano and trumpet, but migrated later to bass guitar, a replacement for a broken guitar.
The family followed the father's postings as a mess sergeant in the U.S. Army, which included a stint in Germany. Years later, the younger Calhoun followed in the Army and spent 15 years in Europe where, as a DJ with Armed Forces Radio, he rubbed elbows, so to speak, with such musical luminaries as Ray Charles, Dizzy Gillespie, James Brown and Earth, Wind and Fire.
He came back to the States in 1977 and came to Waco after years in Washington and Wisconsin. After leading his own band, Pleasure, and filling in whenever bands across the state needed a bass man, Calhoun joined bands led by two of Waco's better known performers, rock guitarist Zychek and country singer-songwriter Shaver. The former stretched his rock side, but gave him a chance to talk music structure with an equal; the latter introduced him to a new repertoire of country music. "At the end of two years (with Shaver), I knew 300 songs," he joked.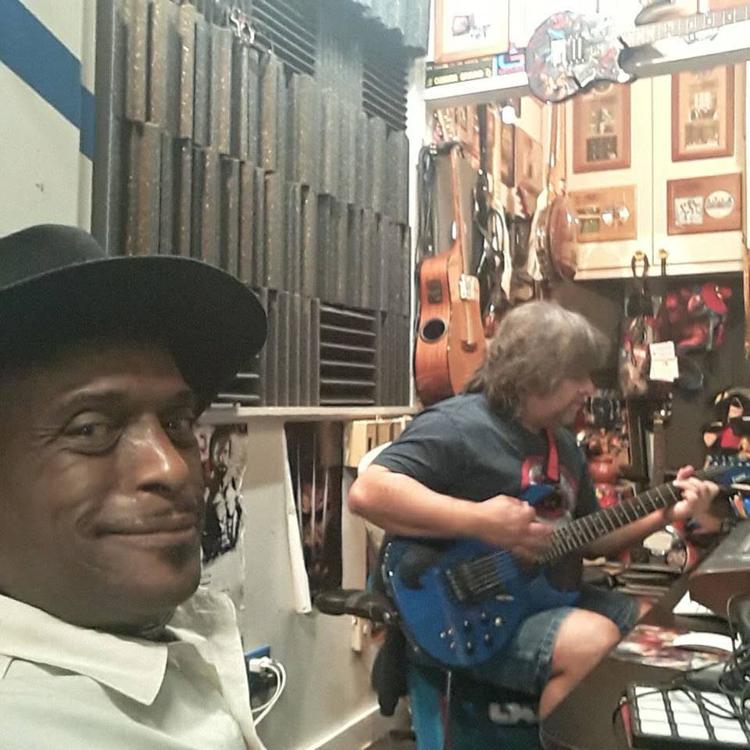 "Black Knight" shows Calhoun's writing and musical range. "Tonee had some of these songs that he didn't do with the Mojo Assassins," explained Waco recording producer and musician Steve Rosas. "He wanted to do something a little different."
The stylistic variety of "Black Knight" shows that difference, added Rosas, who backed Calhoun on much of the album. "I'm real proud of it. He got to spread his wings."
Saturday's album release not only will feature live music, but visual art and food in an event expressly organized to introduce young and old music fans.
"I try to do everything Hollywood. I give the best that I can and I give it at all times," he said.