Holiday shows on Waco stages this weekend offer different strokes for different folks, with laughs, sniffles and warm hearts intended as the end results.
At the Jubilee Theatre, the title says it all (and then some): "Every Christmas Story Ever Told (And Then Some)."
For director Trent Sutton, the mash-up of familiar Christmas stories met what he was looking for in a holiday show. "We wanted to do something fun, family-oriented and a little bit different for our Christmas show," he said.
The little bit different turned out to be little bits of a lot of familiar. The show, written by Michael Carleton, James FitzGerald, and John K. Alvarez, imagines three actors stuck in yet another production of Dickens' "A Christmas Carol," who rebel and decide to perform, well, the title.
That includes Christmas carols and songs, Dr. Seuss characters, "Rudolph the Red-Nosed Reindeer," holidays of other traditions and a lot more. "It's scripted in a way that feels like we're making it up as we go," admitted Sutton, who's one of the three actors in the Jubilee production.
Joining him are Kristi Hunter, a longtime Jubilee collaborator, and Sutton's brother Cole, who worked with Trent in several Austin productions. There's also room for some audience participation.
"Every Christmas Story Ever Told" runs Friday through Sunday with performances at 7:30 p.m. Friday and Saturday, and 2:30 p.m. Sunday.
Children's theater
Waco Children's Theatre, on the other hand, sticks to a tried-and-true (and heart-warming) Christmas story in its production "It's a Wonderful Life," presented Friday through Sunday at the Lee Lockwood Library and Museum.
It's been a regular offering of the children's theater, but this year's production will skew a little older in its cast, said director Linda Haskett.
The story, adapted for the stage from Frank Capra's beloved 1946 movie, concerns the angel Clarence (Hunter Barnett) who comes to Earth to steer a dispirited George Bailey (Collin Selman), a pillar of his hometown of Bedford Falls, from suicidal thoughts while facing possible financial ruin.
The angel, in hopes of winning his wings, replays Bailey's life without him, showing how the lives of his wife Mary (Bradyn Braziel), brother Harry (Taylor Cantrell) and other Bedford Falls residents would be all the more poorer and meaner without him.
In a time marked by national polarization on political lines and controversies, the message of "It's a Wonderful Life" comes as welcome relief, the director said.
"It's about community. It's about love. It's about honesty. It's about poor people," Haskett said.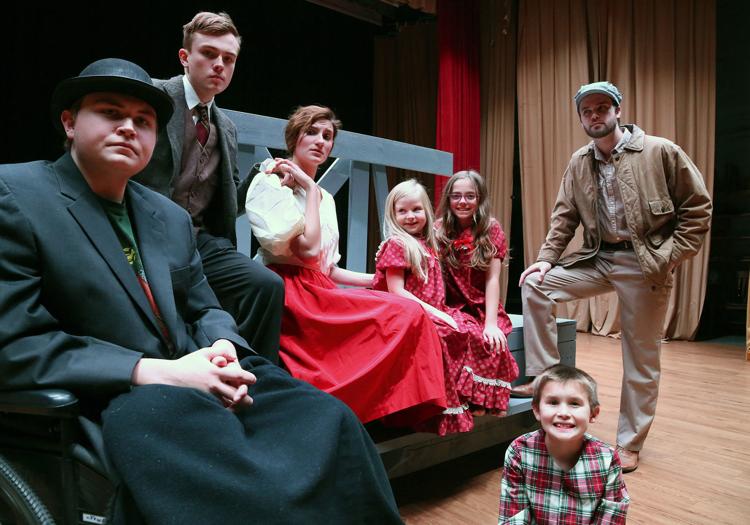 Brazos Theatre
It's also a message seen, but primarily heard at Brazos Theatre, which stages its Christmas tradition of "It's a Wonderful Life," presented as a 1940s radio play.
The radio play "It's a Wonderful Life" will be performed at 7:30 p.m. Friday and Saturday, with doors opening at 6:30 p.m.
Waco stages won't be done this weekend, however, as the Waco Civic Theatre has one left in store, its "The Most Wonderful Show Of The Year" holiday revue, at 7 p.m. Dec. 20-22 and 2:30 p.m. Dec. 23.