A bad first date might seem to last a lifetime and that's the time period traveled, in imagination at least, in Baylor Theatre's production "An Infinite Ache."
The 2001 David Schulner play examines the aftermath of a first date between would-be actress Hope (Christina Calcote) and new-to-L.A. Charles (Luke Morrison), which ends when she has too much to drink and he takes her to his apartment to sleep it off.
What follows is a lifetime, one from any number of possibilities, imagined as a developing relationship that spins off from their first encounter. As their would-be, possible story walks into the future, the two fall in and out of love, get married, start a family, share joy and suffer loss — in short, life.
"It's a thematic exploring of one's background and culture as one gets older," said Baylor graduate student and director Edward Vermeulen-Wise. "It shows the good and bad of how marriage can feel and of loss."
It's also shows the sort of problem that theatrical magic from actors and directors aim to solve as they cover decades in time and space, physically and emotionally, with little more than props, lighting and a large bed. "Time moves differently here," Vermeulen-Wise said, noting that years might disappear between lines of dialogue. "The rhythm of the play is similar to the different movements of a symphony."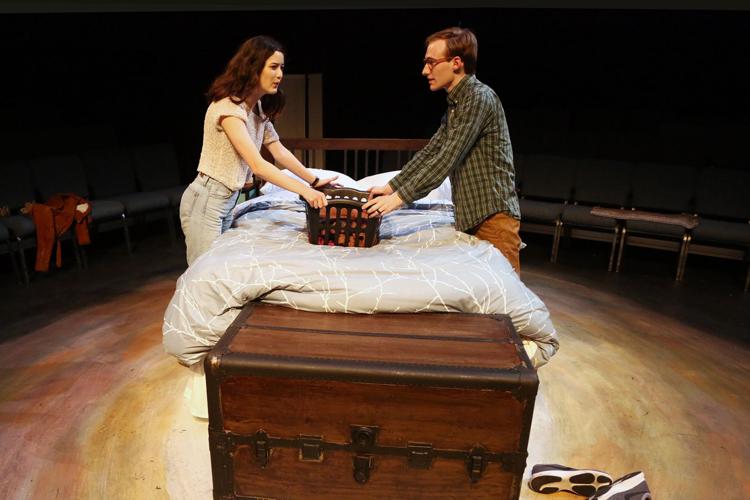 The couple's cultural differences — she's of Asian descent, he's Jewish — and concerns about what they might lose in a life together feel familiar to the 41-year-old Vermeulen-Wise, whose father was Scots-Irish and his mother Latina. Both were in the U.S. Air Force and theater was not on his radar while growing up until a fateful theater appreciation class taken when he was studying computer science at Palo Alto College in San Antonio.
That eventually led to a degree change to theater when he transferred to Texas State University. He taught middle school for awhile, then worked in a photography tech lab before he decided he needed to put his theater degree to use. He's working on a graduate degree in directing and his wife Liz Vermeulen presently teaches theater at Waco High School.
As "An Infinite Ache" explores how life can branch in different directions from a meeting or a decision, Vermeulen-Wise nods in recognition.
"An Infinite Ache" opens its three-performance run on Thursday and is recommended for older audiences due to language and adult themes.