Under the right hands, the Hammond B-3 electric organ with its two manuals and 61 keys can be a potent, versatile musical instrument and rhythm-and-blues star Booker T. Jones made it his.
Jones, best known as the frontman for the classic 1960s R&B group Booker T. and the M.G.'s, brought the instrument that the Memphis native had heard in church and Beale Street blues clubs into R&B music.
His work as player and producer left its mark in the Stax sound, an R&B/soul mix that evolved into 1970s funk. That only served as the first stage of a successful career as musician and record producer that saw him expand beyond Stax and its talent to play and record with Ray Charles, Neil Young, Willie Nelson and more.
Waco fans will get to hear for themselves when Jones, 74, brings his 10-person band to Indian Spring Park Friday night to kick off this year's Brazos Nights free concert series. Opening for Jones is Grammy Award-nominated Mississippi blues guitarist and drummer Cedric Burnside.
The organ and its wide-ranging sonic palette were a natural progression for Jones, who showed considerable musical talent at an early age. "I started as a string player — ukulele, guitar. Our house was filled with guitars," he recalled in a recent interview.
At 9, Jones started wind instruments, beginning with oboe and later progressing to clarinet and saxophone. Piano studies began early, too, and, as luck would have it, Jones' piano teacher also happened to have a Hammond organ in her house — a considerable investment for many households at that time.
She introduced Jones to the organ and it was like handing car keys to a teenager. "That whetted my appetite," he said. By his teens, Jones was sitting in recording sessions and playing in local bands, including his own, with the likes of Rufus Thomas, David Porter (an Isaac Hayes collaborator) and Maurice White, later of Earth, Wind & Fire fame.
Memphis had a fertile music scene at time, fueled with sounds from Beale Street clubs, emergent rock 'n' roll from Sun Records and R&B from a new recording label, Satellite Records, which became Stax Records in 1961.
"The music that came from Memphis was innately original in terms of rhythm-and-blues, a mixture of blues and rock and jazz," Jones said. "It didn't come from any other place. It didn't come from Muscle Shoals (Alabama, home of FAME and Muscle Shoals Sound Studio). It wasn't Nashville, it wasn't Philadelphia, it wasn't Houston."
Adding an organ to R&B wasn't a stretch for Jones. "I got it from the church and the gospel music I was playing. It was already in the blues acts on Beale Street," he said. Jazz in the 1950s and 60s also had picked it up, but it caught fresh ears when combined with a bass line and drums.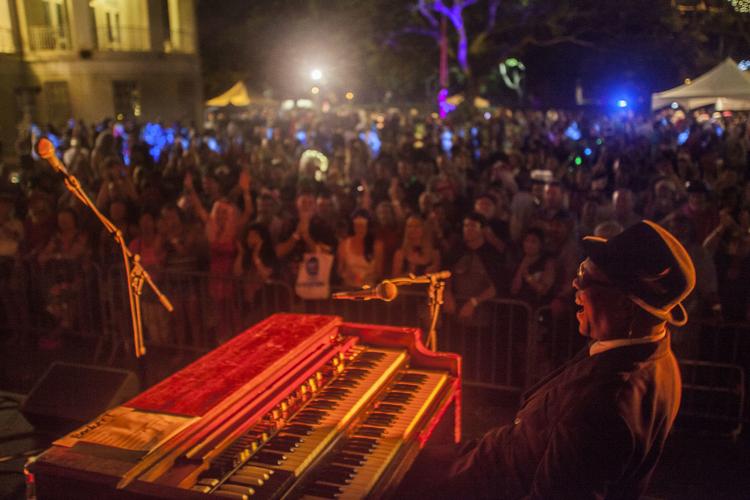 In 1962, Booker T. and the M.G.'s hit the national map with their instrumental "Green Onions" and its memorable Hammond B-3 vibe. For the next decade, Jones would juggle his band and music studies at Indiana University with his work with Stax Records and a Who's Who of Memphis soul and R&B performers such as Otis Redding, Al Green, Albert King, Sam and Dave and Wilson Pickett.
Jones left Memphis and his session work with Stax in 1970, moving to California, but continuing his play with the M.G.'s, recording production and studio playing. He produced Willie Nelson's "Stardust" album as well as Bill Withers' "Just as I Am," including its hit "Ain't No Sunshine," and contributed keyboards on recordings by Neil Young, Ray Charles, Elton John, Leon Russell and Eric Clapton.
Jones still writes and records, amassing eight solo albums and 13 with the M.G.'s, four Grammy Awards to his credit, including a Lifetime Achievement one, and membership in the Rock & Roll Hall of Fame. It's a lifetime of music, but one that hasn't strayed far from its heart.
"I've stayed true over the years. I still see myself as the person who played 'Green Onions' on a Hammond organ," he said.
Jones brings a lineup to Waco close to that he took on the road for a 50th anniversary Stax/Volt tour two years ago: four rhythm players including his son Ted on guitar, three horns and three singers. "That's 10 (performers), but I'd like to have 12," he said.
Opening for him is blues drummer and guitarist Cedric Burnside, a Mississippi native and grandson of the late bluesman R.L. Burnside.