A 24-hour period early last month sums up a lot of why the Oak Ridge Boys have proven so popular over the decades.
That 24 hours started with one of the group's Christmas tour appearances in Spokane, Washington, on Dec. 5, followed by an overnight flight to Houston where they sang "Amazing Grace" at George H.W. Bush's funeral service, then immediately back on a plane to Washington for a Dec. 6 Christmas show in Kennewick that night.
In other words, that 24-hour span illustrated attention to audiences and loyal fans (a president, in this case); a familiar repertoire spanning country, Christmas, gospel and patriotic music; vocal talent; and tight cohesion and cooperation, including their supporting band, fused from 46 years together.
"Modern country radio won't be playing the Oak Ridge Boys, but we know that," said the quartet's well-known bass Richard Sterban. "We go and do what we want to do."
The Oak Ridge Boys will bring all of that — well, maybe not the Christmas music — to a sold-out Waco Hippodrome on Wednesday. Although the quartet continues to add new songs, such as last year's "17th Avenue Revival" album, to its repertoire, they're mindful what their audiences want.
"It's the law that we have to do 'Elvira,' " Sterban deadpanned. "You'll hear me do 'Um-pa-pa-mow-mow' (the song's signature bass riff).' That is a given. We'll do 'Thank God for Kids' and 'Y'all Come Back Saloon,' too."
The quartet's lineup of Sterban, lead Duane Allen, tenor Joe Bonsall and hirsute William Lee Golden first aligned in 1973, building on the Tennessee group's roots in gospel quartet singing. Sterban, a native New Jerseyan, had sung with J.D. Sumner and the Stamps Quartet, which backed up Elvis Presley on occasion, with Allen a former member of the Southernairs Quartet and Bonsall the Keystone Quartet.
By then, the Oak Ridge Boys had started to move into country and pop, moving fully into the former in 1977 when their album "Y'all Come Back Saloon" scored their first Top 10 country hits. "I'll Be True to You" was their first country No. 1, but it was 1981's "Elvira" that rocketed them to national attention, the song topping country charts and peaking at No. 5 on the pop charts.
Storied career
The three decades that followed, which included a spell between 1987 and 1996 when Golden left the group, saw the quartet log another 16 country No. 1s in the course of 31 albums. Supplementing those numbers are seven Christmas albums, 27 music videos, numerous television appearances, five Grammy Awards and membership in the Country and Gospel Music Halls of Fame.
The Boys are still going strong, averaging more than 150 dates a year with the Christmas season their busiest time, in which they perform their popular Christmas concert as many as 30 consecutive days. "We're never guilty of resting on our laurels," quipped Sterban, calling from the Cayman Islands where he and his family were taking a post-Christmas vacation.
Collaborative energy
Last spring, the Oak Ridge Boys released "17th Avenue Revival," produced by Nashville super-producer Dave Cobb (Chris Stapleton, Jason Isbell and Zac Brown, for starters) and Sterban was still energized by the collaboration.
"Dave told us, 'You guys are the only guys I know of where the four of you can gather around a microphone and sing and make an album,' " Sterban said.
They did more than that, of course, but Cobb steered them to think of a sound from their youth, when early rock 'n' roll and rockabilly crackled with an emotion and energy provided from gospel music. Adding another dimension to those memories, Cobb had them record in RCA Studio A, a legendary Nashville recording studio in which some stars of country and rock 'n' roll, including Elvis, had recorded.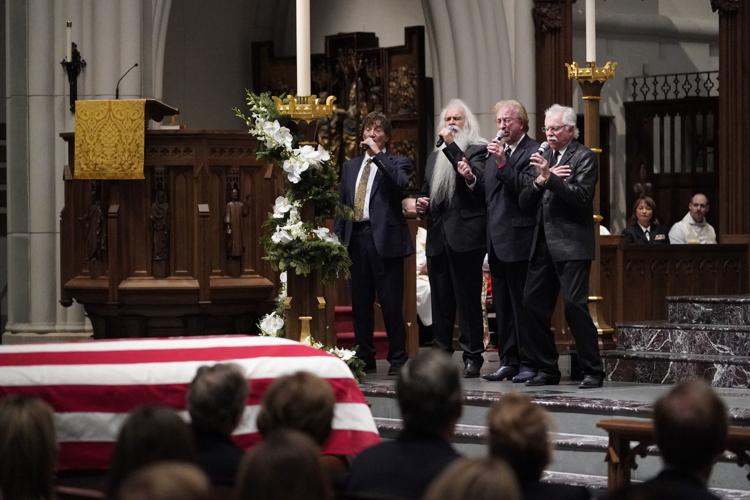 Cobb and other Nashville music luminaries recently orchestrated a rescue of the studio, targeted for destruction by a neighborhood development plan, and acquired it. Using it for "17th Avenue Revival" gave that recording project even more resonance, said Sterban.
"It's not all gospel, but a lot of it is," he said, noting that they had flipped through some old hymnals for inspiration. One of the songs on the album, "Brand New Star (Up in Heaven Tonight)," carries deeper emotion for the quartet after singing at President Bush's funeral. "With his passing, that song is even more meaningful to us," Sterban said.
The group's trademark four-part harmony comes naturally now after four decades of singing together, although they occasionally have to sit down at a piano and hammer out parts. The group's rendition of Handel's "Hallelujah" chorus, for instance, took such work.
Not only does the foursome share a common ear for music and harmony, but a common set of values as well, imparted by religious parents and country music mentors such as Johnny Cash and Kenny Rogers, Sterban said.
Those values of right and wrong and the importance of honesty surface in the Oak Ridge Boys' music, part of their appeal among many fans and a reason why the group's personal bonds have endured so long.
"My partners are closer to me than some family members," Sterban said. "Singing in harmony is great, but living in harmony is better."