After taping, recording and producing musicians across the state for decades, Waco musician Chris Ermoian is finding its time for his own band.
Ermoian, founder and producer of the longtime television-now-internet music series "Texas Music Cafe," is enjoying some attention for his hard-driving rock 'n' roll/power pop band Dirty Echoes, which recently released its second album, "Fake Town," and its first for the Austin-based recording label SteadyBoy Records.
Formed about four years ago, Dirty Echoes combines guitarist Ermoian with TMC colleagues Casey Pittman on guitar and Jeremy Gautier on drums with bassist Beau Green, TMC's video editor. Ermoian, an ardent advocate of live, original music, said the latter is often the kiss of death when it comes to playing Waco venues, which often hire on the basis of cover tunes a band can play.
"In Waco, people just want to hear 'Sweet Home-Margaritaville' over and over again," Ermoian quipped. "Our problem is we couldn't get any traction in Waco."
An Austin gig, however, brought the band to the attention of Austin musician and producer Freddie "Steady" Krc, a Waco-area native, who was impressed enough with their sound that he signed them to a two-album deal with his SteadyBoy Records label, which features such artists as Roky Erickson and the late Doug Sahm. Tied with the record label is distribution through Burnside Distribution, which has access to indie music stores across the United States and Europe.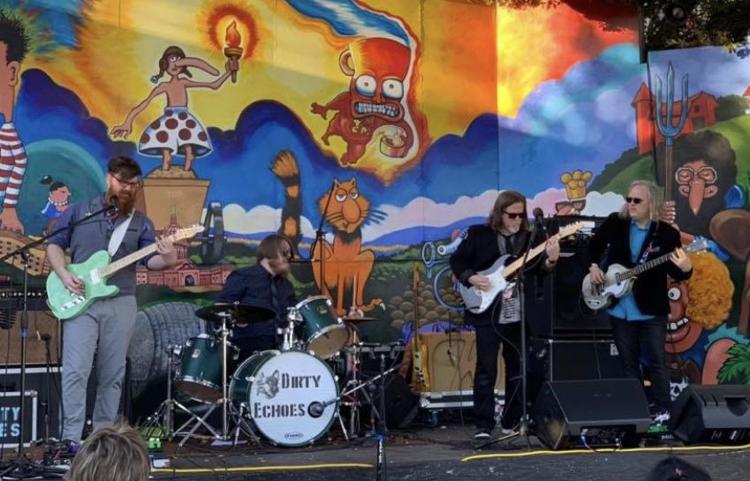 Ermoian, 50, has often performed in Waco over the years with his brothers Jeff and TJ as the Ermoian Brothers. He wrote half of "Fake Town's" 12 cuts, recorded live at San Marcos' Fire Station Studios under McLennan Community College grad Adam McCoy. The finished product was released Feb. 24 in Austin, a release date made with the band's two South by Southwest Music Festival showcases next month. It's already sold more than 400 copies online and is available in Waco at Spin Connection as well as online with Spotify, Amazon and Apple.
Dirty Echoes is booked for gigs in Houston and Austin with their next Waco date from 7 to 10 p.m. March 22 at La Fiesta Mexican Restaurant.
"Texas Music Cafe," with some 20 years' worth of Texas musicians taped in live performance, is still continuing, though online only with episodes airing on YouTube. "I've tried to quit (TMC) twice, but it's just not meant to go yet," Ermoian said.
Where Dirty Echoes is concerned, Ermoian finds it's rewarding to see attention paid to a band focused on original music. "This is the tightest band I've played with," he said. "It's a great feeling."