Artwork by renowned Waco artist Kermit Oliver moves from private homes to public viewing Sunday when Baylor University's Martin Museum of Art opens a two-month exhibition of his paintings, drawings and silk scarves.
It's one of two shows that begin this week, with "Women In Art & Academia," a sampler of work by female Texas art professors, running concurrently at the Martin.
Waco shows are rare for Oliver, 71, who is represented by Houston's Hooks-Epstein Galleries, and the 13 paintings and drawings in the Martin exhibition come largely from Waco collectors and buyers — including Oliver's wife Katie.
He stages an exhibition of his work about every two years, but says there's not much new work to show, perhaps about 20 pieces, when he does.
"I only do very few paintings. It takes awhile to distill my ideas," he said.
Those ideas find form in Oliver's distinct style, deliberate arrangements of finely detailed animals and objects chosen for their symbolic or allegorical meaning, frequently drawn from the Bible and Grecian or Roman mythology. The Martin exhibition comes after Oliver recently received Art League Houston's first-ever lifetime achievement award last fall.
Oliver retired from the U.S. Postal Service last August after 36 years. Most of that time he worked the overnight shift as a mail sorter at the State Highway 6 post office, while doing his art in his East Waco home studio in the mornings and early afternoons. His work as a postal employee is referenced in one of the panels of the mural painted last summer on the exterior of the East Waco Library.
The night job offered financial security and benefits for Oliver and his family, which, in turn, allowed him to pursue art on his own terms.
"Art is something I just do. I didn't want to teach, and I knew the problem of art as a means of support," he said. Notoriously shy of public attention — he calls himself a reclusive — the combination of night work and home-based art fit his personality, too.
Rather than free up more time for painting, drawing and studio, though, retirement has brought a challenge of working without the old schedule's structure.
"There's no urgency there and I find I have a lot of distraction in that (free) time," he said.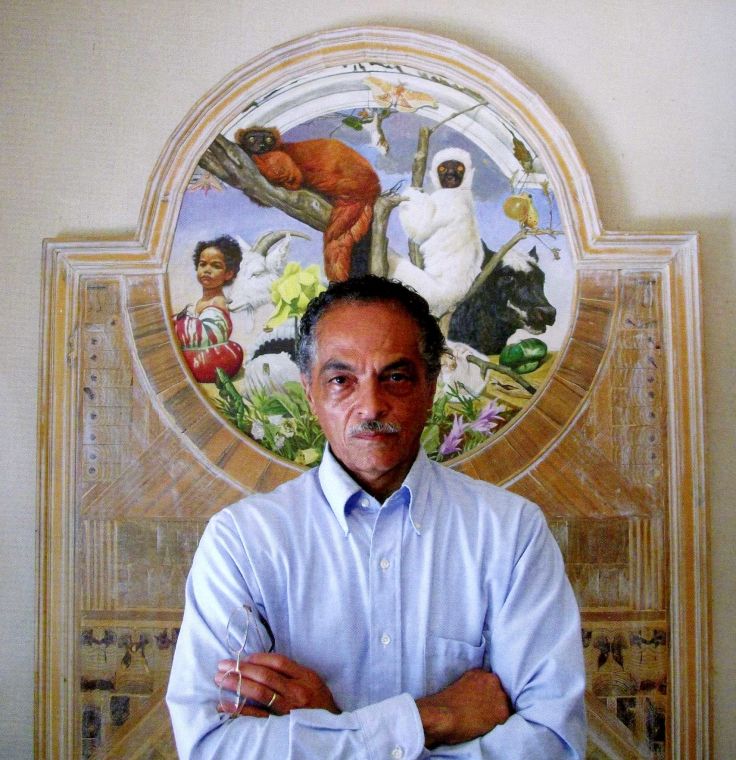 Among the art pieces in the Martin Museum show are nine of Oliver's exquisitely colored, detailed silk scarves created for French fashion house Hermes. The Waco artist has designed 17 scarves in limited editions for Hermes since the 1980s and they are highly prized among collectors — so much so that Hermes gives Oliver considerable freedom to create new scarves
"It's a very relaxed situation. They'll let me know that they'll be working on a particular theme and if I feel it's something I can create something for, they'll let me," he said. Oliver turns out a new design roughly every two years and the Martin exhibition has his most recent design, a 2012 scarf with a Texas wildlife theme, inspired in part by a visit to South Texas' famed King Ranch.
The Martin Museum show also will feature one of Oliver's most recent paintings, a piece commissioned by Sue Getterman, a member of the museum's Art Angels supporters, to interpret Baylor University's mission.
It's the sort of commission that Oliver feels most comfortable with — one where the artist is free to choose his subjects and symbols — and after the current exhibition ends in mid-July, the painting will become part of the Martin's permanent collection.
The "Women in Art & Academia" show will feature works by 13 Texas art professors, five of whom come from Baylor's art department.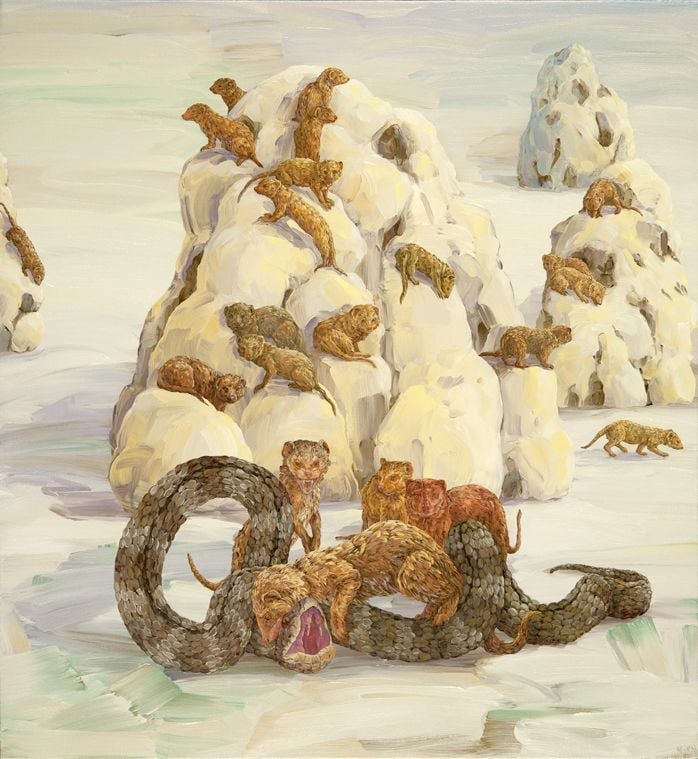 The exhibit coincides with a statewide meeting Sunday through Tuesday of the National Museum of Women in the Arts at Baylor. It is meant to display not only the variety of media in which Texas female art professors work, but the high quality of work produced.
"I think this will speak to the strength of women teaching art at the university level. They're very strong artists in their own right," Martin Museum director Karin Gilliam said.
Representing Baylor are Leah Force, senior lecturer in 2D/3D design; Virginia Green, associate professor in graphic design; Mary Ruth Smith, fiber arts professor; Susan Mullally, associate professor in photography; and H. Jennings Sheffield, assistant professor in photography.
Painter Melissa Miller, associate professor emeritus at the University of Texas at Austin, will speak on the exhibit in a gallery talk at 2:30 p.m. Monday. Rounding out the artists with works in the show are Amie Adelman, University of North Texas; Susan kae Grant, Texas Woman's University; Nancy Palmieri, University of Texas at Arlington; Beverly Penn, Texas State University; Gael Stack, University of Houston; and Liz Ward, Trinity University.
Their works span such media as painting, printmaking, photography, sculpture, graphic design and fiber arts.