The latest exhibit at the Historic Waco Foundation's three houses focuses not on furnishings, clothing or items inside the houses, but the biggest objects: the houses themselves.
"The houses are the main part of our collection," observed HWF executive director Jill Barrow.
"From Blueprints to Bricks: The Design and Construction of Historic Waco's Houses" provides visitors with a history of how the houses came to be, what architectural style they represent and hallmarks of that style. Waco architect B.J. Greaves, "Historic Homes pf Waco, Texas" author Ken Hafertepe and former HWF director Don Davis helped guide the exhibit.
Each house will have informative panels about its architect, style and construction with East Terrace hosting a display of actual objects that went into the construction of the 19th century home.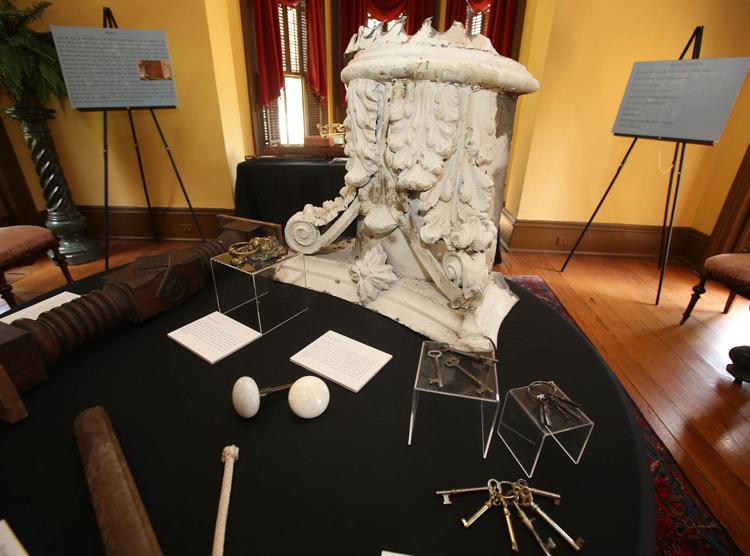 A drafting table, blueprints from a Hilton Howell home and a floor plan for the 1976 renovation of the McCulloch House that removed later partitions and additions suggest the design work that started each house.
The McCulloch House, built in 1866-67, and the Earle-Napier-Kinnard House, begun in 1854 and finished in 1870, represent the Greek Revival style popular in mid-19th century America: tall white columns at the front, symmetrical design, second-floor portico.
East Terrace, on the other hand, with its asymmetrical design, arched windows, cupolas and towers shows its Italianate villa influences. Why not a Greek Revival? Curator of collections Jenni Opalinski notes that Cemira Mann, wife of Waco brick maker John Wesley Mann, came from the Hudson Valley in upstate New York, where fancier homes were built in the prevailing Italianate style.
Its appearance mirrors an example in "Bicknell's Village Builder," an 1870s design book often used by architects and homebuilders, but with a major change: The three-story story addition is on the opposite side of the entry doors, possibly to maximize the house's view of the river and downtown Waco, said Barrow.
Brick builder Mann also made use of his business. A first-floor window provides a vantage point to see brickwork from the house's three construction periods, 1874, 1880 and 1884. The view shows bricks evenly laid and the same color despite the years between their forming. "(Mann) saved the best bricks for his house," explained Opalinski.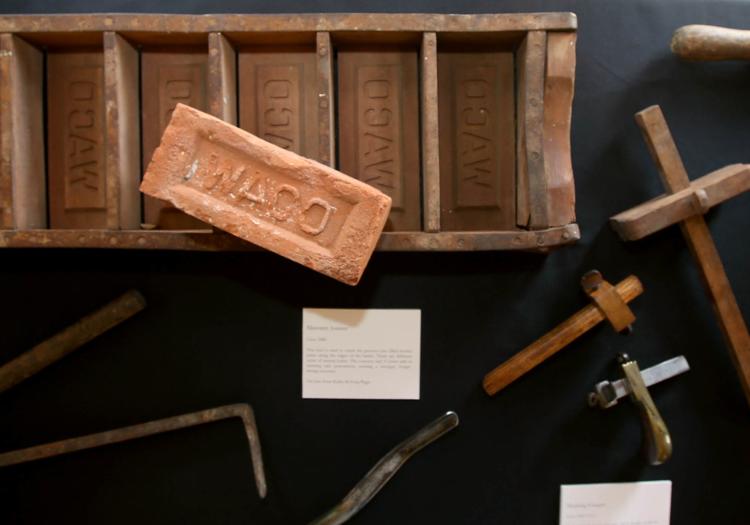 Tables in the East Terrace parlor display a wide variety of hand tools used in home construction of the era: wood planes to shave floor boards, frames, mantels and wall paneling; shaving knives and chisels to make roof shingles, framing joints and molding; drills and augers; and brick forms, with the word Waco in each brick's center, into which Brazos River clay was pressed and baked.
The wide range of tools, some lent by Homestead Heritage's Kevin Durkin, also show an evolution in design and function as building materials and processes changed. A plaster-covered tin capital capping a wooden column, for instance, evoked carved marble, but for a fraction of the cost or time.
The number of specialized tools suggest the amount of manpower needed to build a mansion or fine home of its time. Where contemporary homebuilders rely on prefabricated trim, window frames and interior molding, the antecedents of those decorative touches were all carved and shaped by hand, Opalinski noted.
In fact, the craft work and quality of materials used enabled those Waco homes to survive the decades and become historic, Barrow said. "They made these homes to last," she said.