Another Waco movie premieres Thursday and Friday at the Masonic Grand Lodge of Texas, but it differs from the "Waco" mini-series and film presently underway: The city and its history, not David Koresh and the Branch Davidians, star in this one.
"What About Waco," a four-part documentary from filmmaker, 2004 Baylor University graduate and former Waco resident Chris Charles Scott III, debuts after nearly a year in the works. Historic Waco Foundation, a backer of the project, will host its approximately two-hour-long screening this week.
The film project, modeled after Scott's similar "The Shape of Shreveport" in Shreveport, Louisiana, looks at Waco through the prism of five formative events in the city's history.
The construction of the Waco Suspension Bridge and the 1953 tornado that leveled downtown and killed 114 have episodes of their own, while three — Waco's legal prostitution district, The Reservation; the 1916 public lynching of Jesse Washington, labeled the Waco Horror; and the rise and fall of World War I's Camp MacArthur — are split among two episodes.
Scott noted the history contained in "What About Waco" spans the praiseworthy to the shameful. By acknowledging both, Waco citizens are better grounded to look to the future. "I think the city needs this," Scott said.
What the filmmaker found in researching and producing the documentary was a consistent theme of civic resilience: A city that could pool resources to build toward its future also was able to rebound from natural and human disasters.
"Waco is a city that can take a punch and stay on its feet. Maybe that's the thread that ties all these episodes together," he said.
That warts-and-all approach appealed to native Wacoan and businessman Hobby Howell and longtime resident, Realtor and investor Matthew McLeod, who provided much of the financial backing behind "What About Waco."
Both knew there was more to the city they loved than Baptists, Branch Davidians and past racism that often branded Waco in national accounts, and they felt an honest look at city history might redress some of that. "It seemed like every time something bad happened, someone would say, 'Well, that's Waco,' " McLeod recalled.
The result, which Howell said cost "just south of $100,000" to produce, satisfied them, even as they admitted it's not all positive.
"I like it. It's an honest telling of the stories of Waco," Howell said. "Not all (episodes) are easy to watch, but you learn from it and go on."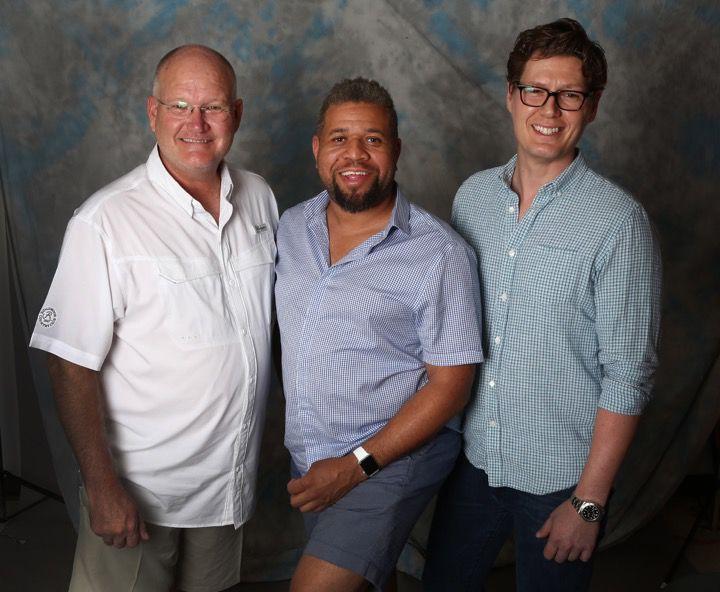 A mix of historic images, contemporary footage and interviews, "What About Waco" spins stories rich in detail and at turns humorous and unsettling. "A Bridge & Troubled Water" finds Waco business leaders visionary in their plan to cross the Brazos River with a new style of bridge, with a floor suspended from steel cables. Its creation would ignite the city's economy even as citizens and businessmen would complain within years of the onerous 5-, 10- and 25-cent tolls charged to pedestrians, livestock and wagons.
"Three Years: Parts 1 and 2" encompass the establishment and growth of The Reservation in the late 19th and early 20th centuries as Waco authorities sought to confine prostitution by legalizing and regulating it to a defined district — a strategy that also brought in revenue from licensing fees.
The city's racially segregated Jim Crow past saw its lowest point in the 1916 public burning and mutilation of black farmhand Jesse Washington after his conviction of the murder of Robinson farmwoman Lucy Fryer. Photos of the grisly spectacle witnessed by a crowd estimated at 15,000 people — photos shown in unflinching detail in "What About Waco" — triggered national revulsion and helped spur the growth of the fledgling National Association of Colored People
That, coupled with America's entrance into World War I, led to another pivotal point in the city's history. Eager to scrub Waco's unsavory national image from the public lynching, city fathers sought to win one of the Army training camps needed to prepare troops for fighting overseas. Waco did win that camp — Camp MacArthur — as well as a pilot training field — Rich Field — for the latest in military technology. The military facilities, however, came at the cost of the city's revenue stream of The Reservation, which federal authorities wanted closed to guard soldiers' health.
The camp and its soldiers soon fueled an economic boom for Waco, but the war's end and quick closing of the camp in 1919 left city officials and businessmen with the challenge of recovering from its loss — the end of a whirlwind three-year period that gave the episode its title.
In fact, an early episode planned about historically black Paul Quinn College found itself squeezed out as material for the second episode expanded into enough for two, Scott said.
"What About Waco's" concluding episode, "A Mighty Wind," looks at the devastating tornado that smashed through central Waco and the heroism and determination that followed its aftermath. This episode screened at the Deep In the Heart Film Festival in February and won a special Jury's Award.
Audiences who saw that will notice a slight change in the weathercasters who comment on the tornado and the weather that spawned it. KXXV meteorologist Matt Hines was replaced by KWTX weathercaster Rusty Garrett after KWTX became a "What About Waco" corporate sponsor, Scott said.
Garrett also will emcee both nights' screenings, and station vice president and general manager Mike Wright will introduce the documentary's middle section and potentially unsettling images, the filmmaker said.
The four episodes of "What About Waco" draw heavily from materials in Baylor University's Texas Collection and a wide range of interviews, particularly Waco historian and McLennan Community College professor Bradley Turner ("Lust, Violence, Religion: Life in Historic Waco"); Baylor University professor of American history T. Michael Parrish; Baylor Institute for Oral History director Stephen Sloan; Louisiana Tech University history professor David Anderson; and historian Amy Balderach, contributor to "Lust, Violence, Religion: Life in Historic Waco."
"I think it does a good job of covering Waco history, good and bad. I probably would have liked more emphasis on the good, but that's just me," said Don Davis, Historic Waco Foundation executive director. "It's certainly a quality production."
By the beginning of the week, more than 2,000 tickets had been sold, but with the 3,000-seat capacity of the recently air-conditioned Grand Lodge auditorium available, Davis hopes for more. "Ticket sales are not what we wanted, but Waco is notorious for waiting until the last minute," he said.
DVDs of "What About Waco" will be available at a later time, and Davis said the HWF intends to distribute copies to local schools.
Rob Senska, who worked with Scott on "The Shape of Shreveport," worked as cinematographer on "What About Waco," with Waco filmmaker Damon Crump as the project's associate producer.