The wild card at this year's Academy Awards may be the academy members themselves as much as any film.
Membership changes made in the last two years to diversify and freshen the academy have led to more than 1,600 new members, nearly 20 percent of the current membership of about 8,500. Will the injection of more women and people of color change which movies and actors win attention and awards? Sunday night may tell.
Also unknown is the effect of strong political and cultural winds over the last year, from the first year of Donald Trump's presidency and Hollywood's sexual harassment scandals to the current national furor over mass shootings and gun control. In fact, one online betting website is offering odds for various National Rifle Association call-outs.
Will that affect Oscar voting? Perhaps, but Sunday's surest bet is that award winners will have more than thank-yous on their minds.
This year's nominations, particularly in the best picture and acting categories, show 2017 was a good year for quality films and of surprising range: a big-budget war movie ("Dunkirk"), a horror movie with social commentary ("Get Out"), intimate slices of life ("Lady Bird," "Call Me By Your Name"), stories rooted in history ("The Post," "Darkest Hour") and an imaginative fable ("The Shape Of Water") for starters.
Here's a look at the top five award categories (if you must have six, add Best Director where I think "The Shape Of Water's" Guillermo del Toro swims home with Oscar).
Best Picture
Oscar worthy: Maybe a matter of taste here. "Lady Bird" is a pitch-perfect slice of life, played realistically in an ordinary environment (sorry, Sacramento), while "The Shape Of Water" is a fantastical human-creature love story with an artistic sense of color, music and sound. Screen Actors Guild voters, however, really liked "Three Billboards" and actors have the majority vote in the academy.
Oscar winner: With 13 nominations, eight in non-acting/directing categories, "The Shape Of Water" demonstrates a full range of movie-making skills, something a Best Picture should have — or at least many academy voters think should have. Also in "Shape's" favor: director Guillermo del Toro's win at the Directors Guild of America awards and the film's victory in the Producers Guild Awards.
Best Actress
Oscar worthy: One of the best categories in years, with all nominees turning in Oscar-caliber roles. I'd go with Sally Hawkins, whose wordless eloquence and passion makes "The Shape Of Water" work, though my heart was smitten by the effortless work of Saoirse Ronan as "Lady Bird's" title free spirit. Margot Robbie is central to "I, Tonya" while the oft-nominated Meryl Streep turns in one of her best subtle performances in "The Post."
Oscar winner: Respected veteran Frances McDormand sears the screen as a mother demanding small-town justice in "Three Billboards Outside Ebbing, Missouri." It's the type of emotional role that resonates with Academy voters. She's also won the Screen Actors Guild and Golden Globe Best Actress awards, a strong indicator of Academy sentiment.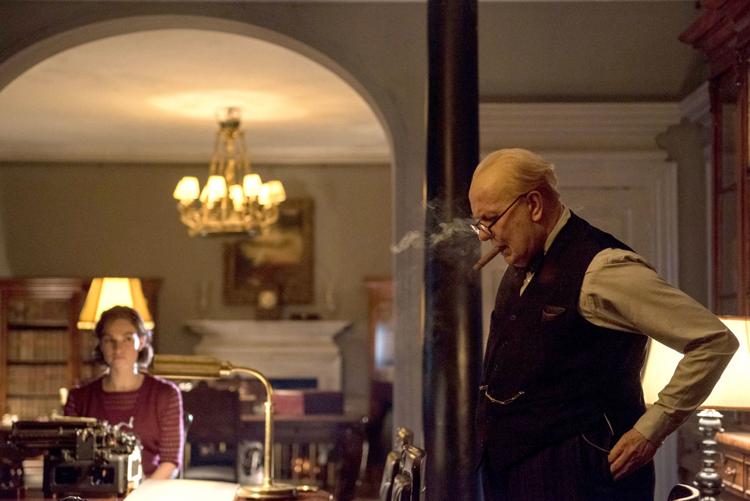 Best Actor
Oscar worthy: Gary Oldman transforms himself into Winston Churchill, not only in appearance but in spirit and personality in "Darkest Hour." On the controlled end of the spectrum, Daniel Day-Lewis turns in another note-perfect performance as an emotionally repressed fashion designer in "Phantom Thread."
Oscar winner: Oldman, whose performance encompasses emotional range — humor, doubt, anger — as well as the sort of bravura moment (Churchill's memorable "finest hour" speech) that inspires both on-screen Englishmen and in-seat audiences.
Best Supporting Actress
Oscar worthy: Another solid category. Allison Janney is memorable as the mom-from-hell behind ice skater Tonya Harding ("I, Tonya"), but Laurie Metcalf doesn't let the acting show as the mom in the oh-so-real-feeling "Lady Bird." Lesley Manville also moves "Phantom Thread" from a complicated two-person romance into a more engaging three-person battle for control.
Oscar winner: Janney, whose matter-of-fact horribleness gives "I, Tonya" much of its humor, even as caring glints through the occasional crack in her emotional armor, however transitory.
Best Supporting Actor
Oscar worthy: Both Willem Dafoe ("The Florida Project") and Woody Harrelson ("Three Billboards") provided a necessary ethical or moral center to their films with little fanfare. They're also overshadowed by more flamboyant characters in their stories.
Oscar winner: Sam Rockwell ("Three Billboards"), whose character arc runs from racist, violent cop to a chastened, repentant one, earning audience sympathy in the process. Like McDormand, he's already brought home a Golden Globe and SAG award for his "Three Billboards" work.