Differing artistic viewpoints shape landscapes and imaginative travel in two shows continuing through January at downtown Waco's Cultivate 7twelve gallery.
Waco artists Bradley Settles and Joel Edwards find differing truths in the natural world before them in their show "One Land: Two Perspectives," which opened last month. Albuquerque artist and Waco native Mick Burson plays with driving and the imagination in four oversized and vibrant paintings in Cultivate's upstairs gallery.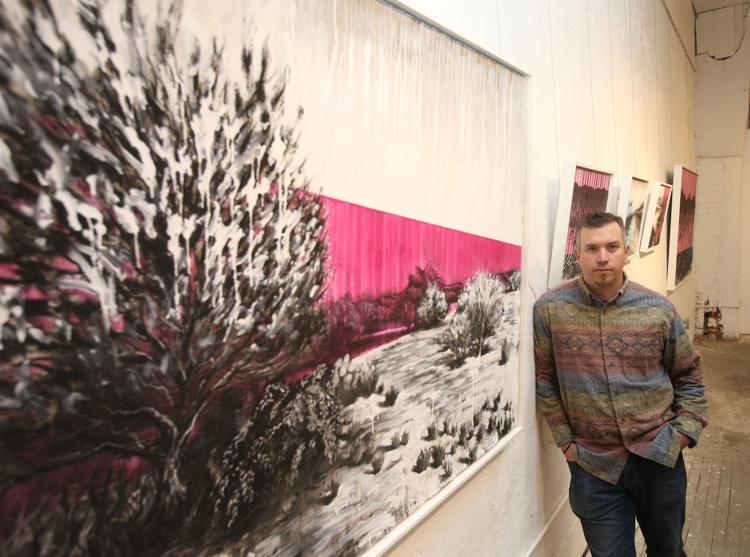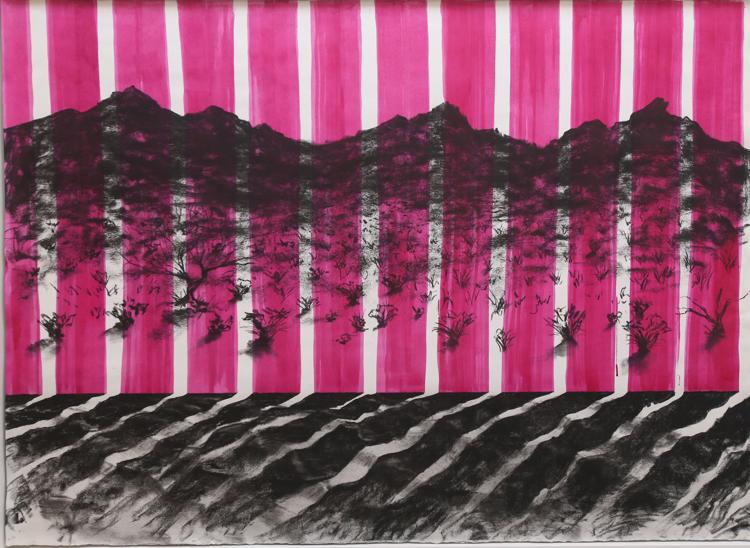 Settles' paintings in the Cultivate show finds him working in landscapes, a familiar subject, but in a markedly different way. These studies of desert, scrub land and river views have the natural world depicted in black, overlaid by magenta and cyan panels, shadings and rectangles that interrupt the eye.
The jarring contrast between the two represent Settles' view on borders, artificial human constructions imposed on a natural landscape. The work, created as part of his master's studies in art at the Savannah College of Art and Design, a little broader statement than a political take on the U.S.-Mexico border wall discussion that's dominated state and national politics in recent years, but it's also from his personal experience.
Settles grew up in San Antonio and teaches art at University High School in Waco, experiences that led him to see cultural and social boundaries as far more fluid and permeable than ones drawn on maps. "I find it a little absurd to divide people by the land," he said.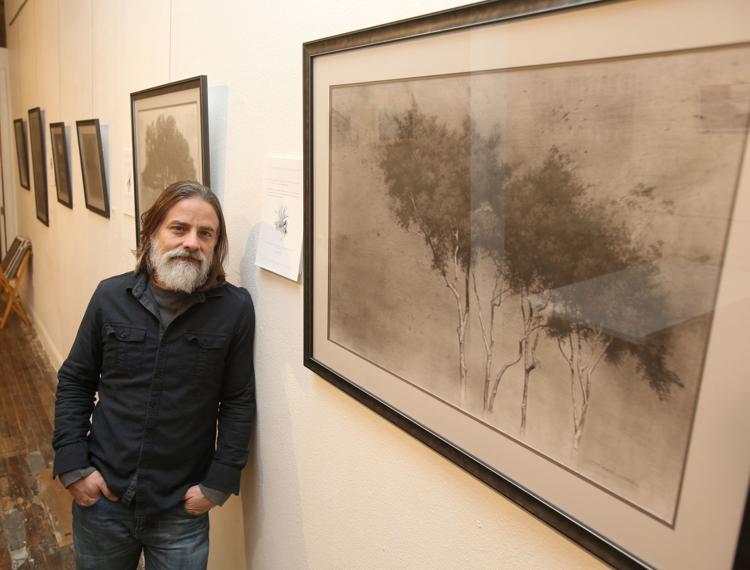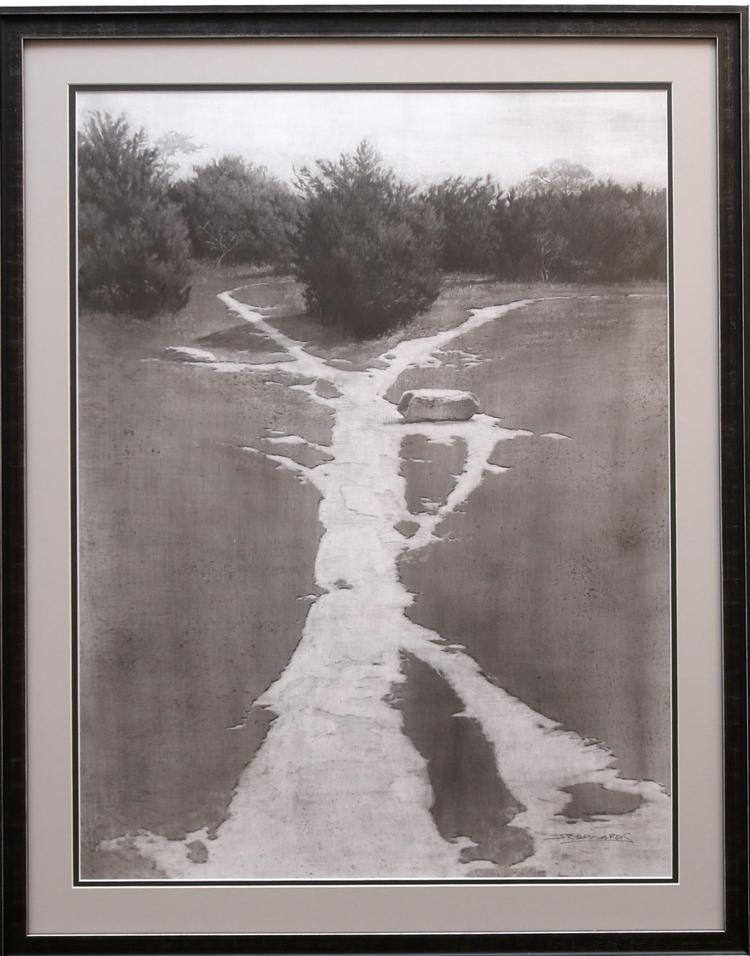 Edwards' pencil and charcoal drawings also capture the natural world in black, but with a fine detail that draw the viewer into the complicated beauty of creation — a dying tree suggesting the circle of life, a path demanding a choice, a celebration of wilderness that puts humans in a larger context.
"The wilderness teaches us humility," said Edwards, who found many of his artistic subjects and vistas while hiking with his family in Texas.
In Cultivate 7twelve's upstairs gallery, four oversized, brightly colored canvases by traveling artist and Waco native Mick Burson dominate the room in a display of work completed during a recent visit back to Waco from his home in Albuquerque.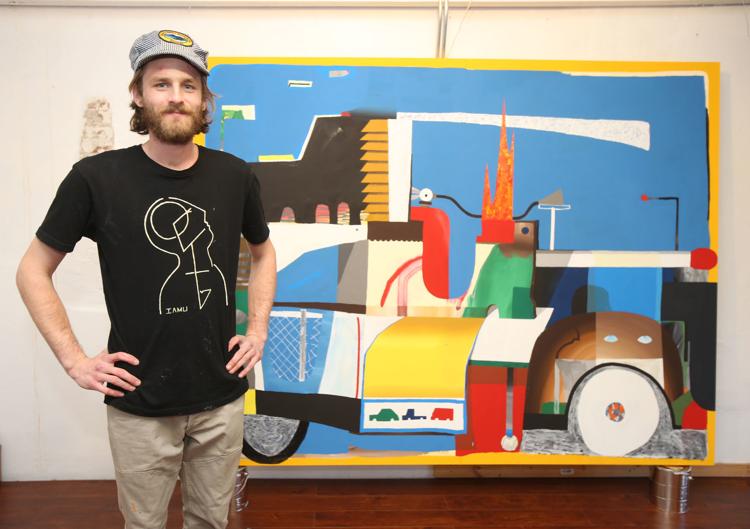 Burson, whose eclectic, seemingly haphazard mural on the side of an Austin Avenue sweet shop is a downtown landmark of sorts, found his long drives from New Mexico to Waco and his artist's travels in Europe inspiring oversized abstract views of vehicles crowded with bits of images.
The four 6-by-8-foot acrylic and gesso paintings, bordered in primary colors of blue, green, red and yellow, carry large doses of whimsy: a fire extinguisher driving a car with fire in the back seat, bright yellow flowers behind the wheel of another, something he interprets as a clown in a third.
It's largely impromptu, he said, much like the work he does while traveling, such as the small block sculptures in the gallery window sills that he created while traveling through Europe and joining working artists that he found there. "I just start painting," he said.