The New Year already is in need of laughs for some and veteran comic Rodney Carrington aims to supply those when he returns to the Extraco Events Center coliseum for a Saturday night show.
Carrington's unvarnished, sometimes ribald observations and songs on life, sex, gender relations, parenting, divorce, drinking, society and Walmart have endeared him to Waco fans for nearly two decades, dating back to the Longview native's early years on the Texas and Oklahoma comedy circuits.
He returns more than two years after his last show, still one of the nation's top stand-up comics with 11 comedy albums to his credit, three on his own Laughter's Good Records; a television sitcom "Rodney" that ran two years on ABC; and an appearance with country singer Toby Keith in the 2008 feature film "Beer for My Horses."
The blue-collar comic, whose material often merits a parental warning sticker for adult content, recently released a six-track EP, "Get Em Out," which topped the iTunes comedy charts on its Nov. 29 debut.
Carrington's active presence on YouTube, Twitter, Spotify, Pandora, Facebook and more, however, means fresh material is always at hand, new EP or not.
Local scene on the rise
The jokes and laughs at his Saturday concert punctuate what promises to be a growing year for live comedy in Waco. The latest formal addition comes in Joey and Tami MacArthur's Silo District Comedy Club, which opened to a full house on New Year's Eve.
The club, which takes up a corner in the MacArthurs' Savage Finds antiques store a block from tourist magnet Magnolia Market in downtown Waco, will host professional comics Thursday through Saturday nights. Scheduled for this weekend are Atlanta comic Mark Evans and Collin Moulton, who comes to Waco between gigs on a comedy cruise and an Appleton, Wisconsin, comedy club.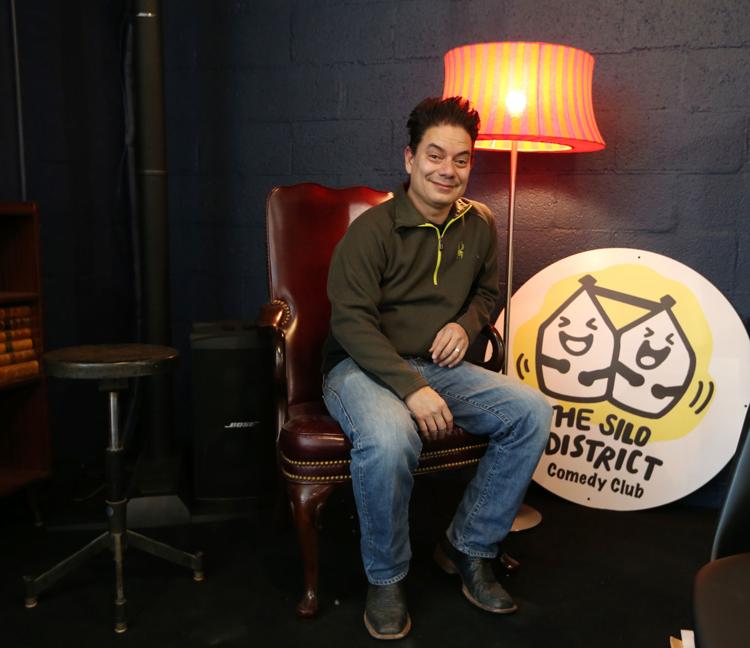 The comedy club's weekly shows will increase the frequency of stand-up comedy at downtown venues. Truelove Bar has held a night of stand-up hosted by Waco comic Michael McBrine on the last Sunday of the month while Klassy Glass wine bar hosts Keep Waco Loud's open mic night on Mondays that often features comedy. Tuesday nights find the Backyard Saloon and host Michael Saldana holding an open mic night that's also open to music and comedy, McBrine said.
"There's always been a market (for stand-up comedy)," McBrine said, mentioning offerings at past Waco venues such as the Waterworks and the Pump Station as well as his Truelove show, which he's had for seven years. "People want to get out and see people perform. There's something about being live that's so different than what's on TV. There's an electricity there that you can't capture."
The problem, as McBrine sees it, is a lack of promoting or marketing what's there. "It seems like advertising is not a priority with those places that have it," he said. "I've always thought that comedy would do well in Waco, but people have to know it exists."
Waco comic and filmmaker Terry Raper, who performs as Terry Bluez, has found the local comedy scene accelerating in terms of new venues and their audiences in the two years since he returned to Waco.
Bluez emcees Klassy Glass's Monday night open mics, stand-up comedian battles at Lake Air Drive clothing store Hype Waco and Brazos Theatre, in addition to maintaining a regular online presence on YouTube, Twitter, Facebook and his "Bluezville" podcast.
He's also led comedy shows at Rocky's Roadhouse, Hightop at the Hippodrome and Brotherwell Brewing, with a planned repeat of last year's Father's Day "Dad Jokes and Beer" show at Brotherwell.
"I feel like the scene is growing at a quicker rate than I anticipated," he said. As audiences slowly grow at different venues, they provide not only a market for out-of-town comics from Austin and Dallas, but opportunities for up-and-coming local comics to mature and season their craft.
Multiple Waco venues also allow fans to follow their tastes in comedy, whether clean material with little or no adult language; raunchier blue comedy; country comedy provided by the likes of a Carrington or William Lee Martin; urban comedy; or improv. "I think there's space for it all," Bluez said.
Improv offerings
While stand-up constitutes much of the live comedy in Waco, there's improv on a monthly basis at the Brazos Theatre on the first consecutive Friday and Saturday of the month.
Brazos Theatre director Beth Richards said the monthly improv show pulls audiences of some 30 to 60 people, from older teens to middle-aged adults. Also popular have been the periodic celebrity improvss that the theater stages as fundraisers for local nonprofits, with several celebrity participants becoming part of the theater's regular improv crew.
The improv nights have built a regular following, though there is some audience crossover to the theater's other offerings of murder mysteries and dinner theaters, and Richards anticipates the monthly stand-up battles may create an audience of their own as well.
The upcoming year may see more national and regional acts drop in to Waco, too. Hippodrome live event coordinator Ryan Higgs says response to comedians like cowboy comic William Lee Martin is leading the theater and promoters to consider bringing more to town.
The Hippodrome's spring calendar already has a Robin Williams tribute by comic David Born penciled in for February 20 with Chicago comic Corey Holcomb scheduled for April 3 and shows by Steve Treviño and Chingo Bling in the works.
"Comedy has been something we've been experimenting with more and more," Higgs said, noting that the five comedy shows the theater hosted last year represented an uptick from three shows a year for 2017 and 2018. "We want to go more in that direction."
The Waco theater isn't alone in seeing comedy potential in the city.
"I think Waco, just in general, is getting a lot of inquiries from promoters," he said. "It's definitely picking up."