Baylor theater director John-Michael Marrs says there's a reason for the contemporary look of the Baylor Theatre production of Sophocles' "Antigone" — Some 2,400 years after its writing, the Greek drama feels all too relevant to today.
Set in the chaotic aftermath of a civil war, the play raises questions of power, family duty, individual rights versus state demands, competing truths, loyalty and inflexibility. "It feels like the state of our civic and social worlds," said Marrs, who co-directs the Baylor production with fellow theater faculty member Marion Castleberry.
The story, from a translation by Don Taylor, begins with brothers Eteocles and Polynieces killed in battle against each other and unburied outside the city walls. Their deaths make Creon (Sam Henderson) king and he rules that Eteocles, who fought on his side, be buried with honors and Polynieces left shamed and unburied.
Their sister Antigone (AnnaMae Durham) resists, however, and buries Polynieces, claiming a higher duty to family honor, though sister Ismene (Macy Johnson) declines to join her. Feeling divine blessing on his city hanging in the balance, Creon orders Antigone punished, though his son Haemon (Daniel Seavers) becomes convinced of Antigone's argument. The unforgiving clash between Creon and Antigone has repercussions, however, with family members on both sides dying as a result.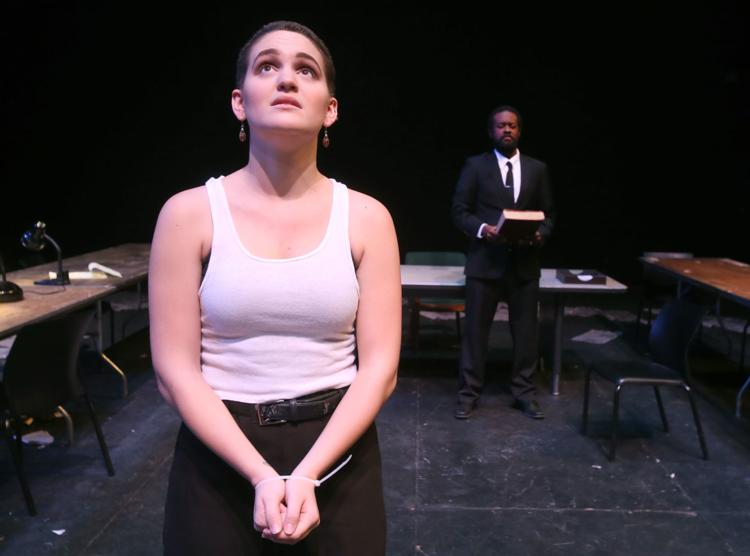 Rather than focus on who's right and who's wrong, the Baylor production looks at the cost of an inability to listen to others. "We're not playing good versus bad. Both are inflexible," said Marrs. "Argument is being made, but an argument is not being heard. No one is listening to anyone else. Again, it's timely."
The 21-actor cast, featuring Baylor theater lecturer Henderson as Creon, is a Green production in Baylor Theatre's Green and Gold season. Green productions have a smaller budget and production scale than larger Gold main-stage productions to give theater students a feel for the realities of working in smaller theater companies after graduation, Marrs said.