Baylor Theatre and McLennan Theatre, Waco's two collegiate theater programs, hope to start their 2019-20 seasons on the good side of their audiences with music and laughs.
At Baylor Theatre, it's music — and dancing and humor — in the form of "Matilda the Musical," a 2011 musical drawn from Roald Dahl's novel about a precocious girl with telekinetic powers who's squelched by uncaring parents and a sadistic schoolmaster. At McLennan Community College's McLennan Theatre, it's broad comedy in the 18th-century "The Servant Of Two Masters" with its head-whipping series of mistaken identities and overreaction.
For Baylor director Lisa Denman, "Matilda" offers a full stage of entertaining music, dance and touches of satire, but also a message about acceptance, love and identity. The musical, a five-time Tony Award winner, became a last-minute addition to the Baylor season once its performance rights were released.
In "Matilda," the title character (Autumn Hodge), a smart British girl, finds life miserable with her greedy, selfish parents Mr. and Mrs. Wormwood (Max Morgan and Delaney Wenger) and doltish brother Michael (Dan Bailey). The misery grows exponentially when she goes to a school dominated by the fearsome Agatha Trunchbull (Kat Phillips), whose rule of terror extends to Matilda's teacher Miss Honey (Meredith Marcum), in whom Matilda finds a kindred spirit. When Trunchbull goes too far in her abuse of power, the schoolgirl discovers she has a power to push back — and does.
While "Matilda" concerns kids, with energetic musical and dance numbers, there's a more serious side in its story of characters looking for the love that parents and other adults never supplied.
"It's a play about accepting otherness and not being able to find love," Denman explained. "The way you respond to not being loved can change everything."
The musical's set suggests that tonal blend with confetti-like squares of blue and periwinkle scattered across dark purple walls. There's also a walkway built in front of the orchestra pit, not so much to bring action closer to audiences as allow set movement in the background while the musical continues, Denman said.
"Timing is a huge issue with this (musical)," the director said. With music underscoring most scenes, the onstage action can't stop to change out sets, she explained.
The Waco Civic Theatre mounted "Matilda the Musical" as a summer production, but that show featured adults and school students as, well, adults and students, with actors singing to recorded tracks. The Baylor musical is cast with 26 Baylor students performing with a 12-piece orchestra.
This year's Baylor Theatre season is divided into large and small productions, called the Green and Gold Series, as a way to give theater students hands-on experience in working with small budgets and resources — the environment that many graduating theater students will encounter in community and school theaters, Denman said.
"Matilda's" scale makes it one of four larger Gold productions, joining "Rhinocerous," "Yerma" and "Hay Fever," with two — "Antigone" and "Enjoy" — in the Green series with smaller casts and productions.
"Matilda" opens Wednesday with performances through Oct. 13.
McLennan Theatre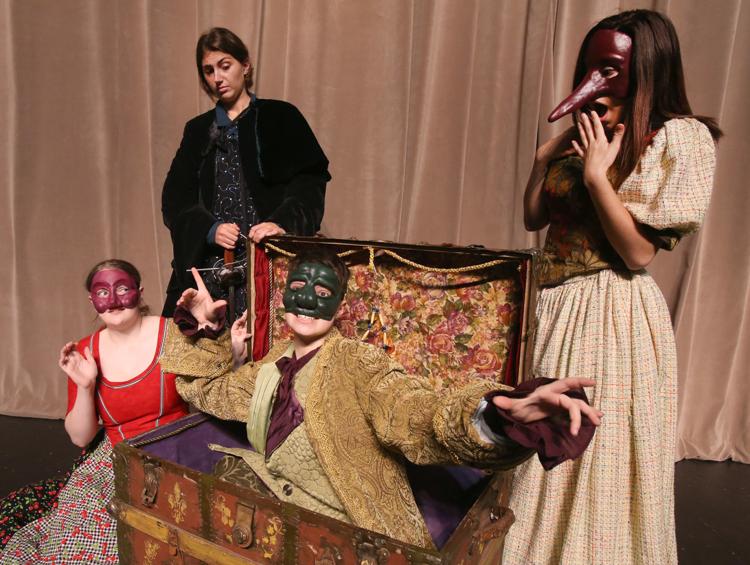 The McLennan Theatre season opener "The Servant of Two Masters," Carlo Goldoni's 18th-century farce of mistaken identity, mixes the period with the contemporary. The script is a contemporary adaptation open to local references and ad libs and its mock violence gets accompaniment by slapstick.
The story is classic farce set in Venice. Clarice (Kyndal Rinewalt) is engaged to marry Silvio (Hunter Barnett) after the death of her lover Federico. Then Federico arrives on the scene to claim the dowry originally promised by Clarice's father Pantalone (Nick Marquez), only it's not Federico, but his sister Beatrice (Ashlyn Meador), who's in love with Florindo (Alec Ehringer) who had killed Federico defending her honor and fled to Venice. Got that?
Beatrice's servant, the not-too-sharp Truffaldino (Annie DeYoung) sees an opportunity to work for another master, who happens to be — surprise, unbeknownst to Beatrice — Florindo. Throw in a feisty servant girl Smeraldina (Rebecca Woolls), who figures out some of the secret identities and with whom Truffaldino is smitten, and there's plenty of comic confusion.
The McLennan production, done in commedia dell'arte style, also makes use of stylized masks. "We're doing it with the flavor of the period," explained director Kelly Parker. While the masks help identify the actors and their comic roles, they also change timing for the actors, who have to play farce at a more deliberate speed. "They have to let the mask do the work," said Parker.
"The Servant of Two Masters" opens its three-performance run at 7:30 p.m. Oct. 3 at MCC's Ball Performing Arts Center.