For Waco artists Susan Sistrunk and Mark Kieran, there's no place like home.
That's because, beginning this year, home is also their gallery, their shop and their studio space, all sharing a 1910 bungalow on Washington Avenue.
The artists will open the front door to the public on Friday night with an open house for their Kieran-Sistrunk Gallery held from 4 to 9 p.m.
Their gallery, located on the edge of downtown Waco at 2120 Washington Ave., is the latest step forward for the artists, whose shop's name carries how they thought about themselves: the Wandering Artisans.
"It seemed like the next step for us," said Sistrunk, 41, a painter. "We're happy it worked out this way."
Like most Waco artists, the two professionals had found securing a regular place to show their works a challenge, given the city's few gallery spaces. Kieran, 49, a painter, jeweler and leather worker, rented studio space at Art Forum of Waco for a time and both have had works on the walls at downtown venues such as Waco Winery, Klassy Glass and Cultivate 7twelve.
Even with a limited number of places to show artworks, the Waco art scene has warmed over the last few years in terms of interested audiences, more artists choosing to stay in town and more people buying local art, Kieran said.
As their lives as public artists began to develop a shared private space — they're "significant others" for each other, Sistrunk says — the two created the Wandering Artisans to sell their art and craft and began thinking about a space that could work as gallery.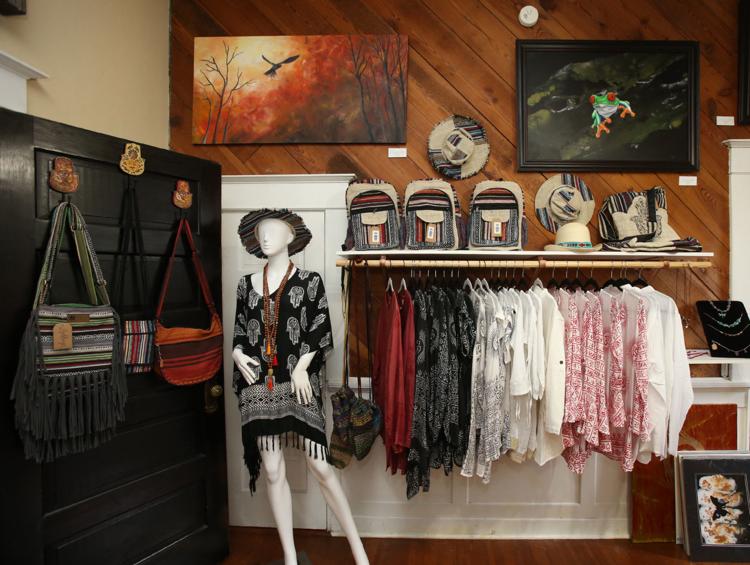 While browsing online, Sistrunk found the Washington Avenue house, visited it and was instantly smitten with its high ceilings, large living and dining rooms with warm wood paneling and wooden floors, windows letting in natural light, a garden space and outbuilding out back and a kitchen with blue skies and clouds painted on the ceiling.
Call it serendipity, karma, destiny or simply cosmic good luck, but the house spoke to both artists as the place they were looking for, a space constructed with an appreciation for craft and aesthetics. A scant two weeks later, the two were starting to move in.
Creative Waco executive director Fiona Bond called the artists' new space a potential piece in the puzzle of creating a nurturing arts scene in Waco. "What Susan and Mark are doing is a really important part of a healthy ecosphere for the arts. They're pioneering an innovative model for Waco, although it's been done by artists for hundreds of years," she said.
Bond said the addition of an artist-owned and -run gallery was an important addition to Waco's other curated galleries, one that may help expand the places where art is seen and sold in the city.
Kieran declined to share the asking price, but noted it was reasonable when compared to the collective cost of a house, a work studio and a gallery or shop space. "We wanted to keep our costs manageable and do the stuff we do and have a place to share with other people," Kieran said.
What visitors to Friday's open house will find is a front room with some 11 canvases on the walls and easels, more through a large, glass-paneled doorway to an adjoining dining room with a checkerboard-painted floor and a side room off the front where the Wandering Artisans Boutique will offer jewelry, leatherwork and clothing imported from Nepal and India.
The artists' imaginations fill in other plans for their house/gallery/shop: a space to teach art lessons, a possible music studio in the outbuilding, gardens in front and back that double as green meditative spaces for artists needing recharging.
The statue of Buddha in the front garden, incidentally, is proving a handy landmark for friends and customers who miss the gallery sign.
Sistrunk and Kieran intend to rotate the paintings in the gallery every month or so and are open to showing work by other Waco artists. "It's the first time to have a gallery of our own," she said.
Gallery hours are 11 a.m. to 6 p.m. Tuesdays through Saturdays.