For some artists, creating doesn't stop with the work, but extends to communities that encourage, support or inspire.
One of those communities, the Mammoth Collective, puts work by its members on display starting Friday at downtown Waco's Cultivate 7twelve arts space and Waco artist Julia Harmon hope it starts more than a few conversations.
The collective, in the works for about a year, aims to encourage young female artists in Waco and presently counts eight as members. All will be at Friday's opening reception and more than willing to talk about their art on the walls.
There's no theme connecting the pieces nor a common medium and that's part of the point: Each artist is sharing from herself, with the exhibit providing an opportunity for artistic vulnerability. Confessions from personal journals, queer identity, female divinity — the Mammoth Collective may voice some topics that often don't surface in Waco.
"We all make super different art," said Harmon, who works in ceramics and textiles. "We're putting our hearts on our sleeves. We want to make people uncomfortable enough to question, but not uncomfortable enough to shut down (discussion)," she said.
Rather than artists' statements to label each piece, those attending Friday's reception will receive a Mammoth Collective 'zine — a small pamphlet — with each artist's handwritten statement that a viewer can refer to while going through the show.
"We're hoping that people bring up lots of questions," said Morgan Eyring, a metal artist and sculptor who's the creative lead and metal artist for Waco custom furniture house LINE Handcrafted.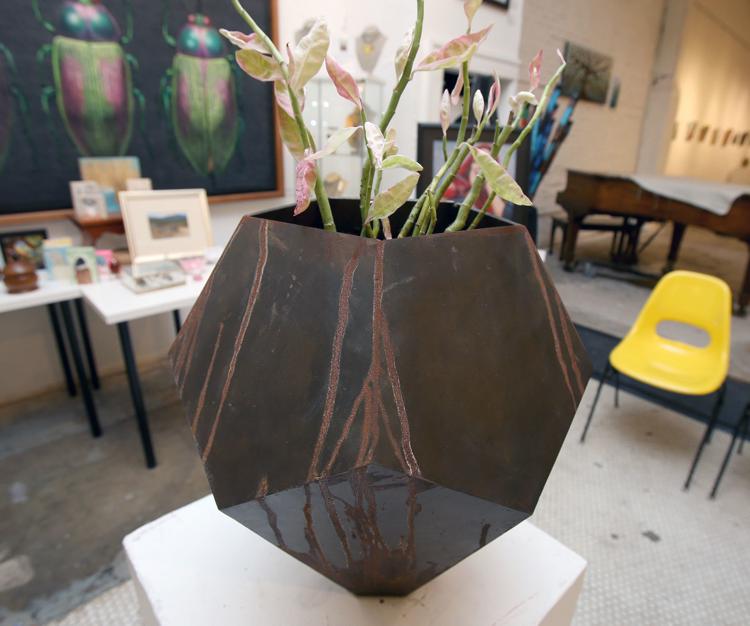 For Harmon and Eyring, the Mammoth Collective may add a crucial element of support and community needed to grow the number of young artists who stay in Waco. San Antonio native Harmon, a graduate of the School of the Art Institute of Chicago, came to Waco after graduation to work with Black Oak Art. Eyring, an Ohio native, finished art studies at the University of Cincinnati and came to Waco for an administrative job at Baylor University.
Both jobs weren't good fits with the art they wanted to do personally and they've moved on to other things, Eyring as creative lead and metal artist for LINE Handcrafted and Harmon an independent artist also working at Cultivate 7twelve.
Larger cities often have artist communities that provide support and guidance for young artists, but Harmon found a need for one that could encourage young women and issues they wanted to address in their art to bridge the gap between college and professional life.
A year's worth of discussions and dinners with like-minded artists led to the creation of the Mammoth Collective, its name reflecting a Waco connection in the local national monument and individuality. "It's a good image, unique to Waco and empowering," she said. "Plus it rolls off your tongue really well."
The number of artists who identify with the collective have doubled over the last year as word-of-mouth spreads. "We want to empower young artists to stay in Waco and cultivate an artistic community," Harmon explained.
Friday opens the collective's first major public show, which will continue for two weeks. Future Mammoth Collective offerings may include pop-up shows and performance art as members continue to stretch their expression and Waco's willingness to interact with it, Harmon said. "I think what's keeping us here is controversial and conceptual work," she said.