For many Waco residents and families, the time for summer travels starts with the end of school this month.
Those thinking of in-state trips to Dallas, Fort Worth, Austin or Houston might want to take in some art shows and museum exhibits while they're there, with notable shows offered in fashion, Impressionist art, space exploration and Legos.
Missing from this summer's list is Fort Worth's Amon Carter Museum of American Art, which will be closed through Sept. 14 for a building renovation.
Here's a sampling of what's nearby in Texas:
"Dior: From Paris to the World," through Sept. 1, Dallas Museum of Art, 1717 North Harwood. www.dma.org. 214-922-1200.
This touring exhibit, whose only American stops are Denver and Dallas, looks at the fashion created over 70 years by the Parisian House of Dior, featuring some 200 dresses, sketches and video. The Dallas museum also is exhibiting "The Fifty-Three Stations of the Tokaido" by famed 19th-century Japanese print maker Utagawa Hiroshige through Nov. 10.
Hours: 11 a.m.-5 p.m. Tuesdays-Wednesdays, Fridays-Sundays; 11 a.m.-9 p.m. Thursdays. Dior exhibit admission $20 weekdays, $25 weekends, $18 and $23 for senior adults, $16 and $21 for students.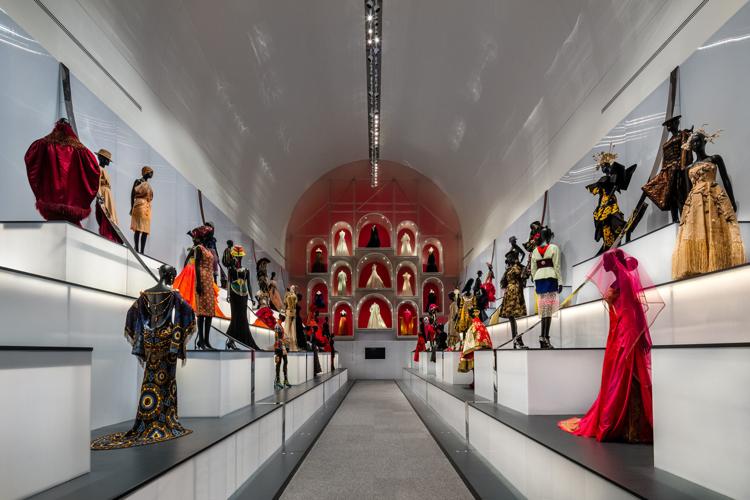 "Monet: The Late Years," June 16-Sept. 15, Kimbell Art Museum, 3333 Camp Bowie Boulevard, Fort Worth. kimbellart.org. 817-332-8451.
This touring collection examines the last decade of work by French Impressionist Claude Monet, featuring more than 20 of his famous water lily paintings.
Hours: 10 a.m.-5 p.m. Tuesdays-Thursdays, Saturdays; noon-8 p.m. Fridays; noon-5 p.m. $18, $16 senior adults and students, $14 children 6-11, free for children 5 and younger.
"Launchpad: Apollo 11 Promises Kept," opening Saturday, Fort Worth Museum of Science and History, 1600 Gendy Street. www.fwmuseum.org. 817-255-9300.
Museum curators created this exhibit of space exploration history for the 50th anniversary of the first Apollo moon landing.
Hours: 10 a.m.-5 p.m. Mondays-Saturdays; noon-5 p.m. Sundays. $16, $13 for students 2-18 years old.
"David Park: A Retrospective," Sunday-Sept. 22, Modern Art Museum of Fort Worth, 3200 Darnell St. www.themodern.org. 817-738-9215.
This showing of works by San Francisco avant-garde artist David Park is the first mounted in more than 30 years.
Hours: 10 a.m.-5 p.m. Tuesdays-Thursdays, Saturdays-Sundays; 10 a.m.-8 p.m. Fridays. $16, $12 senior adults/military/first responders, $10 students, free for those 18 and younger.
"The Art of the Brick," through Aug. 19, Perot Museum of Nature and Science, 2201 Field Street, Dallas. www.perotmuseum.org. 214-428-5555.
Artist Nathan Sawaya designed this show that recreates famous works of art and architecture through Lego plastic building bricks.
Hours: 10 a.m.-5 p.m. Mondays-Saturdays; 11 a.m.-5 p.m. Sundays. $20, $14 seniors, $13 youth.
"Vincent van Gogh: His Life in Art," through June 27, Museum of Fine Arts, Houston, 5601 Main St. www.mfah.org. 713-639-7300.
This career-long survey of works by Vincent van Gogh features more than 50 paintings and sketches, most drawn from the Van Gogh Museum in Amsterdam and the Kroller-Muller Museum in Otterlo, Netherlands. Fashion fans may also want to check out the photography exhibit "Icons of Style: A Century of Fashion Photography," which runs June 23-Sept. 22.
Hours: 10 a.m.-5 p.m. Tuesdays-Wednesdays; 10 a.m.-9 p.m. Thursdays; 10 a.m.-7 p.m. Fridays-Saturdays; 12:15-7 p.m. Sundays. Van Gogh exhibit admission is $25, $20 senior adults/military/students, free for children 12 and younger.